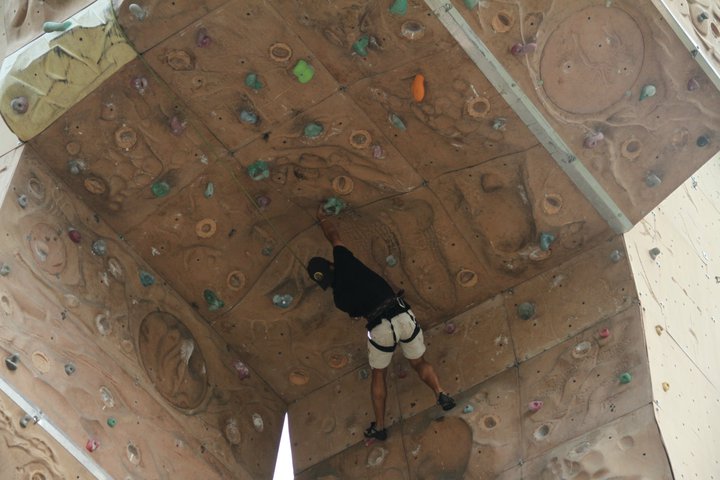 06 Oct

The Crux Of The Climbing Season: IMF Bouldering, Lead And Speed Climbing Competition – Kanpur

(Andrew Hepworth, Head of Outdoors, accompanied our four climbers to Kanpur for this event.)

Woodstock Students leave the cool hills and head to a heated Kanpur for the Indian Mountaineering Foundation (IMF) North Zone Bouldering, Lead and Speed climbing competition.

The four day event saw Woodstock students compete against some of the best climbers across the northern states of Jammu Kashmir, Uttarakhand, Punjab, UP, Haryana and Delhi.

A showcase of dynamic movement as participants dangled from their fingertips, hocked their toes, and jammed their fingers into small plastic features hanging high from the ground – all in an aid to progress upwards. – Andrew Hepworth
A write up by Johann Arthur, Aman John, Tanuj Bagaria and Jayant Singh.
The competition
The climbing experience was amazing and jam packed with drama. Climbing made the climbers happy but also determined to show their skills in front of the cheering crowds. The drama was in the fact that one move could draw an uproar from the crowd which was nice, it also meant that there was a lot of pressure on the climbers' shoulders to perform. The climbing routes were very hard and new; we spent time in 'isolation' in a tent that obstructed our view of the routes , preventing any strategising  on how they could be climbed, thus making it fair and not allowing climbers to copy each other's sequences and movement. This meant that we had to be creative in the way we approached the routes.
The fact that the climbers never get to climb the route again after they tried and failed was disappointing since you only got one shot to finish the level route. Another thing that was amazing was that after you finished your turn you could  watch the other climbers do their thing. This was one of the main pluses – we learned more about climbing by seeing other techniques  used in certain situations, such as where to go fast or slow, where to use dynamic movement or not, where to rest on the route etc.  Yes – climbing with national level climbers was an experience which we will never forget. 
The People
Socializing is a very important skill for every human being. However it sure can be a strong skill for many. During our visit to Kanpur we met many people, some whom came across as really nice people. However our journey was filled with meeting people after people. It was great to meet some of India's most respected climbing champions, climbers that have even competed at World Cup level. Not only that, we met India's national climbers who live and train in the same city as us, we hope that this new contact can lead to further experiences in the climbing world.
Personally, I met a ton of Delhi climbers that I plan to keep in touch with. For me, meeting new people is a  gift as one can never stop learning whether they are younger or older. One of my good friends from the competition is India's best climber and the world's junior champion. One of the team's all-time favorite buddy is a guy named Sam, he was a former friend of the India's 7 time national champion. This champion was a former coach to both Johann and I at Woodstock. His name was more than enough to get us around everywhere in the competition which was another plus point of socializing in the competition. Overall, we came across some really nice people from whom we learnt more about competition climbing. As a team we have made amazing friends and friendships that will last a long time. 
The Place
IIT (Indian Institute of Technology) is very much like Dehradun, the campus there is enormous. They have everything you need, everything, from light airplanes to the multiple sports complex, to residential areas and gardens filled with peacocks. Most people used bicycles to get around the huge campus. Kanpur being a very hot place, we spent a lot of our time looking for something cold to eat, we had tons of Ice Cream, Kulfi, Iced Tea, and really cold water. We would also pour cold water down our backs to stay cool during the hottest part of the day. Shade was scare around midday but we enjoyed watching the other climbers, even in the heat.
 (Photo Suman Mitra: :Rock climbing in Uttarkashi)