15 Sep

Nayantara Sahgal '43. Her Years At Woodstock School

With the release of Nayantara Sahgal's biography 'Out of Line' by Ritu Menon, it seems only natural to recall her journey at Woodstock. There is little known about her except for what one gathers from her books. Luckily some of her classmates still remember the "girl in pigtails."

Saghal is one of India's most prolific and prominent writers and a Distinguished Woodstock alumnae. Her first autobiography,  Prison and Chocolate Cake was published in 1954 , following which she produced many works of writing – 2 more autobiographies, 9 novels, 1 historical and 4 political books; short stories and political commentaries for newspapers and magazines, besides editing  'Before Freedom: Nehru's letters to His Sister,' which was published in 2004. 

Much of Sahgal's writing has been influenced by her political-family connections. Her mother, Vijaya Laskhmi Pandit (Indian diplomat and politician), her father Ranjit Sitaram Pandit (Barrister and classical scholar who died in prison) and her uncle,  Jawaharlal Nehru, (India's first prime minister and Indira Gandhi's father) all played poignant roles in the Indian struggle for independence.

The Woodstock Years

In Prison and Chocolate Cake, NS recalls her years at Woodstock. It was a coeducational school by then and when her parents decided to send her and her siblings there, it did surprise a few people. "To the modern conservative Indian mind, accustomed to an education along strictly British lines, an American education amounted to no education at all," she wrote.

"Do you want your girls to learn hiking instead of arithmetic?" a lady asked my mother sourly. "And speaking of arithmetic, you realize they will be learning it in dollars and cents?" NS goes on to say how dollars and cents were a salvation to her after the intricacies of pounds, shillings, pence, florins, half pennies and half-crowns. "My marks soared," she continues, "I became a prize student, much to my astonishment. Allahabad with its sultry heat had been left behind for the pure bracing air of the Himalayas…."

"We entered into a crowded schedule of work and play with great zest. We took part in sports, theatricals and students government. Lekha and I joined the two school orchestras, while Rita started piano lessons. School became fun instead of an ordeal and we were always eager to go back after holidays."

She says the community had given up on her parents. A father who gave up his law practice and financial security to follow a man (Gandhi) who believed that freedom would come through self-sacrifice and a mother who wore coarse unattractive clothes and preferred to languish in prison rather than look after her home and children. That's was how she thinks they were perceived.

She talks of the time when she and her sister Rita joined the Bluebirds (Junior Campfire Girls) but had to take an oath of loyalty to "God, king and country". Both siblings were disturbed about pledging themselves to a king they did not recognise and discussed it with their parents who were visiting them at the time. Her parents spoke to the Principal; "A wise and understanding person who sympathized with our point of view. He agreed that it would be sufficient if we took our oath to 'god and country'". That principal was Dr Alan Parker.

In another interesting excerpt from the book she recalls how she felt when an eight year old classmate asked her, "Say, is it true your folks have been to jail?" "What for? Did they steal something?" She did not know how to make him understand the background she came from – which she took so much for granted. And she also worried how her new friends would perceive her.

WS Landmarks
When war broke out in 1939 she was only 12 and "troubled "by the daily news updates she heard on the wireless at Homestead, Woodstock. From Freedom's Child, a book written by her sister, Chandhralekha Mehta, we gather that after Vijaya Lakshmi Pundit rented part of the house in Landour called Jesscot, (now Suncliff). She and her siblings became day scholars when their mother rented Fernsworth, a house, close by. Their nanny then, a Danish woman whom they called Tate Anna used to participate in activities of the Community Centre. (CC as it is known today, is where part of the senior boys dorms are, while Homestead is staff housing.) Whilst at Kellogg's church, one of the hymns that Tara liked to sing was "This is my Father's world".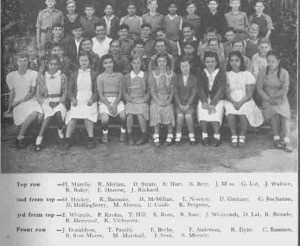 What her Classmates Remember
"I remember her.  We called her Tara, Tara Pundit. She was not a classmate very long but in some class or other she sat right in front of me.  She had pigtails.  We did not have ink bottles in the ink pot holes on our desks but I would have dunked her hair in it if there had been one.  (At least I thought about doing it.) 
I understood that she was sent to a non-British school because the ruling Brits had imprisoned her folks for political "sins."  That is all I remember." – Paul S Coole'43 
"I attended Woodstock from lower and upper kindergarten through the 8th Standard (1941) except for '34-'35 when my folks were on a year furlough to U.S.  My recollection of Tara (as we called her) really only starts from looking at a Whispering Pine '37 4th standard class photo showing us both as classmates.  We may have been classmates earlier?? I left Woodstock at the close of the 8th standard, therefore, am able to recall Tara, at least somewhat, for a five year period.
My first thoughts are that I considered her among the two or three brightest of my classmates. She was always responsive in class and participated in most all class activities including girls' field hockey.  I remember her serving as a class officer, as did I, in 1940.  She may have in other years as well? She was always neat and wore her long hair in two braids.  She had an older sister (Chand) who was two classes, I believe, ahead of us.  Most certainly the 'Pandit' name was highly respected. -Hugh Mumby, Woodstock '43 
Read Hari Kunzru article about her in the Guardian 
http://en.wikipedia.org/wiki/Nayantara_Sahgal