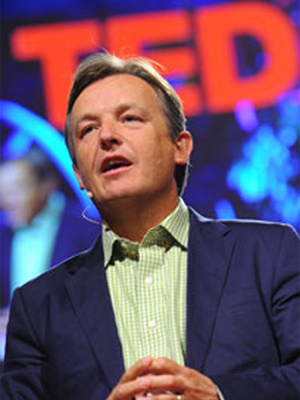 2008 Chris Anderson '74

Chris Anderson '74 was born in Pakistan in 1957. His parents were medical missionaries and he spent most of his childhood in Pakistan, India and Afghanistan. He attended Woodstock until eighth grade and went on to public school in England. In 1978 he graduated from Oxford University with a degree in Philosophy, Politics and Economics. In 1985 he launched Future Publishing, and over the next twenty years his company expanded to include over 130 different magazines, mostly connected to information technology. In 1994 he moved from the UK to San Francisco and continued his company's growth through magazines and websites. It has been reported that when his company was floated on the London Stock Exchange in 1999, it had a peak market capitalisation of more than $2 billion, with 1,500 employees.
Even though his media empire went through very tough times with the bursting of the technology bubble in 2000, Chris was eventually able to stabilise his finances and used those resources to forge new paths through The Sapling Foundation, a private non-profit organisation he had founded in 1996, with the goal of fostering 'the spread of great ideas' and to 'provide a platform for the world's smartest thinkers, greatest visionaries and most inspiring teachers, so that millions of people can gain a better understanding of the biggest issues faced by the world, and a desire to help create a better future'.
With the acquisition of TED (Technology Entertainment and Design) in 2001, Chris discovered a potent vehicle for global dialogue. Originally, the TED conferences were highly exclusive seminars for an elite audience including important thinkers, celebrities and public figures like Bill Gates, Bill Clinton, Bono, Isabel Allende, Jane Goodall and others of similar stature. Chris, who characterises himself as a 'brainstormer, entrepreneur, global soul' and an 'idea generator', saw the potential for the ideas and visions created at TED to reach a much larger audience than those sitting in the auditorium. By putting the TED conferences on the Internet, Chris made them available to viewers and listeners around the world. Instead of always holding these intellectual conclaves in privileged locations like Monterey, California, he has hosted global events in places like rural Tanzania.
Chris also introduced the idea of the TED Prize. Each year this prize grants three TED speakers 'One Wish to Change the World', leading to ambitious collaborative projects undertaken by the TED community. For example, one prize went towards helping support the national healthcare system in Rwanda. Through his Sapling Foundation, in addition to TED, Chris has sponsored many projects related to education, global peace, environmental conservation and poverty eradication. He has funded NGOs in Africa and Asia, including a rural development project in Bihar. His ability to motivate individuals to fulfil what he calls 'outrageously exciting goals' represents a dedication to worldwide service and social responsibility.
The Egyptian film-maker Jehane Noujaim's TED Prize wish was for the creation of Pangea Day, in which millions of people around the world watched the same films at the same time on 10 May, 2008. This event supported Chris's vision of a world in which barriers are erased by sharing information and replacing conflict with conversation. When he learned that Woodstock was hosting a Pangea Day event, Chris responded: 'Well, it all began at Woodstock.'