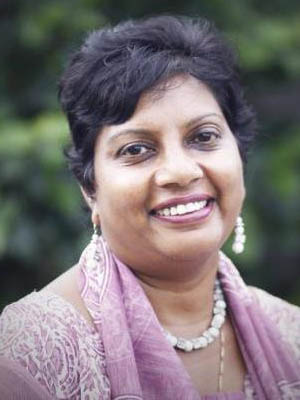 2013 Dr Shobha Arole '78

Shobha Arole has been added to Woodstock's Distinguished Alumni Roll for her outstanding contribution to serving people in extreme poverty and improving rural healthcare in Maharashtra, India. Her work has brought extraordinary health and social benefits to hundreds of villages in the region, and the health programme she runs has become a model for excellence in rural healthcare not only in India but around the world.

Shobha was born on 2 February, 1961, in Kola, Karnataka. Her early schooling was in the United States where her parents were pursuing postgraduate medical studies. She joined Woodstock in Grade 5 in 1970 and graduated in 1978. At Woodstock, Shobha particularly enjoyed the medical hikes, when students delivered first-aid supplies to villages in the Garhwal, an experience that helped develop her passion for healthcare and serving the rural poor.
After Woodstock, Shobha studied medicine at the Christian Medical College in Vellore, India, graduating in 1986. She then returned to Mussoorie from 1986 to 1989 to work at Landour Community Hospital on the Share project, and was school doctor at Woodstock for a time. During this period she also practised in rural parts of Bihar and Uttar Pradesh. In 1989 she joined the Comprehensive Rural Health Project (CRHP) in Jamkhed, Maharashtra, becoming Associate Director of the programme in 1992.
Founded in 1970 by Shobha's parents, Drs Raj and Mabelle Arole, the CRHP focuses on training local village healthcare workers to address economic, social, agricultural and health needs through self-organisation. Using healthcare as a means to break the cycle of poverty, this comprehensive, community-based approach holds at its core a profound belief in equality for all.
The work of the CRHP has been recognised by the World Health Organisation and UNICEF, and its model has been introduced into 178 countries across the world. In the state of Maharashtra alone, it provides services that directly impact half a million people a year. Since the opening of its training centre in 1994, more than 22,000 local and 2,700 international representatives from NGOs, governments and healthcare organisations have been trained in the CRHP approach. Two leading American health academics have described the work of the CRHP as being unparalleled anywhere in the world for its success in improving healthcare and empowering women and marginalised groups.
Shobha has had much of her research published and was recognised as a Schwab Foundation Social Entrepreneur in 2001. She has won numerous other honours for her work, including the Times of India Social Impact in Health Award in 2011.
Shobha is an ordained minister and honorary presbyter at the Jamkhed Community Church. She dedicates much of her time to teaching and promoting comprehensive healthcare both in India and around the world, and is also significantly involved in national policy discussions.