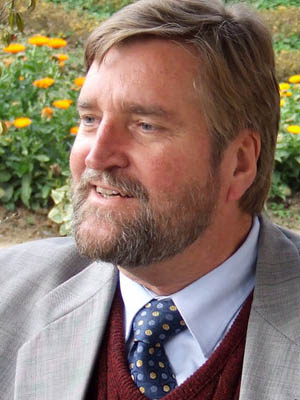 2011 Dr J. Gabriel Campbell '65

Gabriel Campbell has spent almost his whole life in the Himalaya. Born at Landour Community Hospital, Mussoorie, he followed his father, uncle and aunts in attending Woodstock School from Upper Kindergarten to graduation (with a couple of years in the US). His winter family home was in Jalandhar, Punjab.
Gabriel has a PhD and MPhil in Anthropology, Religion and South Asian Studies from Columbia University and Union Theological Seminary, New York, and an MA and BA from Wesleyan University, Connecticut, in Anthropology and History and Religion. For these degrees he spent two separate years of field research living in villages of Himachal Pradesh and Jumla, Nepal. He speaks Nepali, Hindi, Urdu and Punjabi and has studied French, Tibetan and Sanskrit. He has published six monographs and books and over a hundred articles and papers.
Following five years as the Executive Head of the US Education Foundation in Nepal (Fulbright Program) and Director of Operations for Mountain Travel Nepal, Gabriel's career has focused on natural resource management and local livelihood improvement in a number of countries in the Himalaya. He has worked with international development agencies, including USAID, the United Nations, the World Bank and NGOs, especially The Mountain Institute, as a specialist in the human dimensions of development and in management roles. As Director General of ICIMOD – the International Centre for Integrated Mountain Development – for over seven years, Gabriel supervised a staff of 150, built an international headquarters and worked with countries throughout the Himalaya to increase cooperation and knowledge sharing. In this role he was given a number of awards by the countries of the region, international agencies, and several large private sector IT companies.
Among his accomplishments, Gabriel is credited with being instrumental in:
• establishing Community Forestry in Nepal and reversing deforestation in the hills and mountains of that country (this is now a global model of success);
• establishing community-based national parks around Mt Everest and Mt Makalu-Qomolangma National Nature Preserve in Tibet, China, and Makalu-Barun National Park and Conservation Area in eastern Nepal;
• designing eco-development programmes for seven Project Tiger national parks in India that have been subsequently expanded to other park areas;
• pioneering scholarship on shamanism in far-western Nepal, community institutions for natural resource management, validity of social science survey methods and methodology, monitoring systems for forestry in India and tenurial aspects of development, and eco-tourism in Sikkim;
• building regional cooperation between Afghanistan, Bangladesh, Bhutan, China, India, Nepal, Myanmar and Pakistan in a number of areas such as: flood forecasting, biodiversity conservation, GIS and glacial-lake mapping, disaster preparedness, watershed management and agricultural development, eco-tourism, climate change research and adaptation strategies, Himalayan bee development, promotion of gender equality and social inclusion.
Gabriel lives mostly in Nepal with his wife, Dr Lynn Bennett, also an anthropologist, known for her pioneering work on women and social inclusion in the World Bank. He is active in WOSA meetings in Nepal and, when possible, the US, and was happy to help host the Woodstock Jazz Band who visited Kathmandu for Jazzmandu in October 2010. He was the Commencement Speaker at Woodstock for the Class of '06.