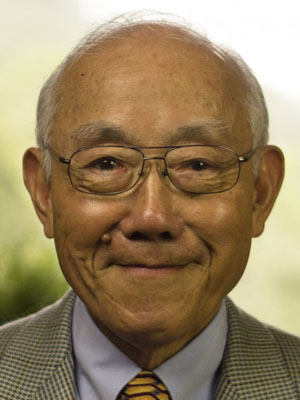 2007 TZ Chu '52
TZ Chu has been recognised for his pioneering work in analytical instrumentation, his facility as an early practitioner of global business strategy for smaller companies, his leadership in promoting diversity in management as a role model and as an industry leader, and his committed support of his high school and university through multiple means, including service as a board member of Woodstock School.
TZ earned a BSc degree in Chemistry at the University of California, Berkeley, in 1958. Still an active supporter of the university, he has served as a volunteer in numerous capacities, including as a trustee of UC Berkeley Foundation and volunteer fund-raiser. He established a Distinguished Professorship in Chemistry in 2005.
For 45 years, TZ enjoyed a successful career in the analytical and scientific instruments industry as a scientist, manager, entrepreneur and venture investor in several pioneering instrumentation fields. The products, methodologies and applications he helped to develop are the basis of worldwide environmental regulations, pharmaceuticals development, drugs-of-abuse detection, nuclear energy development and safeguards, and molecular and cell biology research.
From 1962 to 1996, he organised and managed operations of his company in the United States, Canada, Europe, Latin America, Australia, Japan and China. From 1972 to 2006, he served as a board member of private and public companies, trade associations, and non-profit organisations. He was the first Asian Chief Executive Officer of a publicly held technology company in North America in 1972, and from 1993 to 2006, he served as a board member of LSI Logic (New York Stock Exchange) and other public and private companies.
TZ was elected Chairman of the highly influential American Electronics Association in 1980. In 1972 he was a founding board member of the Women's Resource Center, the first non-profit organisation devoted to advancing women's management careers in technology companies. He served on the boards of KW International, Kodaikanal International School, and Friends of Woodstock School from 1996 to 2006.
TZ, a US citizen, was born in Shanghai, China, in 1934. His mother was Japanese and his father was Chinese. His father received his university education in France. TZ has been married to Irmgard Suetterlin Chu, a Swiss citizen, since 1963. They have one daughter and two grandchildren.
TZ passed away in 2016.