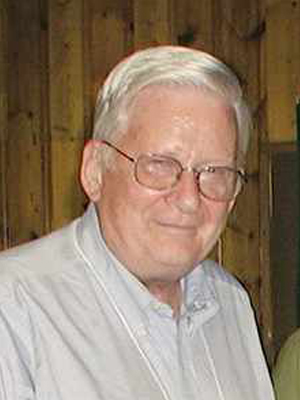 2004 Dr Frederick S. Downs '49
Fred Downs has spent his life in service to the Church and to theological education in India. He was born of missionary parents at Tura, Meghalaya, in 1932. An official member of the Class of 1949, he attended Woodstock from 1946 to 1948. Following graduation, he embarked on a rigorous path of academic and theological study, receiving a BA in History from the College of Wooster, a BD from Colgate Rochester Divinity School, and a PhD from St Andrews University in Scotland in the field of Church History. In 1960 Fred and his wife, Mary, were appointed to Eastern Theological College in Jorhat, Assam, as missionaries. There, he served as Professor from 1961 to 1969 and also as Acting Principal from 1963 to 1966. Nearly thirty years later, he would return to the college as Visiting Professor of History of Christianity from 1997 to 1998. During his time in Assam, Fred served as Vice-President of the Council of Baptist Churches in North East India (CBCNEI) in 1963 and 1968. While in Bangalore, he also worked in the area of the history of Christianity. His commitment to education in India has included an ongoing relationship with Woodstock, as well as with Kodaikanal International School. He was an active member of the Woodstock School Board of Directors from 1974 to 1980, serving as Vice-President in 1974-75 and President from 1975 to 1980. He was also a member of the Kodaikanal Board of Directors from 1991 to 1996, serving as Vice-Chair from 1995 to 1996.
In his posts on the Boards of Woodstock and Kodaikanal, Fred made serious contributions to international education in India, but these were only two of many roles he filled in support of excellence in education. Elsewhere in India, he served as a member of the Senate of Serampore College from 1969 to 1974, as member of the Boards of Studies at the LTh, BD and MTh levels, and as member of the Board of Moderators for the Comprehensive and MTh examinations over two decades. He was named Honorary Professor of Church History at Dharmaram College in Bangalore; Research Fellow and Visiting Lecturer at Yale Divinity School in New Haven, Connecticut; and Adjunct Professor at Northern Baptist Theological Seminary in Lombard, Illinois, at Colgate Rochester/Bexley Hall Divinity School in Rochester, New York, and at Andover Newton Theological School in Boston, Massachusetts.
Fred's countless articles in national and international journals and his seven books bear testimony to his commitment to the ecumenical movement and to the Church in the context of North East India. On the 7th of February, 2004, the Senate and Council of Serampore College conferred upon him an honorary Doctor of Divinity in recognition of his service to the Church and theological education in India.