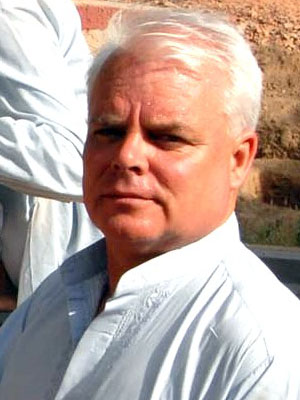 2006 Dr Jonathan Mark Kenoyer '70
Jonathan Mark Kenoyer has been elected to the Woodstock School Distinguished Alumni Roll for his pioneering work on the anthropology of the Indus Valley, which has completely revised previously accepted theories of the beginning of civilisation in the Indian Peninsula. He is Professor of Anthropology at the University of Wisconsin, Madison, USA, and Co-Director of the Harappa Archaeological Research Project (HARP). Under his direction, HARP has been excavating at the ancient Indus city of Harappa since 1986. Mark speaks several South Asian languages fluently and has been involved in a variety of other archaeological and ethnographic projects in Pakistan and India since 1974. His particular interests include the origins of cities, writing and technology. He has worked with craftspeople in Pakistan and India to replicate ancient pottery, jewellery and other objects.
Mark was born in India and has been digging in the subcontinent for thirty years. He did his BA, MA and PhD (1983) through the University of California at Berkeley, and was a student of the late George F. Dales, with whom he co-authored a definitive study of excavations at Mohenjo-daro, entitled Pakistan: The Pottery. He has published over thirty-five journal articles, had over sixty articles appear in edited volumes, authored seventeen book reviews on works relating to South Asian study, and written numerous books about the latest research on the ancient Indus. His most well-known book is Ancient Cities of the Indus Valley (Oxford, 1998). His most recent book, co-authored with Kimberley Heuston and entitled The Ancient South Asian World (Oxford, 2005), has been written for children.
Mark was Curator of the 'Great Cities, Small Treasures: The Ancient World of the Indus Valley' exhibit in the United States in 1999, has participated in the development of numerous other museum displays, and is a consultant and founding member of the Indus Heritage Display at the Maharaja Sayajirao University, Baroda, India. He has lectured worldwide on Harappa culture and the Indus.