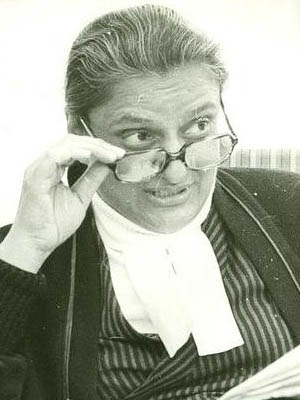 2007 Bhavenesh Kumari Patiala '50

Bhavenesh Kumari Patiala '50 has been nominated for her ground-breaking career as a woman lawyer in India. A member of the royal family of Patiala, she excelled in a career that was closed to women and to those of her lineage.
Bhavenesh came to Woodstock in 1948, inspired by memories shared by her British governess Josephine Newman, a teacher trainee at The College (the former incarnation of Midlands). It took much persuasion before family traditions were put aside to allow Bhavenesh to attend Woodstock. Lena, as she came to be known, decided early on that the hillside had far more for her than book learning: she excelled in sports, hiking and student government.
After Woodstock, Bhavenesh attended Miranda House, Delhi University, where she decided on a career in law. She broke gender and social barriers with a law degree from Delhi, followed by another from Yale Law School.
On her return to India, Bhavenesh became a partner in the largest law firm in New Delhi. As one of India's first specialists in international corporate law, her work served as a foundation for later globalisation efforts. She was the first woman to practise in several countries of West Asia. Practising in the Supreme Court, she represented Sikkim's ruling family with the Government of India in what became an important landmark case in her career. Another was to help sort out a multi-billion-rupee mess in Hyderabad and Australia for 'The Last Nizam', recorded by John Zubrzycki in his book of that title (Phaidon, 2006).
Bhavenesh has always made time to support good causes and those in need of legal aid. These have included villagers displaced by the Rajasthan Canal, and a range of hospitals and schools. When two states offered her judgeships, Bhavenesh declined in order to sustain her public service: 'That way, I could do more for people. For me, law is not a profession. It's a way of life.' Invited to membership by four Bar associatons, recognition also came through the Indian Law Federation, and the Indian Commission of Jurists' invitation to join its executive, making Bhavenesh the first woman lawyer elevated to this position.
Through all these years, Bhavenesh remained one of WOSA-India's most active members. Her wisdom and skills have helped successive Woodstock administrations over a range of management and liaison needs, including the legal complexities of property rights vital to Woodstock's sustainability. In 2005 Kaye Aoki, Deputy Principal at Woodstock, shared with Woodstock students: 'What is most impressive about Bhavenesh is her enormous generosity of spirit and how she has used her status, both earned and inherited, to enhance the experiences of others.'