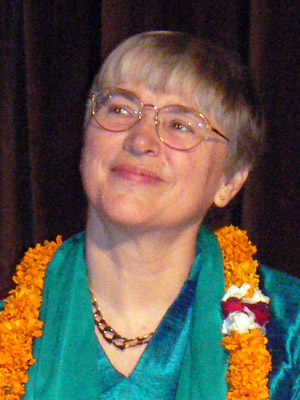 2007 Dr Dorothy Irene Riddle '60
Dorothy Riddle was born in the United States. She accompanied her parents to China after World War II, learned Chinese, and was ready to start school when the Communist take-over of the country forced the departure of all foreigners. In 1950 Dorothy started lower kindergarten in Woodstock School, where her grandfather, Allen Parker, had been Principal. She graduated as valedictorian of her class. She completed a BA, summa cum laude, in Psychology and Philosophy at the University of Colorado; a PhD in Clinical Psychology from Duke University; and an MBA specialising in service industries from the University of Arizona.
Throughout her career, Dorothy has focused on initiatives to empower disadvantaged groups and economies. In 1971 she was responsible for launching the first BA-granting women studies programme based at City University of New York. During the early 1970s, she was part of an American Psychological Association Task Force which was ultimately responsible for the official change in the status of homosexuality from a psychiatric disorder to a lifestyle. She also developed the Riddle Scale, a tool for measuring homophobia that is now being used to measure changes in a range of other social attitudes. In 1981 she joined the faculty of the American Graduate School of International Management in Phoenix, Arizona, and developed and delivered the first courses on international services trade and international services management.
In 1986 Dorothy completed a study of the service sectors of eighty-one countries at four levels of development. She has done ground-breaking research and consulting work in over eighty countries on the importance of leveraging the service sector for economic growth. She has been recognised by the United Nations as the leading world expert on services and economic development.
Dorothy has developed a series of online assessment tools for export readiness, e-business readiness, and business competitiveness. She and her business partner developed and launched the online Employment Readiness Scale (see www.EmploymentReadiness.org). Her most recent accomplishment is the Spiritual Evolution Assessment Scale, which she designed and field-tested in 24 countries with 417 participants from a range of spiritual traditions (see www.SEAScale.net).
Dorothy has served on the Board of Directors of the North-South Institute, a Canadian non-profit organisation dedicated to eradicating global poverty and enhancing social justice through research that promotes international co-operation, democratic governance, and conflict prevention.