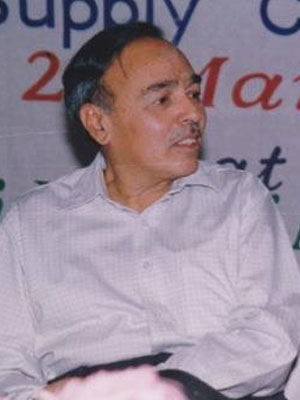 2012 Jagdish Sagar '61

Jagdish Sagar has served in many prominent positions in the Indian Civil Service, dealing with, among other things, law and order, tax administration, personnel, and development and planning, including responsibility for the power sector. Since his retirement, he has practised as a lawyer, specialising in copyright law.

Jagdish was born on 1 March, 1944, in the Methodist Mission Hospital in Vrindavan, United Provinces. He joined Woodstock School in Standard 3 (as it was then known) in 1952. In 1959 he, in his own words, 'scraped through with the lowest possible First Division' in the Senior Cambridge Exams. Following graduation in 1960, he joined St Stephen's College, Delhi, to study history. Jagdish claims to have had a 'very indifferent academic record', but still graduated with a Master's in 1965. He took the annual Civil Services Examination in October 1965 and was selected for the Indian Administrative Service, a prestigious achievement in those days of limited opportunity.
After attending the National Academy of Administration in Mussoorie, he spent his early career in District Administration in Pilibhit, UP, in Delhi, in North Goa, in Daman, and in Dadra and Nagar Haveli (small ex-Portuguese enclaves in Gujarat). While in Dadra and Nagar Haveli, he met Gita Desai, a civil servant on deputation from the Gujarat Government. They were married in Delhi in July 1974. From 1974 to 1981 Jagdish worked in the Department of Personnel, and later in the Delhi Administration, broken by a year as a visiting Fellow at Queen Elizabeth House, Oxford.
The next seven years were, for Jagdish, among the most memorable. He was successively Chief Secretary for the Andaman and Nicobar Islands Administration, Development Commissioner for Goa, Daman and Diu, and Administrator of Lakshadweep Islands. In this last post, he handled the visits of both the President and Prime Minister and built the Bangaram tourist resort (first occupied by Prime Minister Rajiv Gandhi). He was the last Lakshadweep Administrator to travel between islands in thirty-foot boats, and the first to have a helicopter.

From 1987 to 1992, Jagdish was Joint Secretary in the Ministry of Human Resource Development, mainly in the Copyright Division. He played a significant part in the establishment of the World Trade Organization (WTO), and made a dozen trips to Geneva in the negotiations that led to the TRIPS (Trade-Related Intellectual Property Rights) Agreement. He drafted the major amendments which eventually became the Copyright (Amendment) Act 1994, bringing Indian copyright law up to date.
Returning to Delhi, he was appointed as what would be the last Chairman of the Delhi Vidyut Board. He was asked by the Chief Minister of Delhi, Sheila Dixit, to steer reform of the power sector. This proved to be one of his greatest challenges and successes. He devised an innovative approach to privatisation, creating a financial structure which – at current values – is saving the public in the region of Rs 2,000 crore per year. Following the handover in June 2002, he remained as Principal Secretary (Power) in the Government of Delhi until his retirement in February 2004. From 1993 to 1999 he worked in the newly formed Government of the National Capital Territory of Delhi and then as Adviser to the Administrator of Chandigarh.
In 2006 Jagdish obtained his law degree from Delhi University and joined Anand and Anand, India's largest intellectual property law firm. He became a Partner, heading the copyright practice in the Litigation Department, and was in court daily, managing over a hundred pending cases. During this time, he obtained significant landmark judgements relating to copyright law. He has been practising independently since December 2012, and is widening his practice into other branches of law.
Jagdish has retained his links with Woodstock; he was invited back to speak on Independence Day 2003, then served on the Board of Directors from 2004 to 2009, where he provided great assistance in the last major revision of the school's constitution and by-laws.