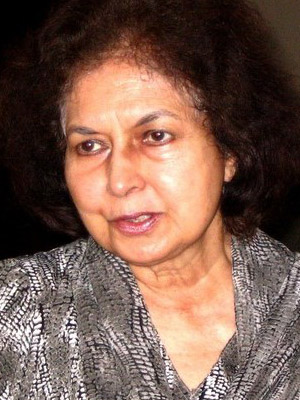 2004 Nayantara Pandit Sahgal '43
Nayantara Sahgal has been elected to the Distinguished Alumni Roll in recognition of her lifetime achievement as a writer of elegantly crafted works of both fiction and non-fiction providing a perceptive and insightful analysis of post-colonial India's social and political climate. She was born in Allahabad, India, in 1927 into one of India's most prominent political families. Her mother, Vijayalakshmi Pandit, was India's first ambassador to the UN; her uncle, Jawaharlal Nehru, was India's first Prime Minister; and her first cousin, Indira Gandhi, was India's third Prime Minister. It is therefore not surprising that politics and history underlie much of her writing.

A member of the Class of 1943, Nayantara attended Woodstock from 1936 until 1940, finishing her high-school education in Allahabad due to the changing political climate in the nation. She attended Wellesley College in the United States and graduated with a BA in History in 1947, the first step in a lifetime of academic accomplishment. In 1976 she was named a Fellow of the Radcliffe Institute in Cambridge, Massachusetts; in 1981-82 a Fellow of the Woodrow Wilson International Center for Scholars in Washington, DC; and in 1983-84 a Fellow at the National Humanities Center in North Carolina. In addition to these fellowships, she was Writer-in-Residence at Southern Methodist University in Dallas, Texas, in both 1973 and 1977. In recognition of her many academic and literary achievements, she was elected to the American Academy of Arts and Sciences as a Foreign Honorary Fellow in 1990.
Nayantara is the author of nine novels. In 2002 she was awarded the Alumni Achievement Award from Wellesley College. Her last novel, Lesser Breeds, was published in 2003. The Library of Congress currently holds twenty-four of her works. She continues to write, and maintains contact with Woodstock from her home in Dehra Dun. In 2004 she spoke at Woodstock's 75th annual Commencement, where she inspired yet another generation of students to make a difference in the world.