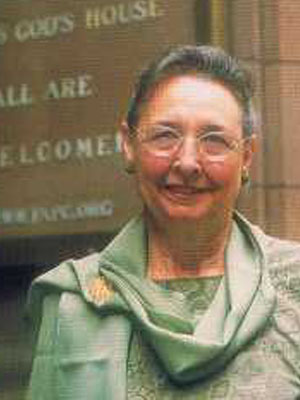 2010 Margaret Loehlin Schafer '56
Margaret Schafer is an outstanding example of Woodstock's Distinguished Alumni. Having attended Woodstock School as the daughter of missionaries serving the Presbyterian Church in the Punjab, she was elected to Woodstock's Distinguished Alumni roll for her work in the support of social programmes in her congregation, Fifth Avenue Presbyterian Church, in New York and in the wider community. Her Christian faith was the foundation for her largely voluntary work in the fields of education, leadership training, social injustice and fighting racism. She was awarded an Outstanding Service Award from The Black Caucus of the Presbytery of New York for her work in designing 'Undoing Racism' workshops for her presbytery. In 2003 she received an Outstanding Service Award from the Fordham University Council for her work with the homeless at her Fifth Avenue church. And in 2002 she was honoured with an Outstanding Achievement Award from the Partnership for the Homeless, New York City.
In a First Amendment court case in 2002, Margaret was the primary named litigant against New York City, which was tried in the Second District Court of Appeals. The city of New York sought to stop the ministering to the homeless on the steps of the church. The case was won by the church. Margaret also published numerous articles relating to public schools and religion. Her articles include Bible education and the Church's response to the AIDS crisis.
Career highlights include her position on the National Council of Churches of Christ in the USA (1982-90) where Margaret developed expertise in the education for the prevention of the spread of AIDS and in basic adult literacy. During this time, she developed and co-coordinated support ministries and volunteers of the Fifth Avenue Presbyterian Church in programmes emphasising homelessness (1998-2004). In 1991-2006 Margaret worked as an Associate in education planning and organising education for her 3000-member church. In 2007-2009 she provided courses for students considering going to the seminary at the United Theological College, Bangalore, India.
Margaret served on many management boards, including as a member of the Board of Directors for Kodai-Woodstock International (1993-2004) and as a member of the Alumni Council of Woodstock Old Students Association, North America (1990-1994). While President in 1993-94, she attended meetings of the Woodstock School Board in Mussoorie.
Margaret and her husband, Byron Shafer, PhD, had three children and three grandchildren. Beautifully described by her friend Margo Curl '67 as 'smart, courageous and gracious', Margaret possessed in abundance the sort of qualities that Woodstock strives to nurture in its students. Woodstock is proud to produce such graduates.
Margaret passed away in July 2012.