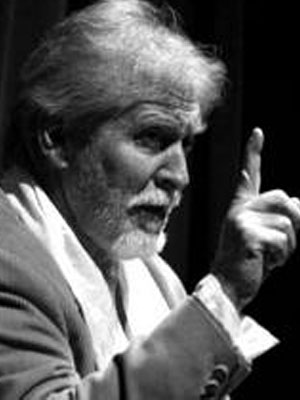 2011 Tom Alter '68
Tom Alter has been a well-known face to Indian movie-goers for more than three decades. Apart from acting in Hindi films, he has exhibited talent in theatre, sports and literature. The son and grandson of American Presbyterian missionaries, Tom grew up in north India in the towns of Rajpur and Mussoorie. As a child, he studied Hindi and Urdu and, consequently, was referred to as the 'blue-eyed sahib with the impeccable Hindi'. After studying in Woodstock School from Grade 1 to 12 and graduating in 1968, Tom worked as a sports teacher at St Thomas School in Jagadhri, Haryana, and came back to Woodstock as staff for about two years.
In the early 1970s Tom fell in love with the movies (after watching the classic film Aaradhna), which led him to enrol in the prestigious Film and Television Institute of India (FTII), where he studied with the likes of Naseeruddin Shah, Shabana Azmi and other stalwarts of cinema. Having featured in almost a hundred films, Tom has worked with noted film-makers such as Satyajit Ray, V. Shantaram, Raj Kapoor, Hrishikesh Mukherjee, Manmohan Desai, Vidhu Vinod Chopra, Manoj Kumar and Ismail Merchant. He has played many significant roles in his career and has had the privilege of working with the best in Hindi cinema and Hollywood. Not many actors in Hindi cinema have acted in as broad a range of movies.
In addition to acting, Tom has also ventured into directing: he directed a one-shot episode for the short-lived series Yule Love Stories in the mid-1990s. He also worked on the small screen in a number of popular serials: Junoon, which ran for five years and won him rave reviews, Zabaan Sambhalke, Ghutan and the talk show Mere Ghar Aana Zindagi are some of the popular shows Tom has been part of. He also made his mark in theatre. Significant productions include William Dalrymple's City of Djinns, where he shared a stage with the legendary Zohra Sehgal. A solo play, Maulana, based on the life and vision of freedom fighter Maulana Azad, continues to receive enthusiastic reviews in India and abroad.
Cricket was always more than a passion for Tom, and he continues to play cricket for the film industry team MCC (Match Cut Club) with Naseeruddin Shah, Aamir Khan and Nana Patekar, among others. From the late 1980s to the early 1990s, he was a sports journalist, and he still writes on cricket for a number of national and international publications. He has also written a non-fiction book on cricket, The Best in the World, as well as publishing two works of fiction, The Longest Race and Rerun at Rialto.
Tom stands out in every part of his professional life. In 2008 he was awarded the prestigious Padma Shree (one of India's highest public honours) by the Indian Government in recognition for his services to the field of arts and cinema. In Woodstock, as a student, as a staff member and as a parent, Tom has been a proactive, keen and involved alumnus; he's an integral part of the Woodstock heritage.
Tom passed away in 2017.