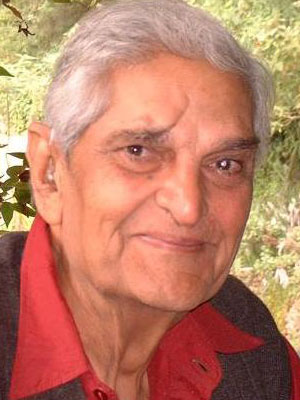 2004 Brigadier Hukam Singh Yadav '38
Hukam Singh Yadav has devoted his life to service in the Indian Army. Born in Agra in 1921, he came to Woodstock in 1935. When he graduated from the school, he was chosen as one of the two 'best boy' students in the Class of 1938. At the age of 18, he took the Federal Public Service Commission Examination and was one of fifteen cadets admitted into the Indian Military Academy through an open competition. He received his commission from King George VI in 1941, as Second Lieutenant in the Royal Regiment of Indian Artillery. Despite his young age, Hukam was quickly promoted to Captain and became the first Indian to be appointed Instructor-in-Gunnery in February 1942. In 1943 he was posted to the Burma Front and, soon after, selected to be Liaison Officer for Admiral Lord Louis Mountbatten, who was visiting to inspect an Infantry Division as the Supreme Allied Commander. Later, General Sir Montagu Stopford, who eventually became Commander-in-Chief and Supreme Allied Commander of Southeast Asia, chose Hukam as his ADC. Hukam would serve with General Stopford on strategic and diplomatic missions throughout Asia from May 1945 until January 1947, when he was posted to Peshawar to command a rifle company charged with keeping the peace in the midst of Hindu-Muslim riots. Three months later, Lord Mountbatten was appointed Viceroy of India, and Hukam left for New Delhi to serve as his ADC. At the 15th of August Independence celebrations at India Gate, the huge crowd prevented Lord Mountbatten from reaching the flagpole, so he directed Hukam to make his way through the crowd and unfurl the flag on Lord Mountbatten's behalf; it was the second flag to be unfurled on that day, Pundit Nehru having unfurled the first at Red Fort during the morning.
In December 1947, Hukam wed Ann Connorton, who was also a member of Mountbatten's staff. They were married for fifty-two years and had two children. Their daughter, Maya, worked at Woodstock for four years. Immediately after his marriage, Hukam was promoted to Lieutenant Colonel at the age of 26 and posted to command a battalion on the front in Kashmir. In 1948 he led two major campaigns; the first in the Doda-Kishtwar-Bhadarwa area of more than 500 square miles of rugged mountain terrain, where he was the first Indian Commander to face and quell a large-scale insurrection; the second over the snow-covered 5,300-metre-high Umasila Pass in October-November 1948. Both campaigns were successful. Among a wide range of positions in his military career, Hukam taught at the Artillery School, the Infantry School, the Defence Services Staff College, and was the first Commandant of the Jungle Warfare School, which he created. While there, he compiled and wrote the first-ever standard textbook on jungle warfare. Later in his military career, he raised and commanded a Brigade and later another Mountain Brigade, and was Brigadier General Staff of an Army Command, responsible for military operations, training and intelligence, in 1965-67. He retired from the army at his own request in 1968 and went into politics and farming.
Residing in Mussoorie and Meerut after his retirement, he became Chairman of the All India Ex-servicemen Action Committee, a group that lobbies for the rights of veterans. In this position, he was successful in urging the Indian Government to concede a fixed minimum pension for all, an enhanced pension on the basis of One Rank One Pension notwithstanding the date of retirement, a fixed pension for widows, and better allowances for the disabled. In his effort to ensure these advantages for the many who had served their country, Hukam went as far as spending a day of confinement in jail, but the veteran rights he fought for have benefited more than six million military and civil pensioners in the country.
Throughout his life, Hukam retained a passion for history and literature, and in December 2001 he was awarded a Master's degree in History. He published a novel, Against the Rising Sun, as well as a non-fiction work, British Lions and Indian Tigers, an historical review of British rule in India and the role played by the Indian Army in gaining independence.
He passed away in 2005.