What can you do to get involved?
Ongoing engagement among alumni and continued support for Woodstock from alumni like you is vital. Whether as an ambassador, mentor, volunteer, or donor, you can play an important role. By helping increase alumni engagement, you help the school to achieve its potential and the students of tomorrow reach their goals.
Woodstock Alumni Connect – Your Professional Network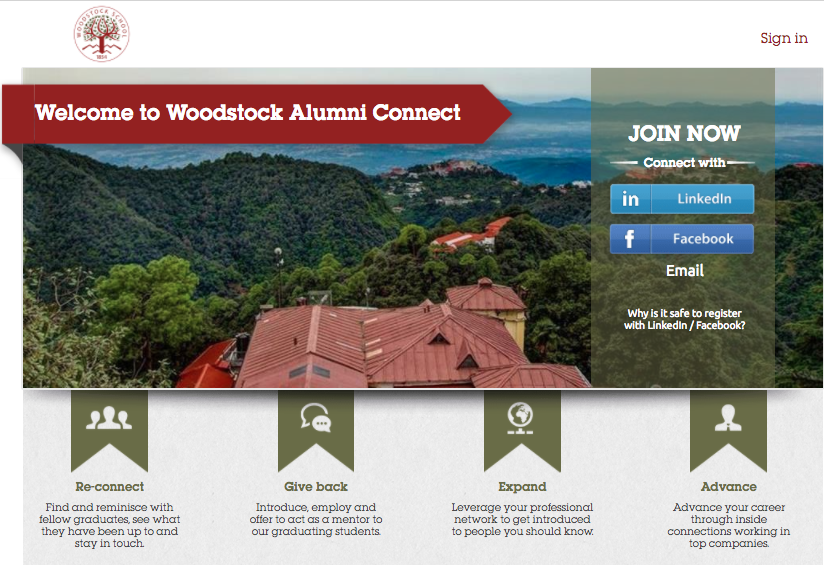 The Woodstock Alumni Connect Professional and Mentoring Network is a digital online platform exclusively for WS alumni that connects with LinkedIn and Facebook.  Whether you're a graduate, former student, or former staff, this network is for you. Inside the network you'll be able to share photos, be a mentor or mentee, and post or search for internships or potential job opportunities. The platform launched in May 2017 and is accessible through a social media login, or with a username and password. Click here for FAQs about Woodstock Alumni Connect.
Click here to visit Woodstock Alumni Connect.
Want to receive the Quadrangle, event invites, and newsletters?
Help us keep your records up to date. Simply fill out the update your details form, or email your contact details and mail preferences  to alumni@woodstock.ac.in, making sure to include your full name and your complete contact details and mail/email preferences.  You can also contact us the address below or phone the Alumni Office at +91 (135) 263-9163.
Woodstock School
Alumni & Development Office
Landour, Mussoorie
Uttarkhand, 248179