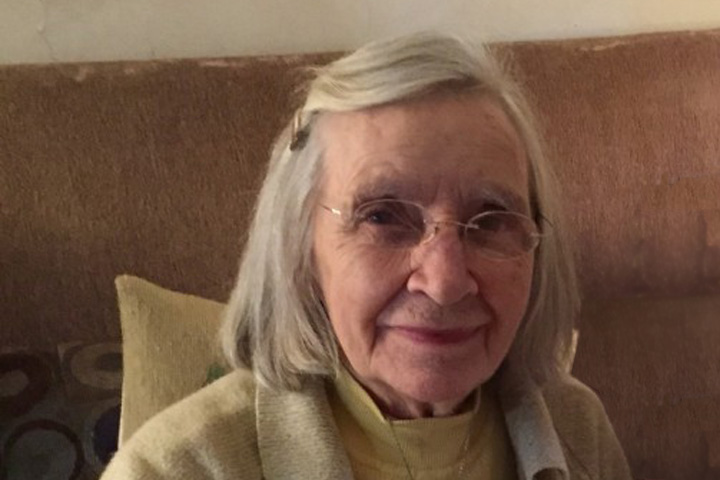 21 Dec

Anne Lockwood Romasco: May 1933-November 2017
By Anne's nephew Lawrence MacDonald
Anne Lockwood Romasco, who was born and raised in southern China during the tumultuous years before the Communist revolution, was active in the 1960s Civil Rights movement and served as the managing director of the James C. Penny Foundation, died in her home in Brooklyn on November 29, 2017. She was 84 and had suffered a massive stroke a week before, shortly after returning from a five-week trip to China.
Anne is survived by her son Calem and daughter Senta, a handful of cousins, and a large number of nieces and nephews and grand nieces and nephews who were inspired by her keen sense of fun, her deep appreciation of nature and the arts, and her fierce dedication to social justice. She will be deeply missed by her many friends, including former high school classmates from the Shanghai American School, from which she graduated on the eve of the Communist takeover of the city in 1949.
Born in Canton (today's Guangzhou) on May 10, 1933, Anne had vivid memories of her childhood in China and retained a lifelong affection for Chinese people and the country of her birth. Her father, Edward Lockwood, served as the general secretary of the Canton Chinese YMCA, an outpost of the American Protestant missionary organization. Edward had two children, Marion and Richard, by his first wife, who died of a tropical fever. His second wife, fellow missionary Muriel Webb Lockwood, adopted Marion and Richard and gave birth to two daughters, Dorothy and Anne, the youngest of the four Lockwood children. (Read an oral history interview with Anne's mother here.)
As a child in the family's home on an island in the Pearl River delta, Anne was happiest in the company of the servants in the kitchen. Her first language was Cantonese and she formed a close bond with the cook, who fed her Cantonese treats, including her favorite—duck tongues. (See rare missionary home movies of Anne and her family from this period here and here.)
When Anne was about eight-years-old, the Lockwoods relocated to Kukong (today's Shaoguan), the wartime provincial capital, where Edward served as the relief director of the Kwantung Provincial Government. Muriel home schooled Dorothy, Anne and the servants' children, sheltering with them in a trench during air raids. After a Japanese bomb killed a little boy who climbed out of the trench to catch his pet dog during class, Muriel took her daughters further inland, to Chengdu, the capital of Szechuan Province, where the girls spent a year in a Canadian-run school.
U.S. forces were flying supply missions from India "over the Hump"—the foothills of the Himalayas—to Chengdu in the world's first strategic airlift. The crews flew underpowered, rickety planes with crude maps and no radar. Over the three years of the airlift, more than 700 planes crashed and a third of the crews died. Those who made it to Chengdu unloaded their cargos of gasoline, weapons and ammunition and returned to India, mostly empty.
To get her daughters away from the threat of war, Muriel arranged for them to take one of these returning flights. Anne recalled sneaking a pet rabbit onboard, hidden beneath the multiple coats she wore as protection from the cold.
Anne and Dorothy spent a year at the Woodstock School in the foothills of the Himalayas north of Delhi in a close-knit community that included other children of missionaries. The views of the distant Himalayas exhilarated her and she later recalled her year there as a time of peace and safety. (For more on Anne and Dorothy's year at Woodstock, see my article A Long Journey to Woodstock School.)
The year ended when Muriel, who had flown over the Hump to join her children, learned that the captain of a U.S. military ship departing Calcutta for California had agreed to carry civilians. She bought the only train tickets available—in a third-class women's carriage—and recalled years later the kindness fellow passengers extended to her, Anne and Dorothy.
Anne attended public school in Claremont, California, a college town west of Los Angeles, where her mother's parents had bought a home for the Lockwoods. When the war ended in 1945, Edward and Muriel returned to China to rebuild the Canton YMCA. Anne also returned to China, enrolling in the Shanghai American School, a boarding school that, like Woodstock, included the children of missionaries who were Anne's kindred spirits. In her 1949 SAS yearbook classmates wrote: "See you after Liberation!"
Back in Claremont, Anne enrolled in Pomona College and then transferred to Antioch College in Ohio, where the educational approach blended practical work experience with classroom learning. During an off-campus work period, Anne worked for Saul Alinsky, the founder of modern community organizing, typing his notes on index cards. Alinsky introduced Anne to Myles Horton, co-founder of the Highlander Folk School in Tennessee, an incubator of union organizing and the Civil Rights movement.
Anne worked at Highlander off and on for many years. During her time there she became friends with Civil Rights icon Rosa Parks, who credited her experience at Highlander with her famous refusal to give up her bus seat to a white passenger, and with folksingers Guy and Candie Carawan, who while at Highlander popularized the song "We Shall Overcome," which was to become the anthem of the Civil Rights movement.
While living in New York City in 1965, Anne met and later married historian Albert Romasco, a Korean War veteran and the son of Italian Immigrants who published two books on the Depression and the New Deal. When their children Calem and Senta entered P.S. 3, an alternative public elementary school in the West Village, Anne devoted her time to creating the PTA.
She invested much of her life in work for non-profit organizations working to social and economic conditions of poor and oppressed people, including writing grant proposals for non-profit organizations. After Al's death from cancer in 1985, she became the Managing Director of the James C. Penney Foundation, a grant-making organization that focused on empowering disenfranchised people. She also served on the boards of numerous non profit organizations, among them the Highlander Research Center, Green Empowerment, The Workers Defense League and the National Center for Healthy Housing, a non-profit research and advocacy organization.
Starting in the 1980s, Anne made a series of trips to China, seeking out Edward's proteges, who had been badly persecuted during the Cultural Revolution. She helped to establish ties between the newly re-opened Shanghai American School and the U.S.-based SAS Alumni Association, raising funds to sponsor an annual lecture.
In her late 70s, Anne suffered two life-threatening accidents. In 2012 she was hit by a car while crossing an avenue near her home in Brooklyn, sustaining a traumatic brain injury and the loss of sight in one eye.  Anne's fierce determination, along with the excellent cognitive and physical therapy programs at Rusk Institute in Manhattan and Senta's unfailing assistance, enabled her to regain her independence. She achieved her stated goal of returning to taking the subway by herself—a facet of city living she considered an inseparable part of being a New Yorker.
Tragically, in 2013 after this remarkable recovery, while out to dinner with an old friend she fell down a flight of stairs and broke her neck. While she never fully regained her prior vigor, her hard work made it possible for her to largely recover from that accident as well. She continued to read, correspond with friends, take the subway by herself, and travel.
In January of the last year of her life she joined her grand neice Muriel MacDonald and other family members in the massive Women's March in Washington, DC, protesting the innaguration of President Donald Trump. She also took a long delayed trip to Baja California, Mexico, led by her nephew, marine bioacoustician Michael Stocker, where she touched a baby whale. In September, Calem accompanied her on the five-week trip to China that proved to be her last journey home.
Also in the last year of Anne's life, American intellectual historian David Hollinger published Protestants Abroad: How Missionaries Tried to Change the World But Changed America.  The summary states that experience abroad "made many of these missionaries and their children critical of racism, imperialism, and religious orthodoxy. When they returned home, they brought new liberal values back to their own society [and] left an enduring mark on American public life as writers, diplomats, academics, church officials, publishers, foundation executives, and social activists."
Anne is cited in the footnotes. She would have loved the book.
Lawrence MacDonald