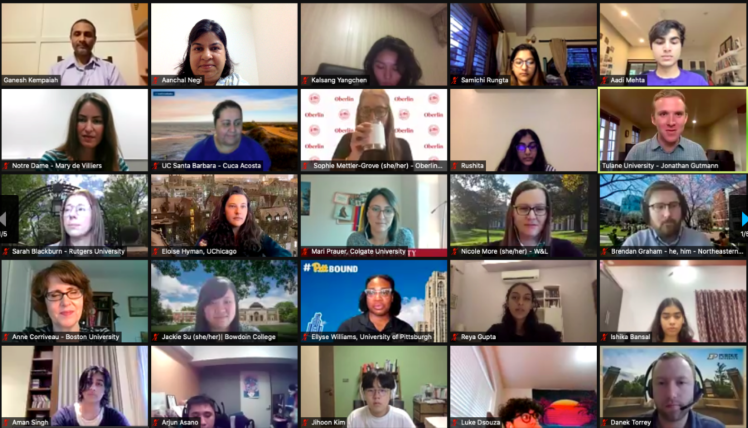 16 Aug

College Fair Goes Virtual

Woodstock hosted its second annual virtual college fair this year which consisted of ​​a series of 5 fairs between Aug. 18 and Sept. 22.

Various representatives from Canada, United Kingdom, United States, India, and Spain joined us through zoom with plenty of enthused students, marking a successful event.

The fair commenced as around 15 university representatives from the U.S joined  on Aug. 18 followed by 12 acclaimed universities from the UK such as the Imperial College and UCL.

On Sept. 8, a number of other brilliant colleges from the U.S contributed to the fair. Wrapping up  the event, various universities from Singapore, India and Europe participated in our last fair on Sept. 22. This was definitely a worthwhile opportunity for students keen on Art and Design because universities such as The Paris College of Art and The Savannah College specialising in that specific field were present. They described different courses  the students can pursue in their field of interest and guided them through their future careers.

During the virtual fair, all university representatives were given 30 seconds to briefly introduce their colleges. These presentations introduced students to universities they hadn't thought of, but found that they might be a good fit for. Colleges were able to have a separate breakout room for an explanation on a topic related to the college admission process which deemed them beneficial and informative.

Furthermore, this year initiated organizing the college fair region-specifically as they usually happen across one day when a plethora of universities participate.

The college counsellors, Ms Aanchal Negi and Mr Ganesh Kemphai said, "Organising the fair across five weeks was definitely tedious, but it was definitely worth the effort as the response was overwhelmingly positive as students were able to take advantage of the time, and research as well as interact with more universities across different countries."

College fairs have been a Woodstock tradition for a long while and will continue to take place despite the challenges faced this academic year.,

"I'm still a fan of the physical college fairs, but the virtual fair provides a lot of resources for the students and presents a lot of opportunities to them." Ms Aanchal Negi conveyed..

Samichi Rungta, an intern from the class of 2022 expressed "As interns, sending out emails, planning announcements, creating fliers, and more is just the start. However, this process is very helpful and lets us develop important skills such as communication and teamwork."

Kalsang Yangchen, class of 2022, remarked "In the 1 hour long q+a session, a lot of my doubts had been cleared up just by that session. So, in a way I saved time because writing emails and waiting for the school to reply is a hassle. I also was able to see if this school would be a good fit for me just by talking to the rep,"

Along with interactive sessions, presentations of various components in admissions, like the "test-optional" choice and "scholarship opportunities" in universities, served great benefit. Particularly, the  numerous alterations that had to be taken place in the application process over the course of the pandemic were outlined.

As students take yet another step into a crucial part of their academic journey, which will determine what their future upholds, the virtual college fairs provide them an insight and opportunity to put their minds at ease. The second step of an individual's journey is when they step into the college halls, and Woodstock makes sure that it has the doors wide open. Its invaluable guidance through this phase of the student's journey will definitely contribute to the bright and accomplished futures of the school's alumni.

Sakthi Shridevi is a staff reporter.

Edited by Bishalakshmi Bagchi.