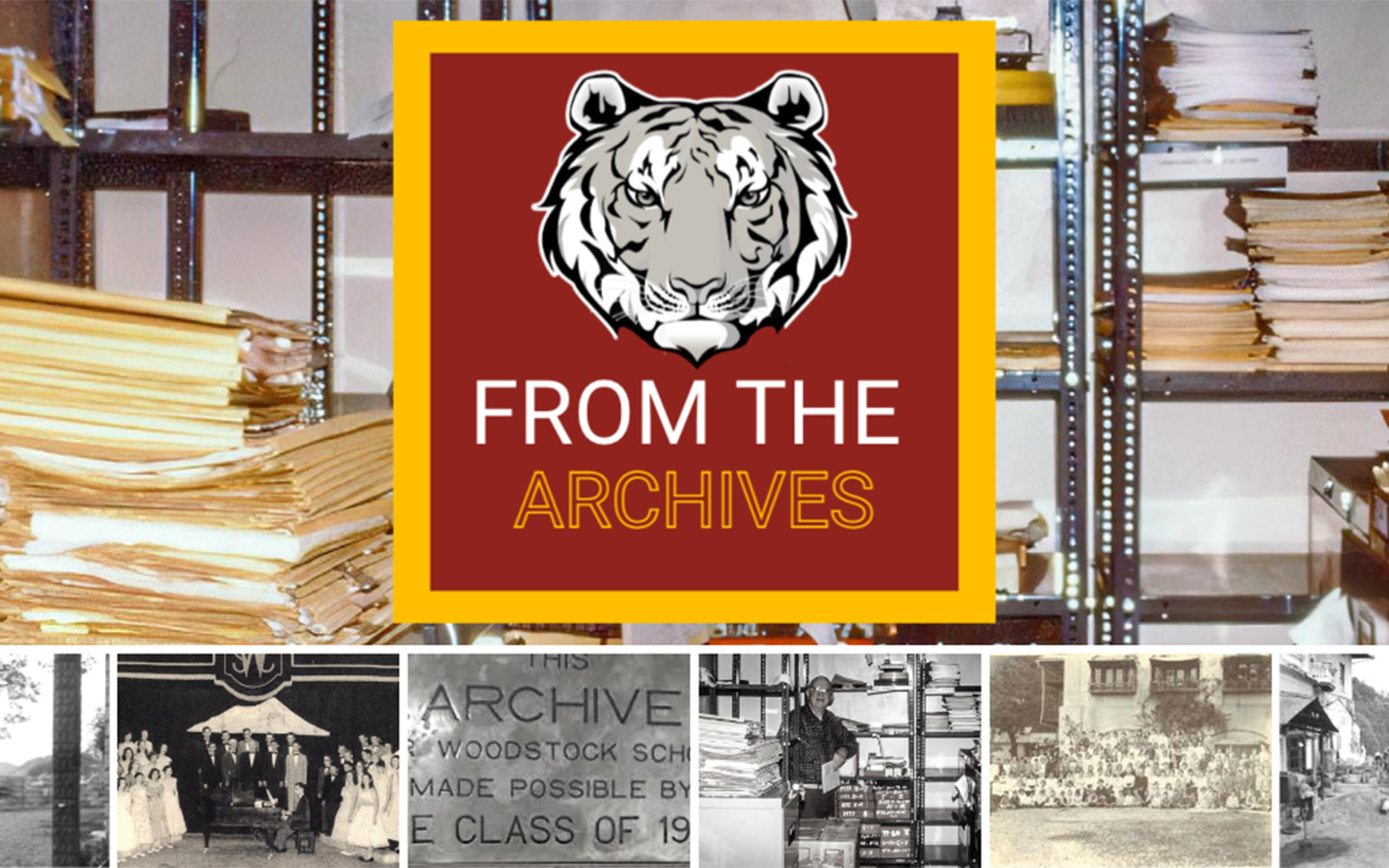 19 Apr

From the Archives – A Letter of Thanks and Appreciation for Woodstock from Dr. David Le Shana '48

For this month's From The Archive series, we bring you a touching piece of correspondence recently received from Dr. David Le Shana '48. In his letter David shares a profile of his long and distinguished career in Christian higher education, expresses his gratitude for Woodstock, and shares a glimpse of his time as a student. We're also including a few archived photos from Dr. Le Shana's time throughout his career.

From the brief biography shared by Dr. Le Shana:

Dr. Le Shana is President Emeritus of George Fox University, assuming that position July 1, 1996, upon the merger of Western Evangelical Seminary with George Fox College to create George Fox University. Dr. Le Shana served as president of both institutions – as George Fox president from 1969 to 1982 and as Western Evangelical Seminary president from 1992 until the merger. In between he served for nine years as president of Seattle Pacific University and was named President Emeritus of SPU in 1991.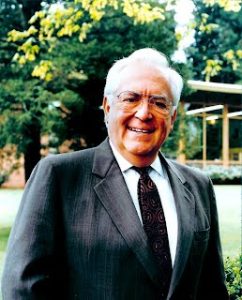 Dr. Le Shana while President of George Fox University, a private Christian university in Newberg, Oregon
Dr. Le Shana has had a distinctive career in Christian higher education, one that has earned his listing in The Dictionary of International Biography, Two Thousand Men of Achievement, Outstanding Educators of America, Who's Who in America, and Who's Who Among Religious Leaders.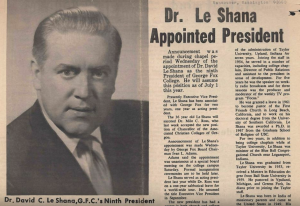 Announcement of Dr. Le Shana's appointment as President of George Fox University in 1969
(Source: George Fox Crescent Newspaper, May 7, 1969)
His lifelong commitment to Christian higher education and the advancement of Christianity worldwide has led to service on numerous boards and to leadership positions with a variety of state, regional, and national associations. This includes nearly 20 years (1984-2001) on the Board of Directors of Kodai Woodstock International (KWI), an organization which supported both Kodaikanal School and Woodstock School before separate organizations were established to support each school – Kodai Friends International and Friends of Woodstock School.
Dr. Le Shana's letter to Woodstock:
My name is 
David
Le Shana, and I am an alumnus of the Class of 1948. I am writing this letter to express to you how thankful I am for your service at Woodstock today and because of my deep appreciation and thankfulness to the Lord for the role that Woodstock has had in my own life in the past!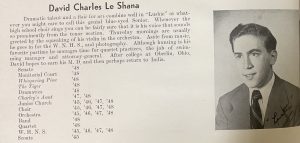 David Le Shana in the 1948 Whispering Pine
Last fall I was surprised to receive a request from the Alumni Office of Taylor University in Indiana to update my bio for their files. Taylor University, which I entered and served as a foreign student after I graduated from Woodstock, was recommended to me by a missionary who attended there. I was born in Lucknow and had never left India because of the World War.
Taylor is where I met Becky. We were married while we were in college, graduated together, and then served in the administration for a number of years. Becky and I are now retired and in our 90s after 71 years of marriage and are now living in a retirement home in Arizona.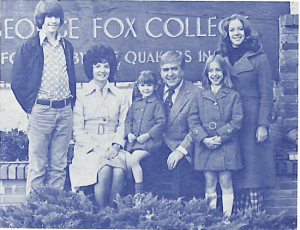 David and Becky LeShana with children Jim, Christu, Cathy, and Debbie May 1982
(Source: George Fox College Life, August 1982)
As I went through the process of preparing the materials for Taylor, I was reminded of how grateful I also am for my many years at Woodstock and the significant impact that place has had in my life – not only the education I received there but also the many important relationships I experienced and enjoyed.
For so many reasons I am thankful for the opportunity I had to attend Woodstock.
First, my classmates became a family of friends! I was the only member to have gone through all the grades, from Lower Kindergarten to 10th Standard. Our class was small, only 30 graduated! Yet we had nine nationalities represented!  Through the early years after graduation, we would meet often for retreats, especially in Indiana and Ohio.  One year we all met in Portugal at a classmate's summer home!
This was a wonderful class!  At our senior banquet Principal Rhea Ewing sang about each one of us, singing finally,"It is a class no other class can imitate! There is nothing like the Class of '48!"
Second, and most importantly, my teachers were extraordinary!  They taught me how to think and speak and write.
Take, for example, Dr. Bob Fleming. He taught me how to sing in a glee club, he taught me about the history of India and its many cultures, he taught me about scouting as I served as his assistant, and he taught me about the wonders of science! Together we formed the Woodstock Natural History Society. I helped him catch Himalayan birds which we prepared and sent to museums in the States. I saw our collections in the famous Field Museum in Chicago! Dr. Fleming was the world's expert on Himalayan birds. I was honoured years later to speak at his Memorial Service in the State of Washington.
I also learned about the burden of responsibilities and how to be faithful, timely, punctual, and thoughtful!  I served as manager of the swim team, scheduling meets away from campus.
And during my senior year it was my responsibility to ring the handbell that signalled the start and end of each class session in the high school. Some twenty years ago my son and I visited campus to speak, but a major snowstorm closed the school. We toured some of the buildings and visited the school office, and I found in a glass case that hand bell, cracked and broken but filled with many wonderful memories for me.
I could go on … but this is enough to point out that Woodstock and its teachers were foundational in the life I lived, honouring God and serving others! For this reason, I am sending you the biographical files I also sent Taylor. My service and ministry were grounded in what my teachers and mentors taught me at Woodstock School!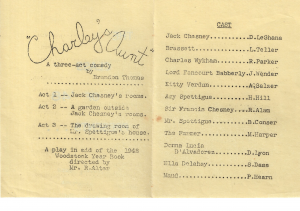 Program for Charley's Aunt, a 1948 play at Woodstock starring David Le Shana
By the way, my mother served for a short time as the matron of Ridgewood and taught Home Economics, and a year or so ago my grandson and his wife, Jonathan and Amelia Le Shana, both taught in the high school until he became ill and later had to return to the States.
One last comment. As a senior ready to leave India, I found a statement in my father's Bible. I am not sure where it came from, but it became and still remains the commitment of my life:
          "I will live my life under God for others, rather than for self,
           For the advancement of His Kingdom rather than my own personal success.
           I will not drift into my life work but will do my best
           By prayer, investigation, meditation and service, to find that place in life
           Where I can be of the greatest possible good to God and my fellow man.
           As I find it, I will follow it, cost what it will,  by His grace!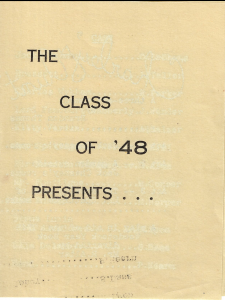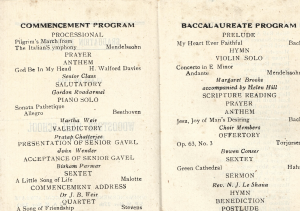 The program for the Class of 1948 Baccalaureate and Commencement which included a sermon from David's father, Newman John (N J) Le Shana
Thank you for reading this letter filled with some of my many reflections and priceless memories. And thank you for your ongoing service and dedication as staff members at Woodstock today, helping to carry forward the tradition of excellence, caring, and dedication that I experienced long ago. May God bless you as you continue to serve with faithfulness the students of today and tomorrow!
With Thanks and Deep Appreciation,
Dave Le Shana
We would like to thank Dr. David Le Shana and his family for their service to Woodstock and for sharing this wonderful and encouraging letter with us! For those wishing to hear an example of David's preaching, you may listen to a recording of his sermon The Unshakable Foundation (Romans 8:35 – 39)
here
.