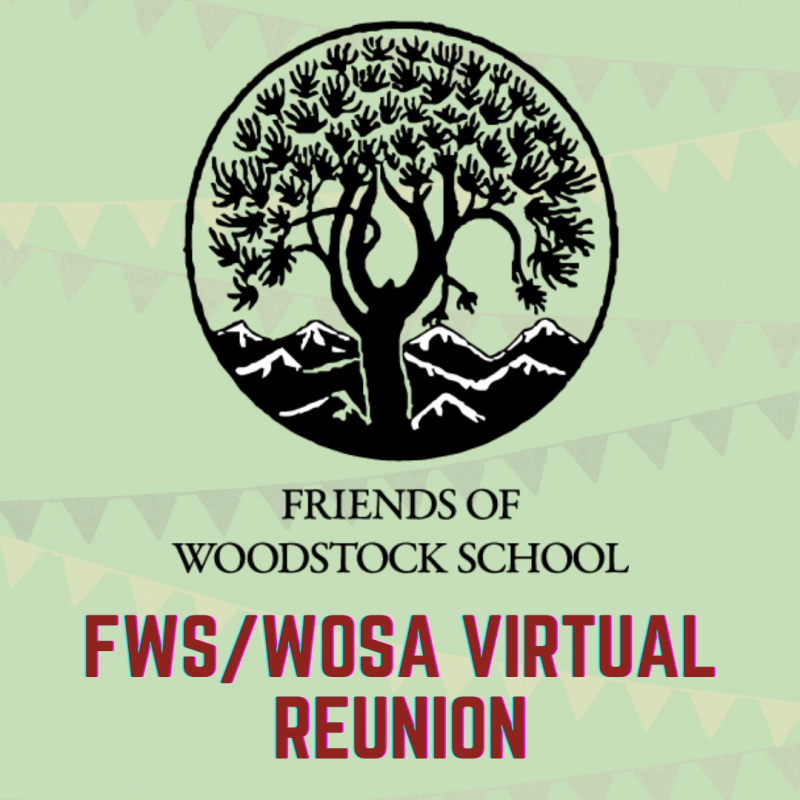 24 Aug

Friends of Woodstock School | FWS/WOSA Virtual Reunion 2021

Sharon Seto '79, Reunion Committee Chair 

Over the weekend of July 30 – August 1, 2021, over 900 alumni, former and current staff, parents, and friends gathered for FWS/WOSA's first, and hopefully not last, virtual reunion. We gathered Together Again in Parker Hall from 39 countries and every generation, from the 1930s to 2020s, to enjoy sights and sounds from Landour and Mussoorie, stories and presentations from a wide range of former students and staff,  and updates from the school. The reunion affirmed the kinship we feel with others from Woodstock and the impact that the Woodstock experience and the school's location in the Indian Himalayas have had on our lives.

Committee members did an exceptional job of planning and hosting the reunion and over 80 presenters contributed their time and talent. Steve Alter and Renu Oberoi's team pulled together a rich set of personalities, stories, imagery, and sounds from past and present in their three hours of pre-recorded programming. Live presenters brought a wide range of talents to the effort and were ably hosted by committee members.

Most importantly, many of you joined in, from every generation and from across the globe, some getting up in the wee hours to participate. You connected with old friends and joined in the discussions, engaged with presenters and shared your own experiences and perspectives. It was truly heartwarming to have the global Woodstock community able to gather together, to meet new people and see familiar faces, and to celebrate our commonalities and differences.

I want to thank the Reunion Committee Members for their contributions to the event. We began meeting in November 2020 and enjoyed working together immensely:

Stephen Alter '74, Kim Gingerich Brenneman '79,  Priyanka Das '13, Bruce Davis '73, Suzanne Hanifl, 63, Sue Crain Lewis '82, David Shastry 09, and Aditya Manral WS Alumni Coordinator, and Connie and David Wheeler, FWS staff.

Pre-recorded Sessions: The three hours of programming were well-crafted, balanced, and compelling. Steve Alter did a superb job, using his lifetime of community connections and storytelling expertise to capture the Woodstock experience. Thanks to Renu Oberoi for her production assistance, and the many people who contributed content.

Silent Auction: We hosted a Silent Auction on Trellis, raising over $3700 in donations to Woodstock for COVID Preparation. Suzanne Hanifl, Connie Wheeler and David Shastry worked countless hours to set the auction and they are busy distributing items to the winners. Thanks to everyone who contributed so many fun items to the auction.

Presentations: Thanks to Sue Crain Lewis and Helen Arnott for building and running three hours of the popular How I Came to Be at Woodstock. The audience never tired of hearing these vignettes! Kim Gingerich Brenneman put together a superb Faculty Panel and hosted a Bollywood dance party with Robin Ediger-Seto '13. Priyanka Das engaged a group of more recent alumni on Activity Week, and David Shastry planned Team Woodstock: United In Sport. Nathan Scott '84 and I put together a panel of Visual Artists, and Bruce Davis and I hosted two presentations on Hiking in the Himalayas. Suzanne, Sue, Bruce and I hosted the off-hours lobby, each of which lasted over two hours. James Hackney '79 and Deepu Mulholkar Patel '81 held a very cool Indian cooking and Chai class. Without everyone's dedication and skills, these presentations would not have been possible.

Technology: The committee worked hard to structure the virtual reunion so that it would be accessible to as many as possible. Woodstock's support was invaluable, and they hosted content on Youtube, set up Zoom calls and managed Eventbrite. After much research into existing event platforms, David Shastry put together a superb custom page, fwswosa.org, that connected everyone to everything. It was the glue that held us all together, and we hope to be able to continue using this url for future events.

Publicity: Priyanka Das, Connie Wheeler and Aditya Manral pushed out announcements to the community through email, class secretaries, Instagram and Facebook. Connie kept the FWS website and other platforms synced up. Priyanka Das developed social media posts that targeted the more recent decades of graduates. Their efforts paid off in spades.

The reunion generated new ideas for ways that alumni can be engaged and we invite you to join us as we work to strengthen our community. Please let me know if you would like to volunteer in any capacity. Some of the ideas are:
Affinity groups to support each other, recent grads, and students in their fields
On-line events, including virtual reunions
More alumni involvement with the school as mentors, advocates, and supporters.
A huge thanks to the Woodstock Alumni Office, FWS staff, the committee members, presenters and everyone who attended for creating such a special global alumni event. It was truly a first of its kind, but hopefully not the last.
Sharon Seto '79
Chair, 2021 FWS Reunion Committee