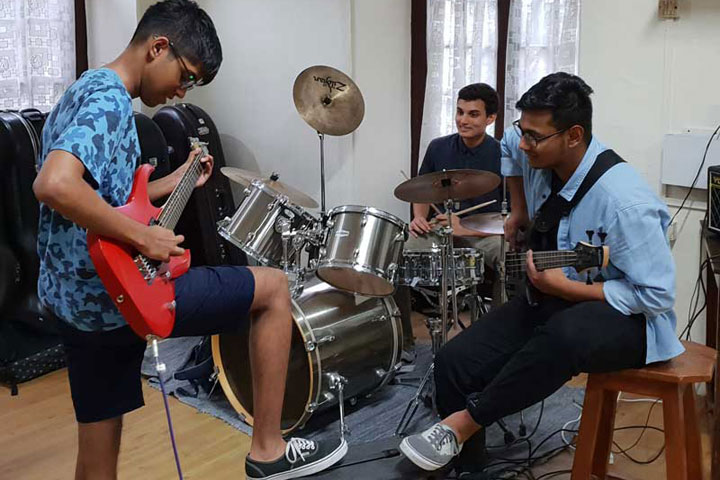 09 Aug

Three themes that define a Woodstock education
Woodstock Principal Dr Jonathan Long shares three themes that define our approach to education.
Why do we send children to school? There are probably dozens of answers to this question! And that's a problem – because not all schools agree on what the purpose of schooling should be and why we bother to educate children at all.  Some people say we send children to school to learn.  But the reality is, a lot of what goes on in the name of learning is actually all about achieving – and that's not the same thing by any means!  Others will say that education should be about learning to think critically.  Sadly, all too often education is actually more about memorisation and exam preparation. Many people say education should focus on developing characters and minds. In practice, however, a lot of education focuses on very narrow definitions of success – defining it in terms of its impact on GDP or its ability to get young people into certain careers.
By sending your son or daughter to Woodstock, you have committed them to a particular type of education – an education which has very specific goals based on a very specific approach. I'd like to share some essential themes which define our approach to education here at Woodstock.
Nothing we do is haphazard
Everything we do is based on our carefully thought out educational philosophy This approach to education has the power to develop exceptional scientists and artists, entrepreneurs and philosophers, humanitarians and business men and women. But, funnily enough, the aim of a Woodstock education is not to produce scientists and artists, entrepreneurs and philosophers, humanitarians and business men and women!  It is not about preparing our students for specific jobs at all.  The aim is to produce free human beings who know how to use their minds and are able to think for themselves.  This education allows young people to find their voice, to speak their mind, and to 'learn how to learn'. So, whenever we face a new problem, a challenge or a decision, we ask ourselves, "is this consistent with our underlying philosophy?"
There are more classrooms than you can see
In Woodstock's philosophy of education, we spell 'Curriculum' with a capital 'C'! In many schools, if you ask to see a copy of the curriculum, you will be shown an academic syllabus, subject plans and course outlines. At Woodstock, 'Curriculum' includes all those things which are deliberately intended to convey and enhance the educational experience. It encompasses everything from the academic curriculum to music, drama, outdoor education, technology, community service, opportunities for performance, sports and the residential and spiritual life of the community. In combination, these various components represent the unique contribution we can make to the shape and direction of a young person's life.  We do not see enrichment as something which is, by definition, extra-curricular. We do not see the boarding experience simply as a place where students sleep at night. Alongside our academic programme, we see enrichment and residential life as equal and fundamental building-blocks of a Woodstock education.
We deliberately emphasise the whole person
We value the balanced development of the whole person; that is, one which encourages an integrated development of potential across a range of dimensions, including the spiritual, academic, moral, aesthetic, emotional, social and physical. We are working hard to develop this emphasis more robustly – to find ways to support wellness and wellbeing more fully.
Woodstock students do not come here to be educated – as if education were some commodity to be handed out like a bag of sweets. They come here to be educated in the original sense of the Greek word for education – to have something drawn out rather than something put in! They leave here not as 'the learned' but as capable 'learners' – able to go out into the world with the curiosity to ask questions and the tools to be critical of what they find and to refuse to accept the world as they find it. That is the essence of a Woodstock education – to be truly and intensely alive; to see a life of learning as an exceptional gift and to hold that gift dear for a lifetime long.
Dr Jonathan Long, Principal