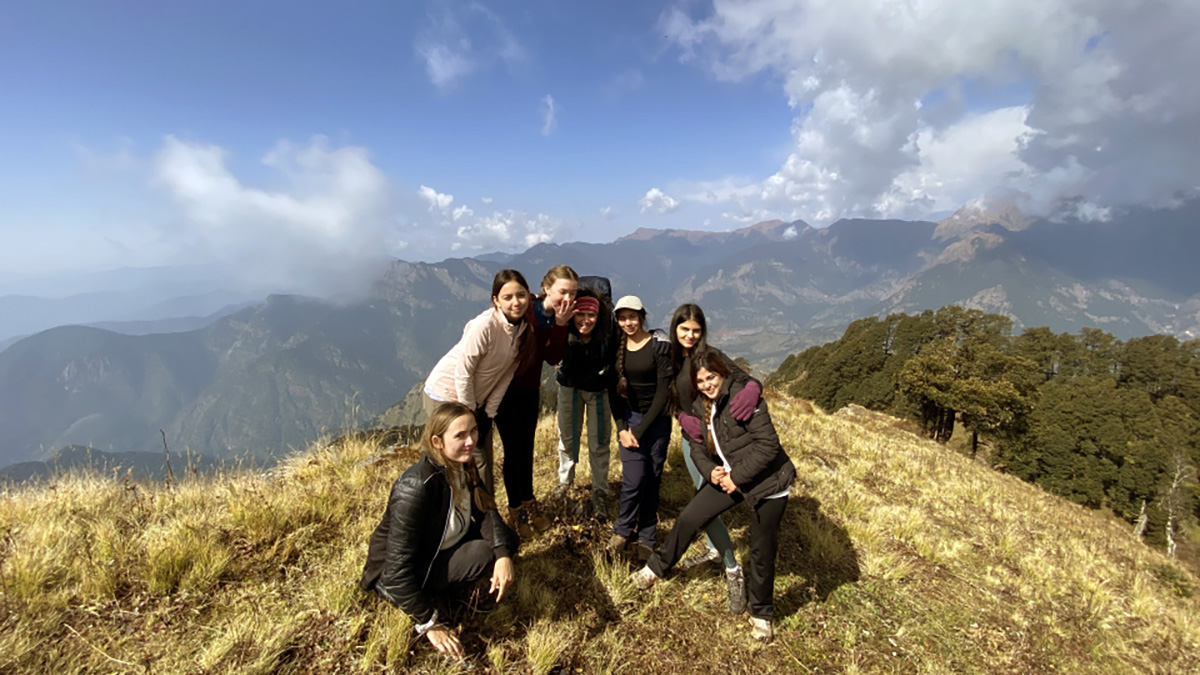 15 Feb

WOODSTOCK ACTIVITY WEEK: MEMORIES AND FRIENDSHIPS FOR A LIFETIME

Talk about a logistical challenge. Four hundred forty students and 76 adult chaperones in 22 activity groups visiting 86 different locations over 5 days. You read that right – no typos. But logistics isn't actually the story here, as challenging as the logistical numbers appear. In fact there's no "story" here at all.

Rather, Activity Week 2022 is about the real-life experiences of Woodstock School's Early Childhood through 12th Grade students embracing transformational learning opportunities during one full school week of intensive, guided activities.

During one week in October, impressionable, hungry to learn, and motivated Woodstock students from three to 18 years of age –
collectively trekked 150 hours over 200 kilometres reaching altitudes above 13k feet;
explored and learned about life in the Himalaya in both nearby locations and more distant villages and mountainsides;
rafted white waters to Rishikesh;
safari-ed, nature hiked, birded, compass navigated, took on ropes courses, even body surfed, and learned from naturalists at national wildlife parks;
learned outdoor living skills, Wilderness First Aid, and CPR at our own Hanifl Centre;
participated in the education system of K-8 students at a local village school;
studied the arts at the Himalayan Society for Heritage and Art Conservation;
performed community engagement in schools and other educational institutions; and
explored the Landour hillside, Mussoorie bazaar, and other local attractions.​​​​​​​
Banks of Rishikesh
How do Woodstock alumni describe their own Activity Week experience years later? Incredible Activity Week trips and Amazing lifelong memories, they tell us. Really, this is about real life and not about a "story."
"There is not one Woodstock alumnus that I meet around the world," attests Principal Dr Craig Cook, "who was not impacted positively by their engagement with our surrounding environment, which ultimately helps us meet our mission at Woodstock to prepare students for leadership and for life."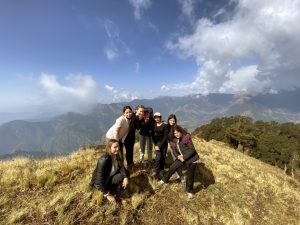 Mukta Top
Activity Week's Himalaya treks pose some of the greatest challenges for both students and chaperones. "This was not an easy hike," confirms Imtiaz Rai, Middle Years Programme Coordinator and primary planner for Activity Week and who led 15 Eleventh Graders and three other chaperones on their five-day expedition to Mukta Top. "Our students all did extremely well. This was their first experience of a hike and camping, and they were thrown well out of their comfort zone. We found ourselves in some pretty hard situations with the climb and the weather, and as chaperones we were so impressed that all our students rose to the occasion."
The Twelfth-Grade trek to Dayara Bugyal covered 16 km over 22 hours of hiking. "The group was amazing," says Twelfth Grader Chaitanya. "I bonded with people I didn't know very well, and it just made me a more caring person because walking with people in an open space gives you a lot of time to talk about anything and everything. I'll remember every fall a person had, every situation we got stuck in, every moment when even the most unfamiliar faces started seeming like long lost buddies, all the ghost stories we told each other, and every time I helped anyone pack their tents and bags." Fellow Twelfth Grader Eliya chips in, "Being with the group for a whole week was surprisingly lovely. I thought that maybe after a couple of days in uncomfortable conditions together, we might fall apart. I think this experience brought all of us much closer. I had a great time with everyone, and honestly it was something that will stick with me for years."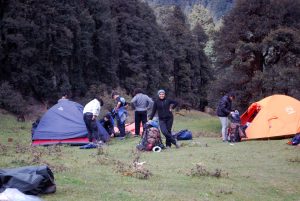 Dayara Bugyal
Lead chaperone and Mathematics Teacher Theresa Jospeh agrees, "At the end of the trip, everyone was so exhilarated. We were all pushed out of our comfort zones. So many of us could not believe we carried over 10 kg on our backs and walked uphill, slept on frost-covered grounds, and survived without toilets. To us the trek was about persevering. And I think that is what we all learnt at the end of the five days. I also loved getting to know the seniors, none of whom I had known before the trip."
Not only those who travelled far away but also those who stayed nearby learned and grew with their activity challenges. Aradhana Chhikara, EE Coordinator and DP Psychology Teacher, led the Week of Wilderness (WOW) activity group that learned outdoor living skills and Wilderness First Aid and CPR at Hanifl Centre. She emphasizes how WOW "… imparts essential skills in a fun, engaging and practical format. The instructors were very professional and captured the attention of students with their knowledge and wit."
"I will remember the first aid course for the rest of my life," says Tenth Grader Nirbaan. "It was eye-opening to see a glimpse of the thought process of medical professionals in the field. It was also fascinating to see all the improvisations that could be made using different objects available to us."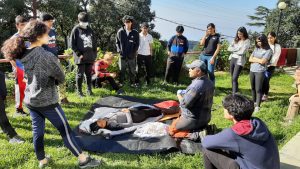 WOW training at Hanifl Centre
The WOW excursion also offered opportunity to develop new friendships and experience a memorable hike. Fellow Tenth Grader Jasleen gushes about the experience. "It was actually really great," she says, "because there were a few people in my class who I'd never talked to before. We had two hours before our sleepover when we could do anything we wanted. So, I would just go to everyone and talk to them. That's what everyone did. And the hiking part was the most amazing thing. There were people who liked to hike. There were people who had never hiked before. There were people who were scared of downhill hiking. There were people whose hands I had to hold and walk them through everything. It was fun."
The fun took a lot of planning and care, though. "I think I got involved in leading Activity Week by accident, actually," admits Imtiaz. "I was one of the few people in the current leadership team who was here when we had Activity Week before the pandemic. So when conversation started up I was really excited about the opportunity. I got Akshay (Shah) from the Hanifl Centre on board. There were a lot of people involved and a lot of moving parts in order to get that ball rolling."
"The outdoors provides us with a platform to expediate the learning of essential life skills," Akshay asserts. "It was heartening to see 520+ students and staff immerse themselves in the various activities assigned to them and get an opportunity to live out the school's guiding principles."
Activities also included the Kindergarten through Third Graders. Early Years classroom teacher and chaperone Mayuri Barnhardt along with four other chaperones took 14 of their youngsters on day excursions around Landour. "It was fun to go to a new place every day," she says. "It was a lot of walking, but no one complained. Everyone followed the rules and had a great time. Most of all, I'm glad everything went safely. We all grew in patience, friendship, and love and appreciation for nature, which is one of the most amazing things in Woodstock." Everyone enjoyed visits to Cloud's End, Chaar Dukaan, the Chakkar, Happy Valley, George Everest's House, and Mausi Falls.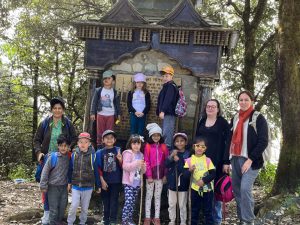 En route to Cloud's End
We played a lot," remembers First Grader Rebekah. "We went to Cloud's End – I thought it was actually the end of clouds. A cloud came down on us while we were there. My favourite was the thing that was spinning around."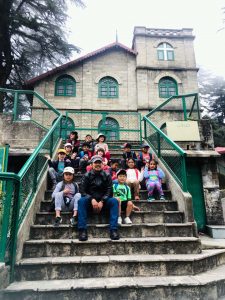 Kellog Church on The Chakkar
"My favourite was the bouncy castle," counters Second Grader Sachit. "We had a lot of fun playing with our friends. I liked that almost all of the kids [in Grades K-3] came to play with us.
"We went to the Chakkar, and we got our own stuff at Prakash's," adds Rebekah proudly. "I liked that we all found sticks. And while we were going two people would hold the sticks, and one person would keep going under it or over it."
They both agree that they're looking forward to Activity Week again next year.
The Fourth and Fifth Graders also explored the area around the school and then visited Kaaya Learning Centre in Dehradun where they did birding and nature study, learned about the dairy cycle and local crafts, and went on a nature walk.
"I liked how we would walk a lot," says Fourth Grader Leah. "At the Kaaya Learning Centre they made this mixture of mud and cow dung, and we would use it to make, like, flower designs and stuff on the wall of the house. In the evenings we would have bonfires and, like, marshmallows and stuff. I'll definitely remember Silky the goat."
"I liked how we could all go to different places," adds fellow Fourth Grader Ceci. "It was like we and nature were one, connected. I'll remember just being there. It was a nice experience. The huts made us feel like we were mini adults living in our own houses. I felt mature."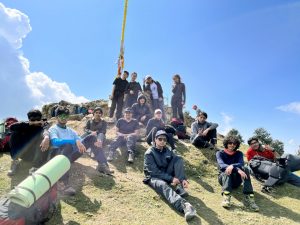 Mooldhar Trek
Chaperone Nandini Ramesh from the Department of Science led 14 Eleventh Graders and three other chaperones on the Srikot to Mooldhar trek via Nag Tibba. "It allowed us to connect with students in a new light," she recounts. "Students came out of their comfort zone and embraced life in the outdoors. During the week they persevered and overcame physical challenges and the fear of heights. The trek guides were knowledgeable and seized many teachable moments to draw attention to environmental preservation and treading lightly. Despite lamenting the loss of access to technology, unbeknownst to the students, their tents came alive with the sounds of conversation, laughter, and songs well into the chilly, starry nights. Those who started out with reluctance, apprehension, and doubts had changed their minds by the end of the week and felt ready for another overnight trek!"
Rajaji National Park provided the perfect environment for 27 Sixth Graders and their four chaperones led by Brigitte Concessio, Languages Head of Department and Homeroom Head for the Sixth Grade, to interact with nature. "As a Homeroom head I have to create situations to spend more time with Grade 6 since I don't teach them," Brigitte explains. "Activity Week gave me ample opportunity to experience their mischief, their camaraderie, and their eagerness to bond, putting aside all social apprehensions or past difficulties. I got to see them in all hues. The best was during our 'Dog in the Bone' game. Such joy and teamwork it brought and, from some, sheer wily tactics to grab the bone." The week included nature walking, birding, safari-ing, meeting and getting to know pet elephants, talent night-ing, walking along the Ganga, and interacting with the nearby Gujjar village community.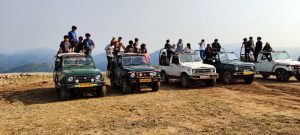 Rajaji National Park
The visit to Jim Corbett National Park provided students extensive interaction with nature and included a jungle safari through the park. "It was amazing," says Eighth Grader Eliza, "and most of the mini-groups got to see tigers." Lead chaperone and Hindi Teacher Amrita John says, "I personally loved seeing the beautiful elephants, but there was something in the trip for everybody. Bodysurfing through an old canal was unforgettable, with the thrilling turns and unpredictable drops. It was really a time to have all sorts of new experience and make friends."
Eliza's classmate Prem says it also opened his eyes in an unexpected way. "One thing I'll remember for years to come is the drive to and from," he remembers. "Within a matter of hours, it felt as if we drove through three Indias. The Urban India which we consider developing, Agricultural India the media shows, and the poverty our lawmakers try to say isn't prevalent anymore. I saw families of five on a motorcycle. I saw children working on stalls out of obligation. I saw banners selling dreams to the desperate. I saw degree mills that call themselves colleges. There are so many things hidden in plain sight that we fail to notice. Activity Week was an experience which will stick with me for life."
Credit Imtiaz and Akshay for bringing order and success to the logistical challenges of Activity Week. "We had the Hanifl Centre involved, helping a lot with the logistical pieces," Imtiaz recounts. "We had a lot of departments working together because we had cars going off in all different directions. We had students going off into all different parts of Uttarakhand. The Hanifl Centre did an amazing job working all of that out because I don't think I would have been able to manage that at all. They were such a huge help and really took the lead on this. I was just helping liaise."
But what Imtiaz points to in the aftermath is not the dozens of letters and emails, the transportation and lodging arrangements, and the last-minute emergencies to deal with before speeding off to lead her own activity group. Rather she emphasises, "Our students really learned that they are capable of so much more than they originally thought. And these are lessons that can translate to the classroom – just because something is hard it doesn't mean you can't overcome it or that it isn't worth it!"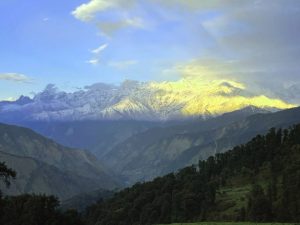 Gangotri Peaks fro Dayara Bugyal
"Activity week remains as one of the many jewels in our approach to educating students of all ages," Dr Cook summarizes. "Taking advantage of our Himalayan context in these ways only enhances the impact of learning across disciplines for all students."​​​​​​​
Activity Week at Woodstock. Learning for a lifetime. Memories and friendships for a lifetime.