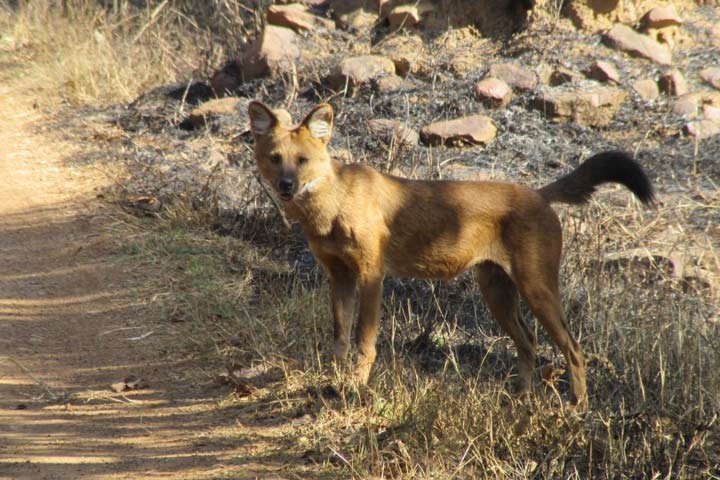 27 Apr

Alumni News – An Indian Safari
Harvey Kline (class of '57) recently took a trip to India with his wife.
The glow of the sunrise was visible but had not yet overpowered the pre-dawn darkness.  There was an unexpected chill in the air as my wife Yuko and I took our seats in the back of the Maruti jeep.  Somewhere in the nearby forest the 41 tigers that call Tadoba their home were heading to the nearest waterhole to begin the day.  And I was returning to within 90 miles of the place I had called home in my youth.  This was the first of four safaris that we would go on so there was a heightened sense of excitement as we pulled out from our jungle resort.
Within a few hundred yards we were at the checkpoint which controls the entrance to the Tadoba Andheri Tiger Reserve (TATR) in the geographical heartland of India.   We waited in line with several other jeeps from neighboring resorts.  The driver, a local guide and Rashid, a naturalist from the resort who had been assigned to our jeep got out, presented our papers and paid the fees to the authorities.  At 6:00 AM sharp the first jeep headed out and we were on our way.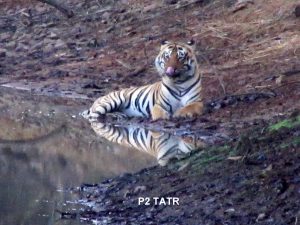 As the jeeps passed through Kolara Gate, one of 5 entry points for Tadoba, they soon parted company and we drove down a road the guide had determined offered the best chance to see a tiger.  The wind blew into our open jeep and we zipped up our coats, put on our gloves and bundled up in the blankets which had been supplied by the resort.  Within 15 minutes we were told we were entering an area where tigers had been sighted, so we dismissed the chill and tried our best to be alert.  Our eyes scanned the dry forest for any sign of life.
This routine is duplicated every day in over 40 such tiger reserves throughout India, as the government has embarked on an impressive program of tiger conservation over the past 30 years.  Obstacles persist.  The human population continues to expand and comes into closer contact with the wildlife population.  Poaching remains a huge concern, fueled by skyrocketing prices for ever scarcer tiger parts and skins, especially in China.  But these parks are a new and welcome effort.  Segments of a burgeoning middle class have embraced the cause of conservation and a new industry—environmental tourism—has emerged.  As villages in the impacted areas come to realize economic opportunities from these developments, they also are cooperating with government initiatives to seek answers to wildlife preservation.
An uneventful drive brought us to a ranger's compound by mid-morning for a pit stop.  As we climbed out of the jeep we looked up to see a rather homegrown cartoon billboard featuring a wise old man talking to his junior and seeking to persuade him, and us, that spotting a tiger was only one of the reasons we were there.  It read:  "Nobody can assure you a tiger, and that is the fun of it!"  We opened our packed breakfast boxes and wondered if we could really come all this way and be happy to not see a tiger.
On the other hand, we could not deny that we were having a good time.  Having grown up in India and been on many a drive through the jungles in search of wildlife, riding down these dusty roads flooded my mind with memories.  All of the familiar fauna of the Indian jungle was there and plentiful:  spotted deer or chital, the sambhar deer, the stately antelope known as the nilgai, or blue bull, the massive bison or gaur, wild dogs and wild boar, langur monkeys and even a sloth bear. Birds of many colors and sizes were abundant; most striking were the multi-colored jungle fowl and of course the peacocks.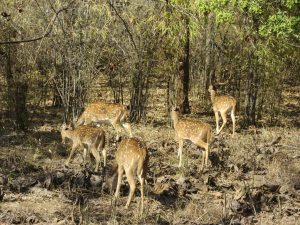 But cartoons notwithstanding we, like most others there, were still looking for a tiger.  We had already chased a 'tiger' more than once but with no sightings.  A sambhar would bark a warning call to alert all that a tiger was in the environs.  The jeep would follow the call until it was decided that it was a false alarm.  This, we were told, was the most common way of sighting.  We also hoped for the more uncommon—a tiger passing directly in front of the jeep–but that was not to happen.
Toward the end of the morning there was an unusual amount of vehicle traffic along a watering hole. The sambhar's warning calls had been sounded and a few jeeps had gathered to one side, waiting for something to happen. Long before we were able to see anything, our guide pointed to the edge of the water and said 'tiger'. Our hearts beat faster as we looked in the direction of his finger, our gaze piercing through the lingering mist rising from the pond. The excitement was palpable.  We were transfixed as the big cat strolled down to the water's edge, stopped to drink, and cooled its hindquarters in the water.  Cameras with huge lenses were busy recording every move until it slowly reentered the jungle.
When we were convinced we could not catch a further glimpse, we pulled away from the gathered vehicles and returned to the resort for lunch. Relaxing back at the resort was its own kind of pleasure. Set to one side of the forest, Svasara was as close to luxury as you could expect to get in a remote Indian jungle. Afternoon safaris were capped off with snacks and drinks around an open fire and the evening meals featured the cuisines of different corners of India each night. The managers, Ranjit and his wife Nandita, are passionate about wild life preservation and, of course, especially tigers.  It is their vision that a vibrant eco-tourist industry with tigers at the heart will go a long way toward bridging the gap between an ever growing population and the endangered species.
We felt more at ease as we set out on the second day. The tiger sighting on the first day was still fresh in our minds and we were able to relax as we toured through yet other corners of the park. We watched with pleasure as monkeys frolicked in the trees, herds of deer grazed on high grass plateaus and pea fowls scampered across the road as we approached.
Then came an alert. There had been a tiger sighting and several jeeps were already parked by the road as we pulled up. Rashid decided it would be best to not wait with the other vehicles, choosing instead to position ourselves further up the hill. It hadn't been 10 minutes when a flurry of activity below told us that a tiger had crossed the exact spot we had just vacated!  "I'm going to commit suicide" were the first words that came out of his mouth, and if he was being overly dramatic, he was nevertheless dejected.  The morning was drawing to a close and we had lost the chance at a rare close-up sighting. He took the missed opportunity very personally and we tried to assure him that while there may be some science in seeking out tigers, luck surely plays its own role. I came to realize how seriously they take their assignments, and how precious these sightings were, even to those who went out on a daily basis.
We approached our last safari that afternoon with mixed feelings. We were pleased that we had been treated to some of the best wildlife that India has to offer and were reluctant to be leaving. But we were still greedy.
We were driving alongside Tadoba Lake when, without warning, our jeep came to a stop and our gaze was directed to the edge of the water. We were by now getting used to the keen and trained eyes of the guide. As kingly as its reputation, a large male tiger, which they referred to as Namdev, was taking a late afternoon walk. It was an open area, he had nothing to fear and he took his time. He stopped to mark his territory and even relieve himself. We had an unobstructed view and, except for a few camera shots, we could not take out eyes off of the prize. There may be no more beautiful sight in nature than that of a magnificent black and gold striped cat passing away the time beside a clear lake on a sunny afternoon. It was with great pleasure and a sense of awe that we observed him disappearing into his forest. The thrill had exceeded the promise.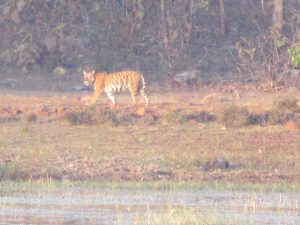 I could not think of a better reason to join with those whose goal it is to ensure that such thrills as these be passed on to future generations. It might be overly simplistic to view tiger conservation in the midst of rural India through rose colored glasses; there is much to argue against eventual success. But if those who are engaged in the process are as committed as those we had the privilege of meeting, and if those who visit these game reserves experienced the same euphoria as we did, there is cause to lean toward optimism.