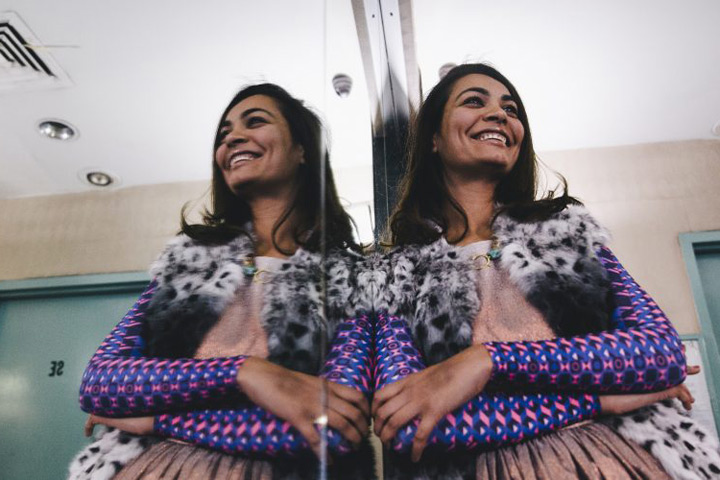 23 Apr

Alumni Spotlight – Shruti Ganguly

Shruti Ganguly is a filmmaker based in New York City. She left Woodstock in 2000, having spent three years at the school. Moving to Northwestern University in the States after graduation to study Art and Economics – she thought she would become an investment banker who would paint, on the side – but then she took the one accidental film theory class that changed her life. Shruti then moved to New York City and eventually went to NYU where she got an MFA in Film from Tisch and an MBA at Stern (with a focus on Entertainment, Media & Technology, and Social Impact and Sustainability), at the same time. She has been producing and directing movies, music videos and branded content for several years. Shruti is a founding partner of Fictionless, a media and production company.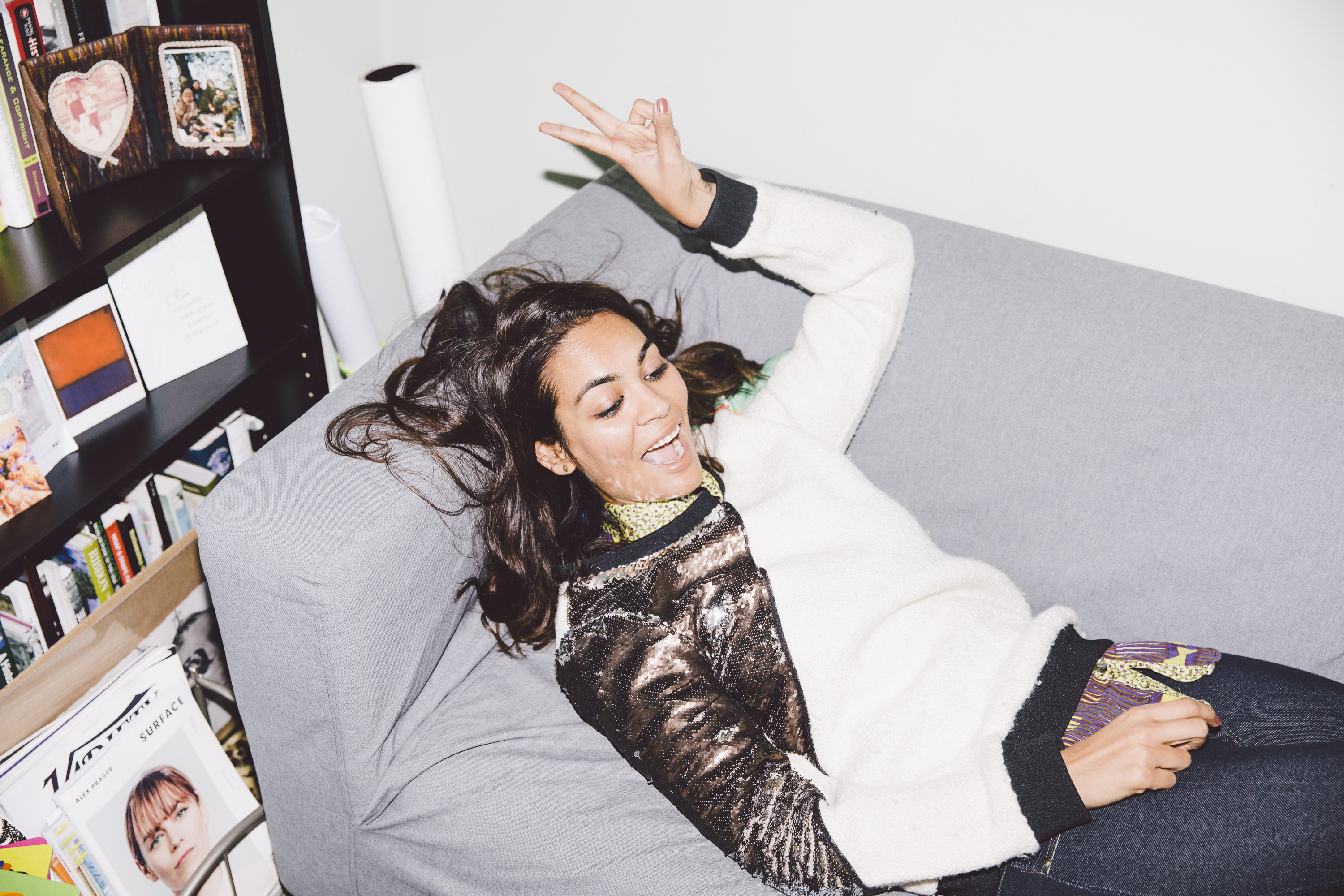 Where are you from?
I was born in New Delhi, but our family moved to Muscat, Oman when I was three, where I grew up. Now, New York City is my base as I've lived there for 13 years.
What brought you here?
I spent summers coming to Mussoorie to visit my grandparents – Crena and R.D. Aurora, who were Landour staples, and in fact, both my Nani and my mother had worked at Woodstock. I remember walking through the high school when I was quite young and thinking "Wow, there are kids from all over the world here, who can do so many interesting things, and I would love to be a part of it." It was also important for me to have the experience of living in India, because although Oman is home to me, I'm at Indian citizen at the end of the day, and I wanted to have and understand that connection. [I also probably read too many Enid Blyton books, and there was an ingrained romanticism with the boarding school experience.]
Who did you most look up to during your time there?
I looked up to several people when I was there. The first was my grandmother, who always had a great sense of humour and mischief, with a smile and a twinkle in her eye. But it was really her constant kindness and gratitude that had a marked influence on me. The other was my mother – Bridget – and as much as she had grown up in the Mussoorie hills, she had left to travel the world, work for the UN and World Bank, build a career in a new place (Oman), and be an inspiration to her friends and the communities she touched. It's no surprise that I ended up running CARE (with my classmate Kelsang Tashi), as giving back and community service was and is an intrinsic part of my existence.
What do you miss the most?
Wai Wai! Well, that's partially true. Really, I miss the purity and unabashed naiveté of our adventures and misadventures. We were growing into our young adult selves at that time, pulling from each other's cultures and our shared experiences, without judgement and fear. I miss the "firsts" we encountered – the sweetness of a note from a person you fancied (only to be heartbroken several notes later…) to first visiting the Tibetan Homes in Mussoorie and being exposed to the plight of the Tibetan people, to the first time we went to Rice Bowl – and oh, how far Rs. 100 could get you, to my first snowfall and then we raced up to the top of the mountain to watch the sunrise over the white-capped peaks at 6 AM.
How did Woodstock shape who you are?
Woodstock had a significant impact on my life. For one, it opened my eyes to the world and the global playground that we are a part of. That we need to take responsibility for our words and our actions and that privilege should never define you, nor should it be abused. I learned that you can have competitive collaboration, and I really reflect on my friendship with my classmate and roommate Anna Sytina. We were on the same sports teams but then we raced against each other in track, or competed in other ways. But we were always encouraging each other, sans jealousy, and we pushed each other to be better than what we even thought we were capable of. I also am grateful to my friendship with Jessie Braid from Australia, who also my classmate and roommate, as she found beauty in little things, and her positive and peaceful outlook helped me find my own calm.
Woodstock, while primarily a Christian school, also encouraged interfaith dialogue and interactions, and getting to meet and be blessed by the Dalai Lama during Activity Week in Dharamshala is one of my fondest and most profound memories. Given that we currently live in a world rife with religious exploits and terrorism, it's crucial for us to have conversations around spirituality and faith as that's where solutions will come from.
My brother Sumir also went to Woodstock, and we overlapped by one year – When he was a high school freshman and I was a senior. And I loved being able to spend time with him then and witness him building the foundation for the wonderful and determined man he is today, and I'm incredibly proud of him.
What were you involved in during your time at Woodstock?
I feel like I may have done too many things while I was there… I was involved with CARE, and then I was the captain of Merlins in my junior year and was on every sports team I could possibly join. I loved the theater and acted in various productions – John Paul Raj's "Sub Such Hota Hai" brings back fun memories. I was also a part of the National Honor Society, and joined various academic clubs.  Strangely, given my current work and life in media and entertainment, I wasn't a part of the Yearbook or AV Club!
What are you involved in now that you're passionate about?
I'm grateful to be in a place to only actually do what I'm passionate about and to make a sustainable career out of it! There are several movie and TV shows this year that I'm producing or directing that will get going that I'm excited about. Specifically, a movie called "Green Dolphin" that I've been developing with director Chris Kenneally and Exec. Producer Keanu Reeves for three years that starts production in a few months. I'm directing a film called "Eternal Buzz" about four girlfriends who try and relive their favorite moment from when they were 18… because at 28, they are having a panic! And there's also a series I created called "Muckraker" about investigative journalism and journalists. I've also been working on several documentaries – one with Brenda Davis about women who fought in the armed struggle in Ethiopia – to another film about climate change and politics in the US. There's never a dull moment.
Share with us a note on your time in Mussoorie.
I recently came to Mussoorie to visit my ailing Nani, who unfortunately passed away on April 12th. It had been nearly 17 years since I had been back and it brought back an ocean (or mountain!) of fond memories. I don't particularly care for the main town, but it's really the Landour area which I love.
It's where I spent my childhood summers, spent my formative years, and now it's a place where we've come back to reflect on the things that matter, the places we've gone and the people we've become.
Tara Menon, Woodstock Alumni Office
Stay connected
If you're a Woodstock alumni, we'd love to keep in touch with you. Find out how you can stay connected.