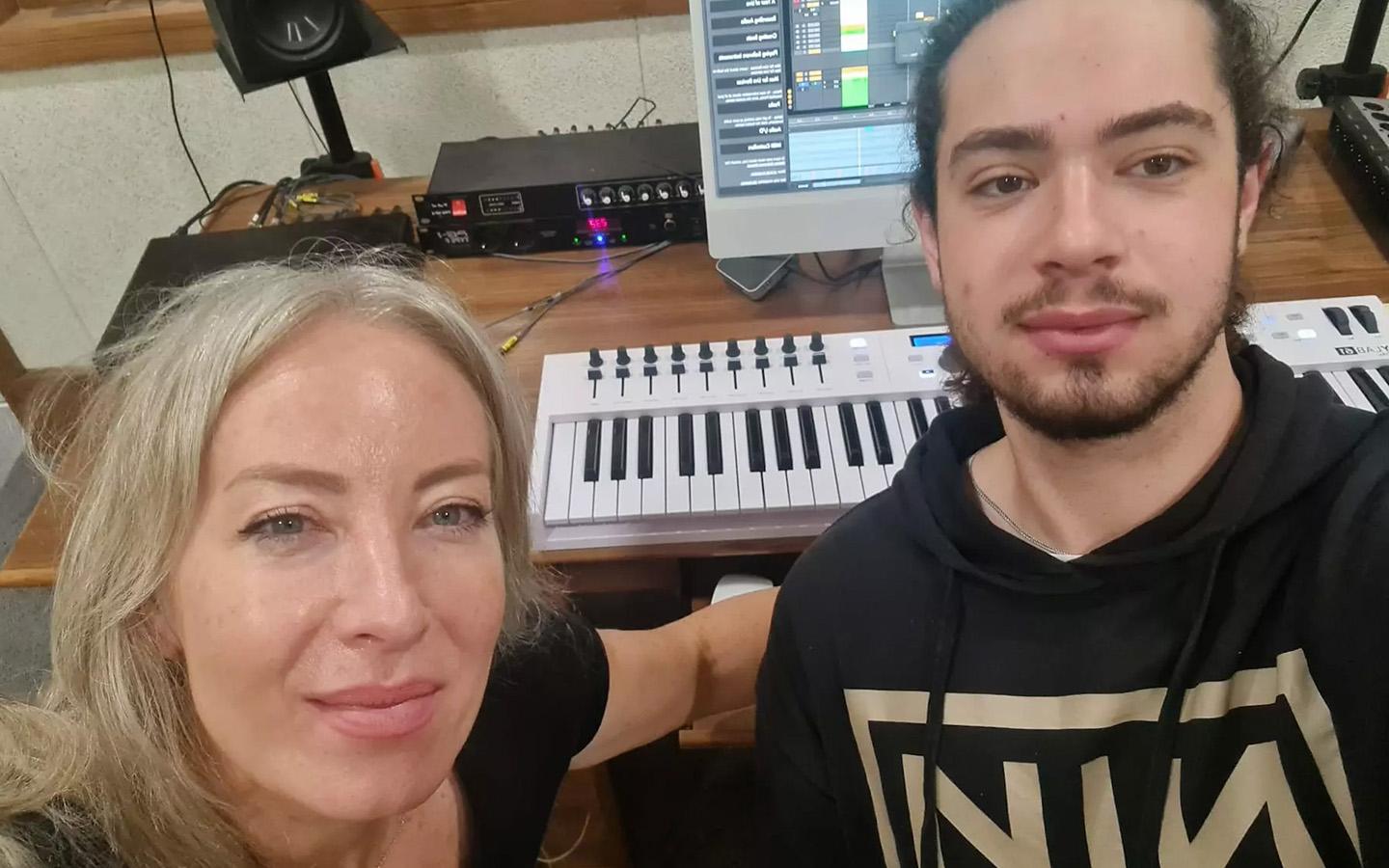 19 Jun

Generations at Woodstock: Kathleen '90 and Ashton '25 Hawthorne
We recently had the privilege to connect with alumna and Woodstock School Board General Body member Kathleen Hawthorne '90 along with her son Ashton, a current student at Woodstock. They shared about themselves and their respective experiences at Woodstock both as a rewarding living and learning experience and as a familial bond.
Kathleen is currently CEO at UnigoConsult, an educational consultancy that focuses on identifying and realizing individual and institutional education goals via university counselling,  sourcing and creating innovative course content that fills gaps in the curriculum marketplace, and more. Ashton joined Woodstock in grade 9 and is entering grade 11 in the coming academic year. Read on to hear from both Kathleen and Ashton!
– You can read our earlier Generations at Woodstock story featuring Rajesh '96, Sparsh '24, and Sarthak '27 Agarwala in the latest edition of the Quadrangle.
Kathleen:
Can you tell us about how you came to Woodstock?
I still remember my very first day at Woodstock in Grade 6 – orientation for new students. Fresh doughnuts were being served and I knew then that it was going to be a completely different experience. In the 80s, India's economy was still protectionist, so imports of any kind were unheard of. Woodstock was probably the only place on the sub-continent where such exotic delicacies could be sampled!
It was the early 1980s, and my parents had moved from Australia to Mussoorie in order to run a community health project serving the remote villages in Garhwal and Pauri Garhwal regions. Unlike today, villages had no running water or electricity and no access to even basic health care. They had previously been working in Kashmir, but due to the worsening security situation had moved south to Tamil Nadu and then to the Sunshine Coast in Queensland Australia to give their kids 'a normal childhood'. That didn't quite work out, as we all suffered terrible culture shock and retreated back to the Himalayas after just one year.
When did you enrol your son at Woodstock, and how has he fared on the hillside?
When I completed my PhD at the University of Cambridge, my son was 3 years old and I was faced with settling down to life in a semi-detached house and sending him to a local school in Cambridge to grow up as a normal British schoolboy. There are many wonderful things about English education and culture, but how could I condemn him to a life of normalcy when I had grown up in the Himalayas? So we decided to move to Istanbul, Turkey, which at least is a halfway house between East and West. Ashton completed his elementary schooling at an international school here in Istanbul. But like many people around the world, it was the experience of the Covid pandemic, I think, that reminded us what is truly valuable in life. The spirit of carpe diem led us to enrol Ashton in Grade 9, even though lessons were still online, so that he could attend Woodstock for the whole of high school.
Ashton recording with visiting musician Sukrit Sen and Woodstock Music faculty Milan Sudzuk (Piano) and Aloke Maiti (Indian Classical Music)
The pandemic impacted Woodstock's diversity, so Ashton faced a steep cultural learning curve when he arrived on campus. It hasn't all been smooth sailing, but he has never once wanted to leave, and we are proud of his independence, courage, resilience and open-mindedness that have developed. He has made wonderful friends and has found his place in the newly-created music recording studio located right next to the elementary school hall where I performed my first piano piece at the age of 11.
Ashton:
What are some of your favorite things to do with your friends at Woodstock?
Some of my best memories at Woodstock involve late-night conversations in Hostel discussing everything from the meaning of life to the temperature of the food served in Alter Ridge. These are the friendships that I was looking forward to when I joined the school, a type of bond that I believe can only be experienced among Woodstock students.
I have also managed to convert many of my friends into gym fans and have some fond memories of deadlift competitions and hitting personal records with my friends there to support me. It has been amazing to see their progress and I always feel incredibly proud every time I get a progress pic on Instagram. 
Who is your favorite faculty or staff member at Woodstock and why? Can you give an example from something s/he taught or helped you with?
While I can't pick out a favorite, I have always really appreciated and respected my dorm parents. Having an alum parent, I often hear about how Woodstock has changed and is not the same as it used to be. I feel that the dorm parents are doing the best they can to preserve the old culture and student mindset of the pre-covid days. I always enjoy coming back from school and sitting in the halls of the hostel, listening to stories and drinking chai with whichever dorm parent is on duty. You can really tell how much the dorm parents care about the students and vice-versa. 
Kathleen:
You are currently serving as a member of the Woodstock Board General Body – and have been a wonderful support and guide for many of us here – thank you! How has that role impacted your experience as a Woodstock parent?
Being on the General Body has given me an invaluable opportunity to witness all the hard work and dedication that goes towards sustaining the school's mission and everyday running. It's a huge team effort by a diverse group of dedicated people – from the security guards and teachers to the cleaners, administrators, chaplain, alumni office, dorm parents, drivers, kitchen staff and Board members. What sets the school apart is that all of these people are not merely carrying out their duties as another day job. Rather, they are passionate about Woodstock and often go above and beyond in caring for the students, making it the wonderful place it is.
What did you value most about your time at Woodstock?
I think as students we all sense it, but only later truly come to value the fact that Woodstock really is different. Its forested mountain location is definitely a unique selling point, but actually it is Woodstock's distinctive form of multicultural education formed over many decades by its history, setting, demographics and aspirations. It is a wonderful mix of Christian values, American culture, world influences, Indian music, languages and history.
In my day, teachers were washed-up hippies from the glory days of the overland route between Istanbul and Afghanistan to Goa, well-meaning hillside families such as the Alters, the Criders and my own parents, erudite Indian scholars like Miss Chander and Mr Singh who taught sitar to the Beatles in the 60s and adventurous mathematics professors from the US like Dr Hooley.
Together with the close friendships, the most unique aspect (that everyone also mentions) is the 'co-curriculars' like music, sports, creative arts and community involvement that lie at the heart of the Woodstock experience. Students and staff interacted with an equally diverse local population of Garwhali villagers, Nepali coolies, Tibetan refugees, Muslim tailors and Sikh and Hindu shopkeepers, not to mention the American Guru Nanak school who wore towering white turbans as they ran the 100 meters in the Mussoorie Olympics. All of this set against a magnificent backdrop of the balcony of the world, in a national parkland-like setting roamed by leopards and barking deer, flying squirrels and troops of langur monkeys. 
My close friends hailed from Sweden, Ethiopia and Canada, yet we all graduated from Woodstock with a sense of identity that was at least half Indian. No matter what your nationality, and even if you spend only a single year there, Woodstock's unique identity imprints itself upon you for life. This is what unites us many years later no matter our later life experiences or where or how our cultures or outlooks differ – we recognize in each other something very familiar.
It's not that we just lived in the same place for a time in our past. Woodstock made us into adventurers, pioneers, and explorers. We value others less fortunate than ourselves, we prize service to others. We are readers, critical thinkers and inquirers, we feel spiritual connections. We often feel different from the crowd. We have a love for mountains, for nature, we miss the sound of the wind in the pine trees.
Ashton:
What is something you are especially proud to have been able to do while at Woodstock?
I'm very happy to have been a part of the planning and running of the new recording studio at Woodstock. I spend far too much of my day tweaking vocals, writing music and recording covers with my friends. This facility really allowed me to push my production and engineering skills to the next level, which I hope is reflected in the song I created in the studio as my 2022 – 23 end-of-year project (you can hear it here!). I always have three or four songs that I'm working on at a time and I can't wait to see what I can accomplish in the future.
Another life-changing experience was visiting Thatyur village with Mrs Sanjaya Mark and the community outreach team. We played games with local kids who suffer from a range of disabilities, but who never stopped smiling and showing their love for life. It was really humbling and I am looking forward to going back to play music with them next semester.
What are your current aspirations for your next few years at Woodstock and/or beyond?
I'm constantly coming up with ideas for projects at Woodstock, some more realistic than others. At the moment I'm thinking about creating an album of music written and performed by Woodstock students. Taking influences from different cultures and music styles. I would also love to start a regular nightclub-style event where I can teach students how to work event lighting, train DJ's and event staff. This is something I think could enhance the student experience of events at Woodstock. On the academic side, I'm looking forward to doing the Woodstock high school diploma and Advanced Placements for my last two years. Most students are doing the IB Diploma, but the previous Woodstock system is also coming back as an option and it will give me a chance to do my own independent project or an internship and gain credit for it while earning a US high school diploma. After I graduate, I hope to study music and sound production either in the UK or US, or maybe take a gap year and continue the adventure.
What would you say to other alumni children considering attending Woodstock?
I believe that Woodstock is not necessarily for everyone. If you have a certain mindset and attitude you can really thrive here – if you want to be independent, learn from others, are open to new experiences and ready to explore who you are and how to care for your community, it's the place for you. I've found that alumni children fit in perfectly with the culture at Woodstock and always do really well. I never felt connected to my previous school but at Woodstock, that is certainly not the case. I feel that other alumni students will feel the same way.