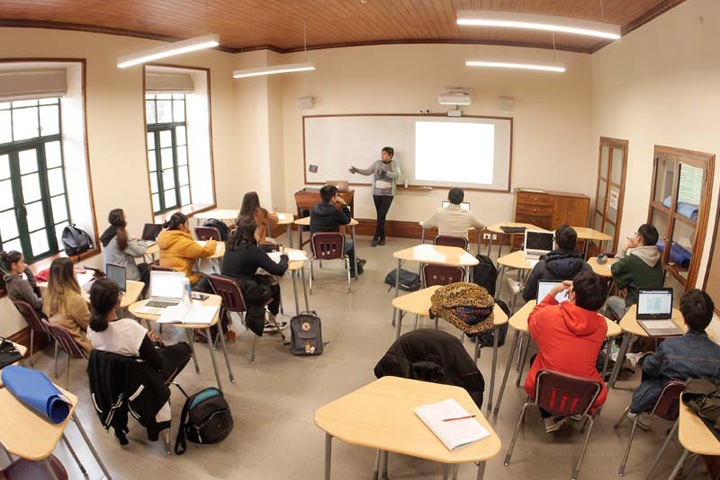 04 Mar

Reimagining our Learning Spaces – HS20

One of our key strategic priorities for 2019 is reimagining the school's learning spaces. Supported by this year's Annual Fund Appeal, it is our ambition to remodel our classrooms to create functional and aesthetic spaces in which our students can develop their full potential. During the Winter break, work began renovating three classrooms, prototypes with which we can both test different approaches and demonstrate what is possible with our learning spaces. We're delighted to announce that the first of these, HS20 in the High School building, is now complete and back in use.

Students are greatly benefiting from the completely refreshed classroom, which includes improvements to both the physical surroundings and educational environment. Efficient underfloor heating provides warmth while new double-glazed windows ensure the heat stays where it's needed. A cutting-edge ultra short throw projector and interactive whiteboard works hand-in-hand with a high-fidelity speaker system. LED lighting is eco-friendly while providing a bright and welcoming learning environment. And wooden celling panels, skirting boards and finishing give the classroom a timeless and natural look, while leaving room for students to make their mark on the space.

Our ambitious plans to reimagine our learning spaces are only possible because of our Annual Fund Appeal, the school's yearly campaign which helps to close the gap that exists between tuition and the actual cost of a Woodstock education. These projects are dependent on the support of parents, alumni and friends of Woodstock, and we are hugely grateful to all those who have donated to this extremely important project. Such acts of kindness and generosity are greatly appreciated by all at the Woodstock community. If you can help with this or other projects, please email development@woodstock.ac.in. We'd love to hear from you.