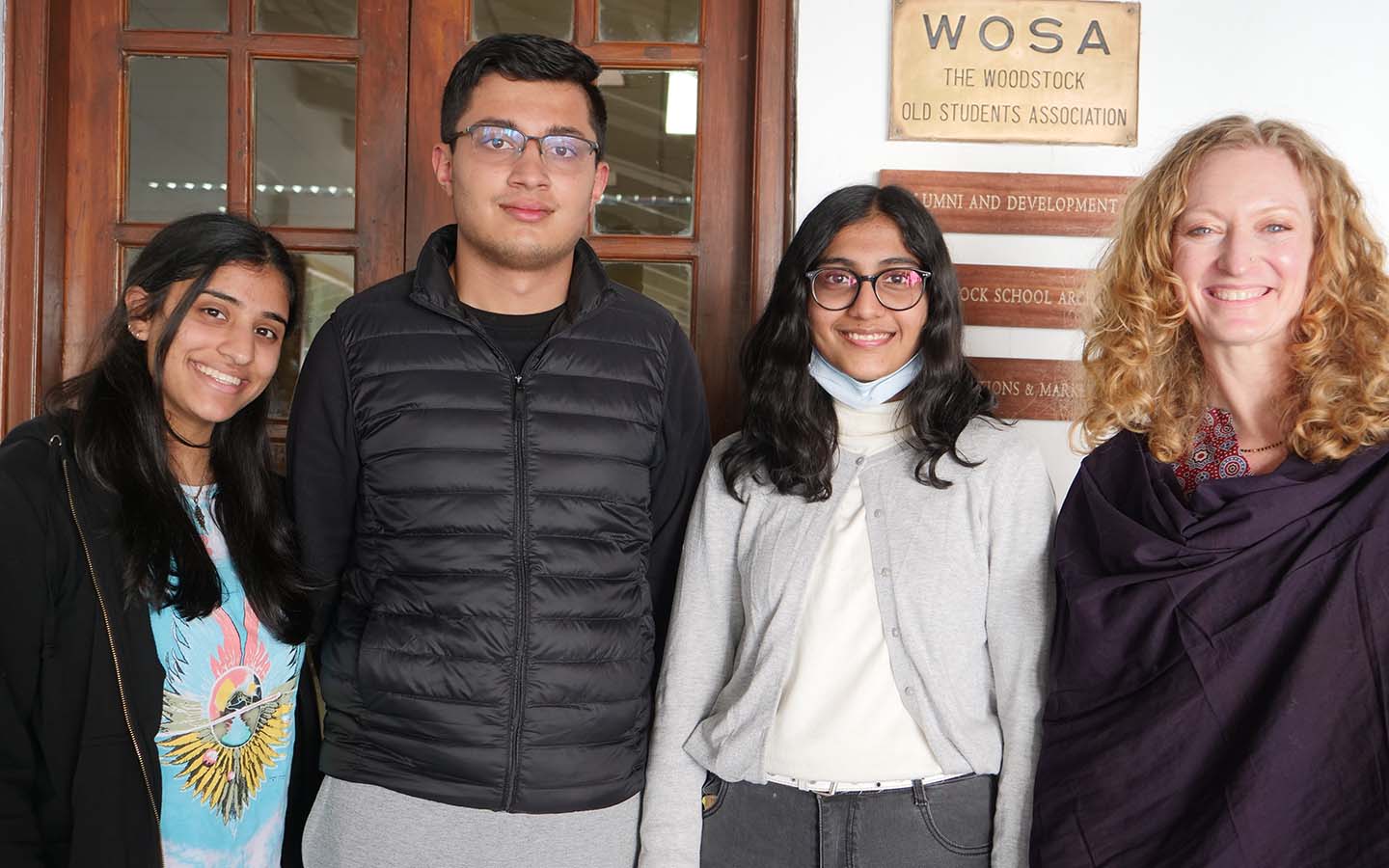 27 Apr

Director of Advancement and Alumni Relations, Ms. Katie Jo Walter Chats with the Student Interns

Our High School Student Interns got to spend some time chatting with Katie Jo Walter, Director of Advancement and Alumni Relations, who joined Woodstock recently and will be leading all advancement efforts for the school. Read on to learn more about the chat that took place between Katie Jo and student Interns: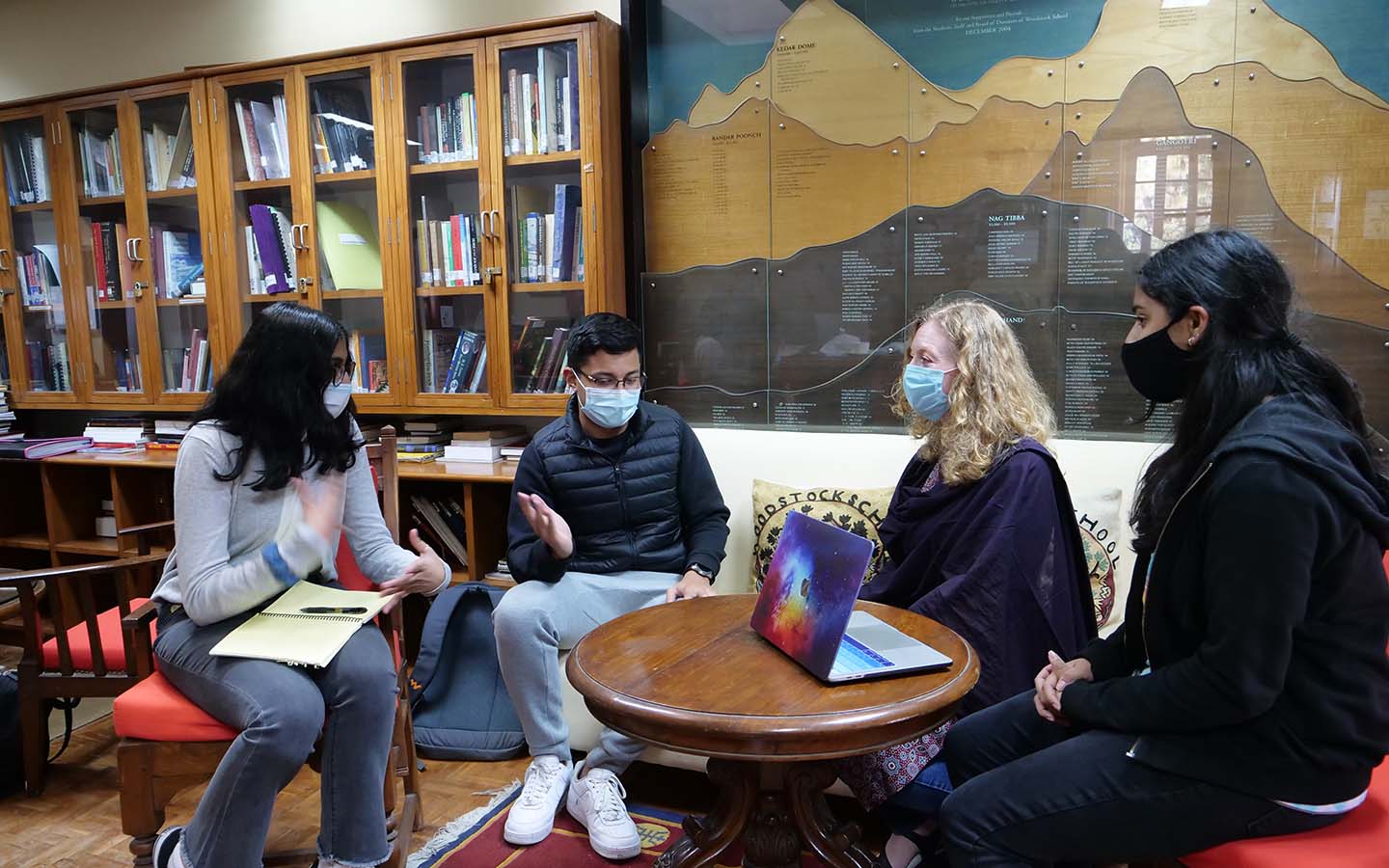 Ms. Katie Jo Walter is the newest member of our Alumni and Advancement Office, and we are extremely excited to share her thoughts on beginning a new chapter within our alumni relations!  
Rhea: Hello Ms. Katie Jo, what do you envision for the future of the alumni association and department? 
Ms. Katie Jo: Well, for now, we have been gathering a lot of positive momentum around our alumni reunions and gatherings. The COVID-19 pandemic brought some of the annual gatherings and different things people did in person to a standstill. However, it also brought about last year's FWS/WOSA virtual reunion, which I do not know if any of you saw. If you did not, you should go and look at the videos because it was very cool. There was this whole new level of community building which happened because with in-person meetings, people were more geographically siloed. Now, we are finding that our alumni are coming together to discuss issues they care about, their professions, and their passions – and that is spanning geography, diverse cultures, and generations. This kind of connection is more in line with what we are about here at Woodstock, bringing everyone together across these areas of diversity. That is what I see as a future – a lot more of "Being with each other in support of life passions, goals, and purpose" as part of our ongoing community-building efforts with all of us mutually supporting each other and going out into the world. So, it is our alumni supporting each other, it is us here at Woodstock supporting the alumni, and it is all of us taking that confidence and support out into the world to the people we touch in our everyday lives.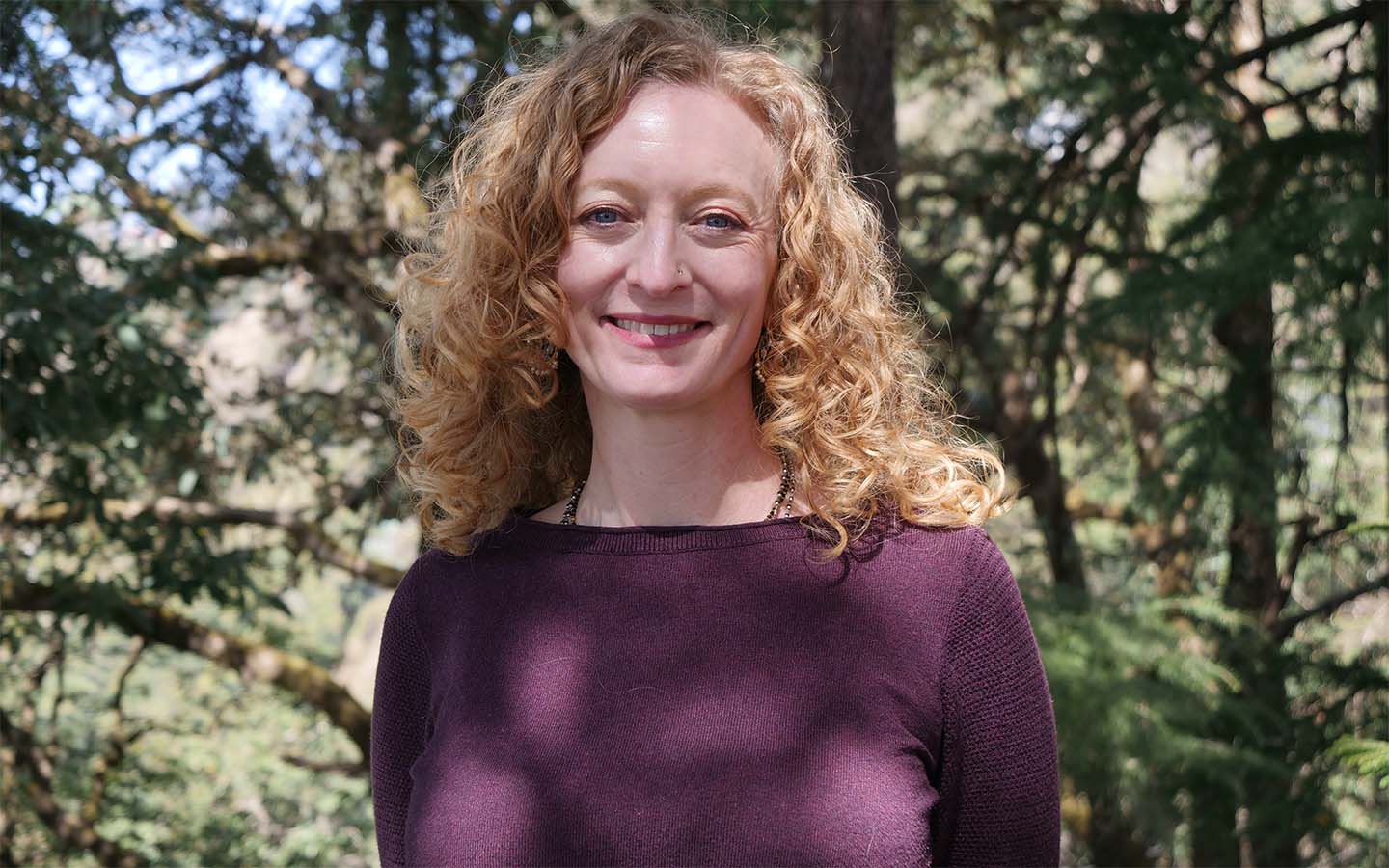 Jayant: How did you hear about Woodstock and what made you decide to join us? 
Ms. Katie Jo: I heard about Woodstock when I came in 2009 after being awarded a Critical Language Scholarship to learn Hindi at the Landour Language School prior to undertaking Fulbright research. I was staying at this place called Kilmarnock Cottage, which is above Sister's Bazaar and would, of course, naturally walk to Landour Language School and walk around all the time. Due to that, I was running into Woodstock teachers, Woodstock students, and even ran into a little abandoned puppy when I first got here. I had this little puppy who would follow me to my classes at Landour Language School and she would even follow me to Char Dukaan for lunch. I encountered Woodstock students who would come say hello to her and fawn over her. In that way, I got a lot of interaction with the students. I loved the place and really enjoyed my interactions with Woodstock students and faculty. That is what kept that interesting curiosity about Woodstock burning for the last 12 years I have up until my joining Woodstock this year.  
Rhea: You know, it is funny that you say that. When I first came here after they brought us back, I actually met a lost puppy too on my first day at Woodstock. So, it is interesting to know you had a similar experience. 
Ms. Katie Jo: Yes, it was raining, and she was just sitting there all by herself, it was very strange. Then one day, she just disappeared, when I was having my lunch at Char Dukaan. Since she followed me everywhere, everyone noticed her absence and people around Landour were asking me for weeks about what happened to her. There were theories that a leopard had gotten her, but I always told myself she was taken by one of those Woodstock students who were always showing her so much attention. Now, my husband and I have a small dog with us, and she is like our Public Relations Officer, attracting students to her much in the same way that puppy did! All the students who are missing their pets back home come and love on her. It has been such a fun way for my husband and me to get introduced to students here at Woodstock! 
Rushita: What excites you about your future at Woodstock?  
Ms. Katie Jo: A lot. I think Woodstock is an incredibly interesting and exciting place. I am excited about helping the school continue building its outstanding global reputation around what it means to be a Woodstocker and what Woodstock School contributes to the world, both in terms of the education it provides and in terms of the kind of people who come out of the holistic Woodstock School experience. I see us coming back to a lot of values around doing good in the world in highly empathetic, varied, and creative ways. And for me, in this role, to serve as a catalyst and a connector for helping people do just that, is what I believe is super exciting! "Woodstock as a force for good in the world" is something I think can continue to exponentially build over time to reach more and more people, whether they are Woodstockers themselves or those who have been inspired by or benefitted in some way from the service-orientation of Woodstockers. I cannot wait to help facilitate and celebrate that! 
Jayant: How is Landour different from when you were previously here in 2009? 
Ms. Katie Jo: I honestly think it is very, very much the same. There are some different buildings, but the traffic congestion when going down the hill into Mussoorie, the shops, and the way that the storefronts look are all the same. So I was very pleasantly surprised that it was remarkably similar. And of course, the same experience of monkeys jumping on the roof is there, which initially shocked my husband horribly. The first time he heard it, he was like, "What in the world is that?." 
Rushita: Is there something you would like our school to know about you?  
Rhea: This always gets all our alumni as well.  
Ms. Katie Jo: Let me think, because I feel like I have already put out a lot of the things that I want people to know.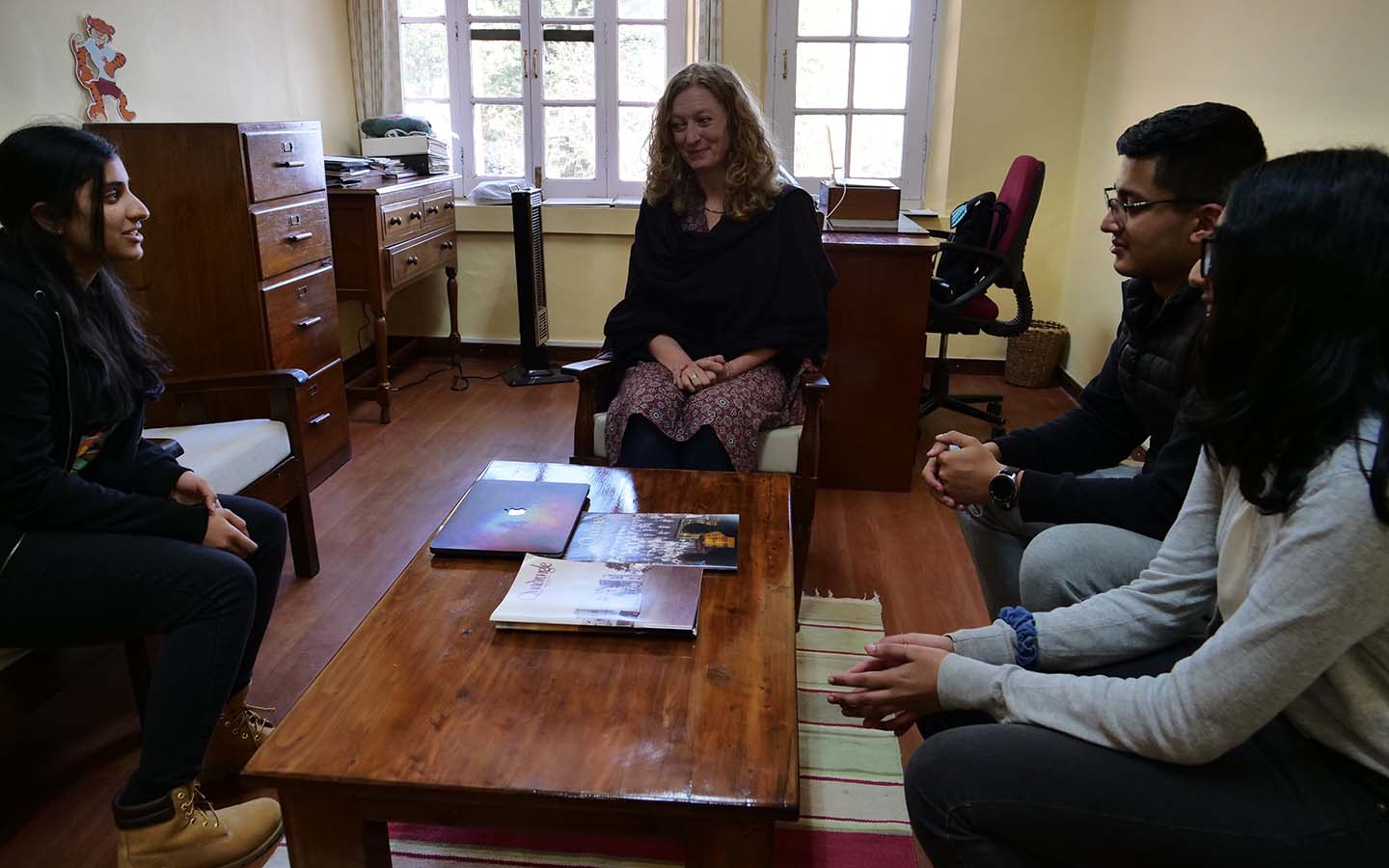 Rhea: Or is there anything that you would like to say to the graduating class or to our Woodstock students? 
Ms. Katie Jo: On that note, I would say: Practice a sense of curiosity and get to know who the alumni are because we do have people all over the world with very personal and professional achievements. I have noticed that everyone is interested in engaging. All our alumni are just super interested in knowing what students are up to and are ready to help in any way. So, I think that is an opportunity for mentorship and connection that should not be passed up. It is such an easy thing you can do to give yourself a boost as you are going into whatever your next steps are whether it is college, internships, jobs, or anything else. 
Rhea: Personally, what do you think makes the Alumni office special to this school? 
Ms. Katie Jo: Well, increasingly, what we are doing has so many opportunities for our alumni to productively contribute to the life of Woodstock School. Alumni are doing things like offering internships to our students over the summer, being mentors or visiting scholars at the Centre for Imagination, and hosting workshops at the Hanifl Centre. So, I think that's part of our leading value that we network well with one another across campus to recognise where these opportunities are for the alumni and then knowing where those alumni are and how to plug them in. It is not always an easy thing to balance; we must work to keep a ready basket of opportunities for alumni to engage in, but that is based on coordination around the academic calendar and specific needs of the school and our students. So, our job really is to keep those opportunities and alumni interest flowing all the time. That is a lot of our contribution; to keep those productive conversations and possibilities going. 
Rhea: And that's essentially what Woodstock is. I have heard from so many people that Woodstock is a very international school in the sense that you said that there's people all over the world, people doing very different things. So, the alumni office serves as this home to come back to in a way, to connect back to the school itself. Thank you just for explaining that
Ms. Katie Jo: Yes, and that is an exceptionally good point because as we are moving into a space where it is easier for the alumni to come back, we are hoping that they will come back more often. We do have alumni coming for our first ever Alumni Artist Residency in May, a three-week program where they are going to come and share their work and creative processes with the student body, and then with alumni and the greater community they are. There are also alumni treks through Hanifl Centre, Homecoming and Mela, milestone reunions, and more. We are always excited to facilitate these "coming home" moments for our alumni to revisit old memories and create new ones! That is also a big part of what we are doing. 
Rhea: That's all the questions we have for you today Ms. Katie Jo, thank you so much for giving us some time for this interview. 
Ms. Katie Jo: All right, thank you!  
Interview by Rushita, Class of 2023, Jayant, Class of 2023, & Rhea, Class of 2022
Transcribed by: Vir, Class of 2022
Edited by: Rhea, Class of 2022
(All students involved in the interview are Woodstock high school student interns at the Advancement and Alumni Relations Office)