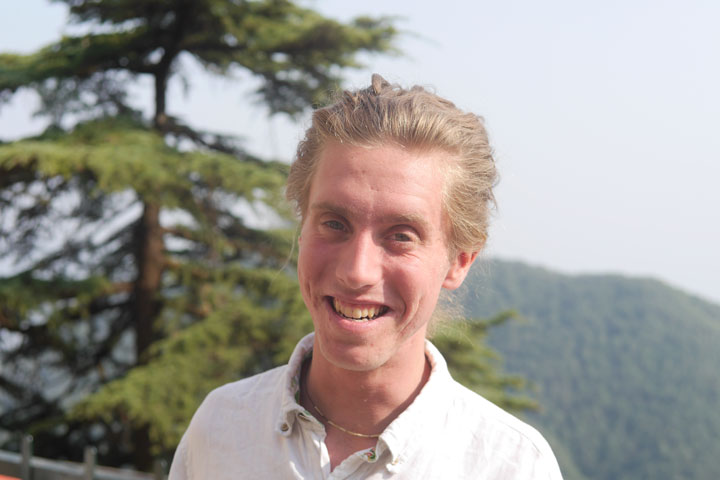 25 May

Tomas Forman – CFI Resident Intern
Tomas Forman, a gap year student from the United States, joined the Centre for Imagination during the Winter and Spring of 2018. Here he tells the story of his time in India, his work at the Centre, and how it's impacted him.
How did you find out about internships at the Centre for Imagination? What attracted you to becoming a CFI intern?
My extended family has worked as educators and agricultural missionaries in South Asia for over a century,  and my grandfather was born in Landour and grew up in Lahore. For a long time I had been aware of these connections and knew I wanted to travel and work in India during my gap year. A cousin of my father's recommended I look into Woodstock, so I sent in an employment inquiry though the website, only half expecting any sort of reply. A while later, I got a response directing me to the Centre, which at the time was just getting going. I attended The Putney School, a progressive boarding school in Vermont, with a strong emphasis on experiential learning. Moving from a normal public school system to Putney really concreted in me that the traditional educational system can be ineffective, and that alternative approaches to teaching and learning can really better prepare for the world beyond schools.
What have you done while at the CFI?
I've largely been involved with communicating the work and vision of the Centre to the outside world. I've written content for the website and newsletter, and collaborated with student interns on creating a new brochure. Additionally, I worked on the Maymester workbook, participated in CFI discussions and workshops, and written a welcome guide for visitors and Resident Scholars. I also recently built a cold frame garden bed outside the building, and worked on launching what I hope will bloom into a growing and ecological immersion component of the Centre's work.
How have you benefited from your time at the CFI?
During my time here, I've had the unique experience of being a re cent high school graduate working at a high school. Being essentially the same age as some of the students, it has been interesting and challenging to every day maintain a balance of professionalism and friendliness around individuals who are in many ways my peers. However, I have been able to receive valuable feedback from experienced professionals, as well as gained incredible insight into workplace dynamics and effective intra-institutional collaboration; experiences that I will bring with me into whatever work I do in the future.
What else have you done during your time in India?
I am deeply passionate about the outdoors, and that has really led me to see a side of India that not many people get to. During my time here, I've had the opportunity to backcountry ski in Kashmir, lead students on trips to Dayara Bugyal and Raja Ji National Park, climb in the Gangotri range, and run and bike throughout the trails in and around Mussoorie. I've also visited the temple at Lakhamandal, walked into the nearby villages, and practiced the art of driving on Indian roads.
Would you recommend an internship at the CFI to others?
What's unique about the CFI is that it functions as a place of learning, no matter what age you are; kindergarteners, recent retirees, college students- everyone teach something and learn something here. Thus far, the program has witnessed enormous growth, but it is still just in it's beginnings. If you want to provide your insight, expertise, and passion to a new initiative, then this is the place for you.
What does imagination mean to you?
As I see it, the terms "creativity" and "imagination" have taken on a negative connotation in the world of education as of late. With the influx standardized testing, various accreditations, and desire to "quantify" academic merit, incorporating creative and experiential approaches to learning and teaching into our schools has become difficult. This essentially because the traditional educational paradigm looks only for outcomes, not processes. At the same time, in the professional world, "imagination" has become associated with the work of utopian, delusory dreamers, out of touch with reality. That is ridiculous, of course, because every life-changing innovation, societal shift, invention, and revolution was born in in someone's imagination. It is fascinating that even though human society and progress is transient in nature, we seem to be innately resistant to change.
I'll go as far as to say that imagination is our sixth sense; our ability to perceive not only what is, but also what could be. It is our way to sense, through our hardships, emotions, fears, loves, questions and passions- the change we want to see, and the starting point of that can happen. With this vision, this desired outcome, you can then approach this outcome with an open mind- this is where creativity comes in. However, it's not easy, and that leads many to toil away trying to recreate existing archetypes, through often inefficient processes. Inevitably, times change, and the effectiveness and utility of these archetypes fall to the wayside; resources become exhausted, systems exploited, groups oppressed, and the need for change arises. If we are to progress and survive as a species- it will be the imaginers that save us. Don't hesitate to sit and think, to daydream, to challenge, to wander- your vision can be part of our future.
Tomas Forman, CFI Resident Intern