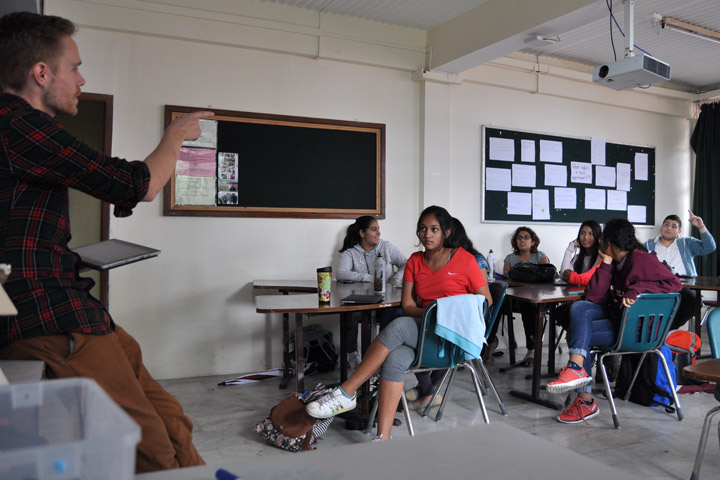 10 May

Why IB?
Mou Maiti, Woodstock's Academic Coordinator, has been associated with International Schools and the International Baccalaureate (IB) curriculum for the past 17 years, in a wide range of roles from IB Diploma Coordinator to physics teacher. She shares her insights into one of the most commonly asked questions about the IB programme.
"Why IB"?
The question keeps coming back to me from students, faculty, parents and the community of Woodstock. During my time as an IB educator and practitioner I have often reflected on this question, including several times at crossroads in my educational career. And while there are many benefits to the programme, in my experience, four ways an IB education shapes students' development really stand out. 
The students are truly
Internationally-minded learners
As I engage with them, argue, debate or have a discussion, I can distinguish them as global-minded individuals, who recognise that their identity is dynamic, and in continuous negotiation with the world around them. They embrace their own cultures and are open and responsive to other cultures and views. They explore globally significant issues, they love to learn languages other than their own, develop skills to live and work with others  
They are independent
They learn for the love of learning, are fully engaged, ever curious learners for life. They are taught to think for themselves and to drive the learning process. They never stand still, they continuously evolve and sharpen their vision with the latest academic research and findings. They create their own roadmap and prepare themselves to carry their journey forward, successfully. They are willing to embark upon a path unknown yet familiar, a road untaken yet well-rehearsed.
The curriculum is wholesome, connected and evolve with the changing times
The Diploma Programme provides challenge and rigor, without sacrificing creativity and innovativeness. The courses do not compromise on the depth and breadth of knowledge, they provide a diverse range of internationally – recognised, criterion-referenced assessments, benchmarked to ensure that students are consistently challenged to think critically, rather than simply to recall knowledge. IB assesses what is important to measure, not what is easy to measure.
The Diploma Programme courses and assessments are constantly reviewed and advance with the changing demands of of information technology, global inter-connectivity, higher education and employment. Students encounter many subjects simultaneously throughout their programmes of study; they learn to draw connections and pursue rich understandings about the interrelationship of knowledge and experience across many fields. This concurrency of learning allows students being multi-dimensional; as a result there are many literate scientists, numerate artists, and sociologists able to communicate in more than one language among IB graduates.
Most importantly – They give back to their community
IB students take an active part in, and contribute to, their school, their local community and their global community. It becomes a way of life for IB students to feel loyal to their immediate surroundings but to also think beyond them.
A long-term, holistic vision of education
All of the above are outcomes and expressions of the IB Learner Profile, the heart of the IB programme and the core of the education philosophy for all IB students, teachers and schools. It is a long-term, holistic vision of education that underpins the IB continuum of education and puts the student at the heart of everything we do.
The Learner Profile is the IB mission statement in action and provides a set of learning behaviours which aims to inspire, motivate and focus students, teachers and the entire IB school community, uniting them in a common purpose.
Mou Maiti, Academic Coordinator
Click here to find out more about the IB learner profile, which describes ten characteristics all IB students should strive to embody.