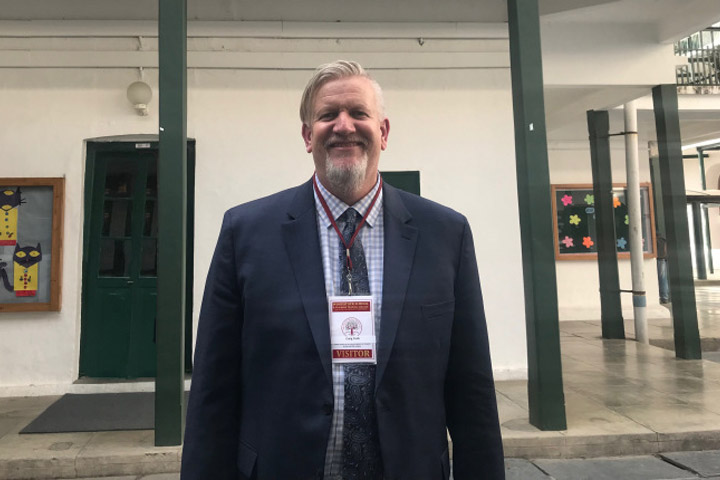 15 Apr

Woodstock Appoints Dr Craig Cook as New Principal
Woodstock School has announced the appointment of Dr Craig Cook as Principal Designate. Dr Cook will join Woodstock in the new academic year starting in July 2019.
Dr Cook brings to the position a wealth of experience in educational leadership, having worked at schools in and in higher education in the USA, the Philippines and Indonesia. He has a PhD in Sociology from Ateneo de Manila University in the Philippines.
Thomas Chandy, President of the Board of Directors of Woodstock School says: "We have appointed an outstanding educational leader who has been selected as the Board's unanimous choice. Dr. Cook has many years' rich and diverse experience in international education and brings with him a panoply of cultural experiences. We believe that this will add immensely to what Woodstock is able to offer at this important juncture of our journey."
A USA national, Dr Cook has family connections with Asia which stretch back over five generations. He is currently Dean of the School of Education at Simpson University, California, USA, where he has worked since 2016. Prior to this, from 2012-2016 is was Deputy Dean and High School Principal at UPH University and High School, a flagship Christian institution in Jakarta, Indonesia with some 15,000 students at High School and University. From 2004 until 2012 he was Chair of the Social Sciences and Humanities Departments at Crown College, St. Bonifacius, Minnesota. From 1992 until 2004 he worked at Faith Academy, Manila, Philippines, first teaching Social Science in the High School, then as High School Principal and, for five years, as Superintendent of the entire school. From 1988-1992 he worked in community development in the southern Philippines, and he started his teaching career as a High School Teacher in La Habra, California.
In addition to his PhD in Sociology, he has a BA degree in intercultural studies and a M.Div. in Theology, both from Biola University, California. He currently serves as President of the International Sociological Association's Research Committee on Sociology of the Body.
Dr. Cook is married to Jamie Williams, J.D.  They met in Indonesia, where she was teaching international law in the Faculty of Law at Universitas Pelita Harapan.  She earned her Bachelor of Arts Degree in Literature and Letters from the University of Oklahoma and her Juris Doctorate from Vermont Law School.  A licensed attorney in the states of New York and Texas, she has practiced family, criminal, and commercial law.  She is currently a professor in the History and Political Science Department at Simpson University in Redding, California, where she teaches political science and criminal law.  She is also an adjunct professor teaching restorative justice and international law at Le Tourneau University in Longview, Texas.  In addition, she serves as Program Coordinator for Court Appointed Special Advocates (CASA), a non-profit organization that advocates for the best interests of abused and neglected children in the foster care system.
Dr Cook takes over from Dr Jonathan Long, who after eight years as Woodstock School's Principal is moving on to a new challenge in June 2019. 
ENDS
Notes to editors: For supporting comment or photography, please contact Will Ferguson or Aastha Bhakhri in Woodstock School's communications team. willferguson@woodstock.ac.in, +91 (135) 263-9165; aasthabhakhri@woodstock.ac.in, +91 (135) 263-9166.
Photo: Hyenjin Cho for The Woodstocker