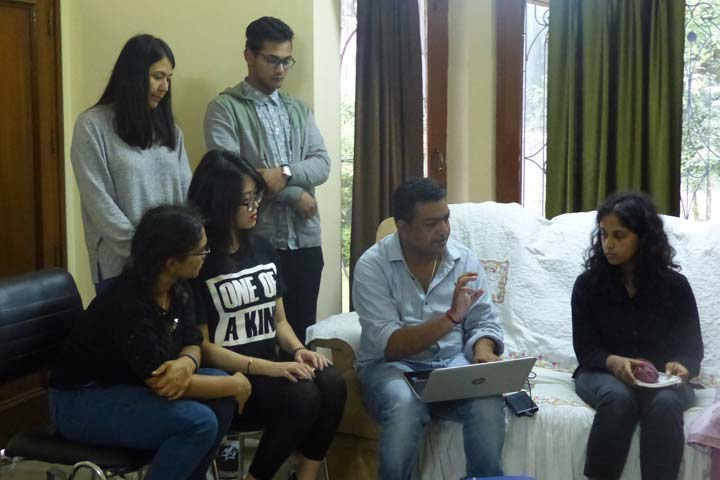 25 Aug

A sustainable water future for Mussoorie
Collaboration for conservation
Members of Woodstock's Development Outreach Student Team (DOST) who are interested in water conservation, met this week with the Centre for Ecology Development and Research (CEDAR) to continue the conversation surrounding water management in Mussoorie. CEDAR, based in Dehradun, works on issues of ecology, environment, and development primarily in the Himalayas. To bridge the gap between theory and practice, CEDAR connects communities, policy makers, and development practitioners to implement sustainable solutions to environmental issues affecting residents in the Himalayas and surrounding areas.
During their meeting on Wednesday, CEDAR and DOST discussed their collaboration and how best they should follow up the needs assessment regarding the management of water in Mussoorie carried out by CEDAR recently.  DOST was surprised to find out that the water crisis in Mussoorie is not because of a shortage of water. Although there is enough water in Mussoorie to fulfill both the daily need of citizens and the influx of tourism throughout the year, many local residents are not receiving the enough water each day to fulfill their basic needs. The Indian government puts this basic need at 135 litres per day. Rather than a lack of available water, they discovered that the issue is primarily due to water mismanagement at the local level.
[vc_masonry_media_grid gap="2″ grid_id="vc_gid:1503642412039-bb666477-ab48-7″ include="26517,26520,26518,26524,26521,26523,26519,26522,26525″]

A new long-term goal
In their reflection, the CEDAR research team and Woodstock students developed a long-term goal for their newly formed partnership: to work together to create and implement sustainable action plans for the responsible water-use and management in Mussoorie. Central to this goal is the education of residents on water usage and the basic materials to assist in conserving and sanitising water for consumption (including rain collection tanks, gutters and filter systems). To ensure that at a strong connection with the community is sustained, students will host monthly meetings with the Mussoorie Forum, a body of citizens passionate about water management issues, to listen to community members concerns regarding these issues and facilitating the development of practical solutions.
Simultaneous to the above development, two other groups of students have been working on water conservation projects at a high school in Kaplani village and at a local school for girls from low income families. These groups of students have a keen interest on bettering the facilities for the students at the two schools in collaboration with their authorities. While on a visit to the schools, Woodstock students were surprised to find that the bathrooms did not have any running water available even though it had been raining all day! This was because of the erratic supply of water from the city. These students are now working with their peers from the two schools to set up simple water harvesting systems to address the dire need for water throughout the school facilities.
Olivia Haines, Community Engagement Intern
Find out more about our Community Engagement programme here.