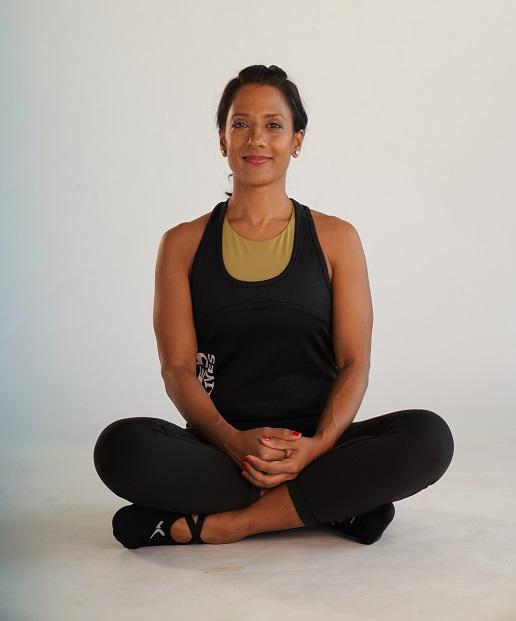 20 Jun

Alumni Spotlight – Radhika Karle '96

Radhika Karle '96, owner of Radhika's Balanced Body, is a well-known face of fitness across India. As a nutritionist and Pilates trainer, she has received awards from Elle, Aspire She, and Zest Fitness. Her clients have included high-profile business and corporate leaders as well as several Bollywood celebrities. She is Pilates Brand Ambassador for Decathlon India and has made numerous appearances on television and in print media, including frequent features in Indian Express, Vogue (India), and Cosmopolitan (India). We recently connected with Radhika in Mumbai to find out more about her, including her work and her Woodstock memories and continued relationships.

Can you share with us what you're currently involved in?

Right now, I am guiding and building four Radhika's Balanced Body training locations in Mumbai (Lower Parel, BKC, Andheri West, and Vile-Parle East)  through final transitions out of "pandemic mode" and as new set-ups.

Early in the pandemic, to support our instructors and communities, we quickly shifted to online classes and offered free classes on Instagram Live. I also worked to achieve something I am quite proud of: becoming the exclusive distributor in India for Balanced Body Pilates equipment. Balanced Body equipment, which is made in the USA, offers quality, durability and versatility that I have found to be unmatched by any other Pilates equipment manufacturer. Bringing Balanced Body equipment to India allowed me to help those with the means create home studios during the pandemic.

Now, as the pandemic recedes and people are again able to reap the benefits of in-person Pilates instruction, we are shifting away from online classes – although a few offerings remain, including those on the Shilpa Shetty app Simple Soulful. We are also able to get Balanced Body equipment into more fitness studios across India.

Radhika demonstrates the Balanced Body Reformer/Trapeze Combo

Pilates as in the video above seems pretty intimidating for many. Can you share more about the practice of Pilates in general? Can anyone do it, or do you have to already be super-fit?

Yes, anyone can do Pilates! I like to often point out that Pilates was created by a man, for men, since there is a conception that Pilates is primarily for women. Pilates originated as rehabilitation exercises for wounded World War I veterans. Pilates was initially recommended to me when I was recovering from an injury myself. I fell while running and broke my tailbone, and my doctor recommended Pilates. I lived in Texas at the time, and when I showed up for my first class, I was surrounded by beautiful blonde Texas housewives who were able to move through the exercises so easily while I slowly trudged along – talk about intimidating!  – but I stuck with it and am so grateful to be a trainer and motivator for others to start Pilates and stick with it, too. Our training centers offer classes for clients of all abilities including specialized training for physiotherapy rehab,  active agers who are 60-plus years old, and elite performance athletes.

Unfortunately, there are economic barriers when it comes to buying Pilates equipment, but there are many Pilates exercises that can be done only with a mat. I often focused on these types of exercises when offering online classes during the pandemic.

Radhika offers a broadly accessible mat Pilates session online in September 2020

What inspired you to focus your career on nutrition and fitness?

Thank you for mentioning nutrition again, because I always say that 80% of your results come from nutrition! Immediately after graduating from Woodstock, and well before the running injury that introduced me to Pilates, I got a Bachelor's degree in Clinical Nutrition from Texas A&M University. I later earned a Master's in Nutrition Sciences from Texas Woman's University.

I really feel that much of the inspiration for my interest in my work stems from my time at Woodstock. As a student, I was so active and would always be engaged in one activity or another! But Ajay Mark will tell you I wasn't a great athlete – I would often be among the last to finish in racing events. The food part may seem counterintuitive as well, since as students, we would eat so much Maggi and Wai-Wai and bun omelette…

– But something about being outdoors, walking from place to place, I was just very aware and engaged with my body all of the time!

As a Pilates Trainer and professional, what are some of the self-discipline practices and routines that you follow in your daily life? How have they contributed to your success?

It comes across as cliched, but "early to bed, early to rise" was one thing that I learnt in Woodstock. And make the best of every situation you're in.

This has helped contribute to my success as it has instilled discipline in my life. And by finding a silver lining in every situation, I am able to cope with some of the most trying circumstances – the pandemic being one of them!

How did you end up coming to Woodstock?

Growing up we moved every 3 years due to my father's job. When my parents decided to move back to India in 1985, there we not too many international schools that went up to the high school level. So in 1986 my elder sister, Sangeeta '92, went to Woodstock first under the recommendation of Carol and Tom Alter '68. Then in 1991 when my parents started their own business which called for a lot of travel, they thought it best to put Madhura '97 and me into Woodstock School, too. We were with Sangeeta for just a semester before she graduated- enough time to have her watch over us and get settled.

It was full of the more difficult aspects of those days: limited water, not-so-great food, and winter cold – but we were all in it together. Whenever one of us faced problems, whether an emotional issue, lack of good tuck food or money, or anything, really, others would rally in support. It really created an amazing feeling of belonging and a lifelong impetus to look out for others.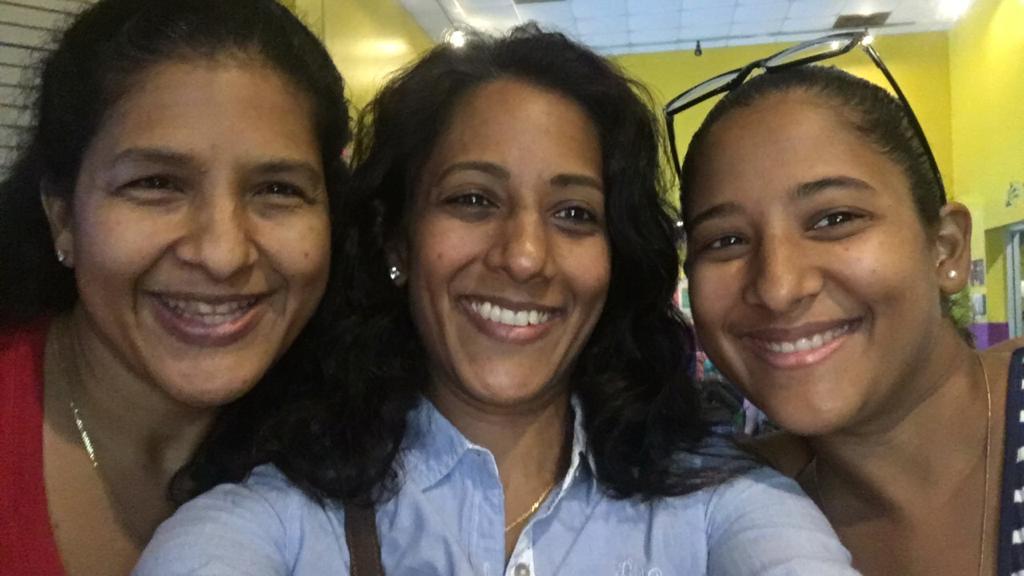 Left to Right: Sangeeta '92, Radhika '96, and Madhura '97 Karle
Can you tell us about your relationships and any ongoing connections with your Woodstock friends and classmates?
Well, first of all, my two sisters attended Woodstock along with me, so I have them as fellow alumni with whom I am regularly in touch! I'm lucky in that I'm not only connected with my own classmates but with theirs, too. My class has a group chat on WhatsApp, so I get to keep up with everything. I love seeing how involved Manav Mehra '96 has been with the Advancement and Alumni Office and it was nice to see that Rajesh Agarwalla has enrolled his sons at Woodstock. We are all supportive of each other, which has always been the case. Just recently, we even had an unplanned reunion when one of our classmates ended up in the hospital here in Mumbai; about half a dozen classmates came from all over India and around the world to be there for him.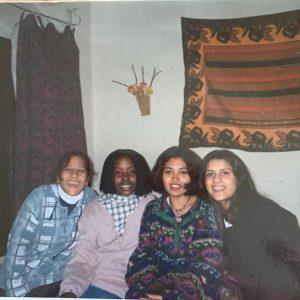 Radhika and friends enjoying dorm life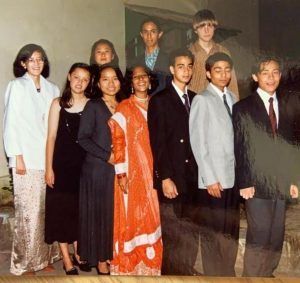 Radhika attending JSB in 1996
I also often visit with the Kapoor family (including Former Woodstock Board Member and former Head of WOSA India Kiran '75, Woodstock Board General Body Member Priya '97, and Kapil '99), which brings me to Landour occasionally. Over the past few years, I have been doing some trekking around Landour and so have also become good friends with Akshay Shah, the Director of the Hanifl Centre for Outdoor Education and Environmental Study, and his wife Renu Oberoi, who is a Coordinator at the Centre for Imagination. On my last visit, Renu encouraged me to visit the Advancement and Alumni Office, and I am so glad I did. I got a tour of campus and saw all of the beautiful new renovations. It was undoubtedly different from my time, but I still connected with many places that took me back in time and overwhelmed me with emotion!
Additionally, it was terrific to have contributed to a book published by the Kapoor family-owned and operated Roli Books. I collaborated with culinary expert Vidhu Mittal for Pure & Healthy, a cookbook offering delicious and healthy vegetarian recipes, often incorporating traditional Indian ingredients. The book was launched in late 2019, just prior to the onset of the COVID-19 pandemic.
Teaser for Pure and Healthy Cookbook which Radhika co-wrote with best-selling cookbook author and culliinary expert Vidhu Mittal.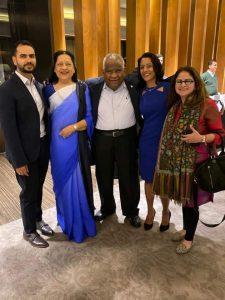 At the book launch event for Pure & Healthy in December 2019
Left to Right: Kapil Kapoor '99, Director, Roli Books; Radhika's mother Shaila Sawant-Karle; Radhika's father Arun Karle; Radhika, and Priya Kapoor '97, Director of Roli Books
Radhika shares about Pure & Healthy on Roli Books social media
NOTE: Pure & Healthy is one of the hundreds of Roli Books publications (shipping worldwide!) on which you can receive a 25% discount when you make a gift to Woodstock School or one of its supporting organizations. Other alumni-owned businesses are also offering discounts when you give INR 1690 (approx. USD 20) or more!
With such an impressive list of clients – including Sonam Kapoor-Ahuja, Rani Mukherji, Sonali Bendre, Anand Ahuja, Naina Bachchan, Nisaba Godrej, Nargis Fakhri, and Vidhu Vinod Chopra – you must have experienced many incredible milestones and achievements along the way. Which accomplishments are you most proud of?
Two things that make me feel especially proud are 1) I have a handful of clients who have been training with me for nearly 15 years, even before I started Radhika's Balanced Body and 2) In the 12-plus years Radhika's Balanced Body has been in business, we have never once had to pay for advertising. Positive word of mouth and quality introductory and online trial classes have done all of the advertising work for us!
If a young Woodstock student is interested in pursuing a career in wellness and fitness, what advice would you give them based on your own experiences?
You need 3 things to do well in the field of wellness and fitness:
1. Commitment
2. A healthy mix (no pun intended) of passion & business acumen
3. Desire to constantly learn as this field is always changing
Looking back at your time at Woodstock, what advice would you give to your younger self?
BE A LITTLE MORE HEALTHY IN YOUR EATING CHOICES!! Hahaha! All jokes aside, I would tell my younger self to embrace how well-rounded the Woodstock School education is – academics, music, drama, sports, outdoor activities..we had it all! Not many kids have that privilege these days!
Are you visiting campus again anytime soon?
For sure! I have been asked to serve as a judge and workshop facilitator for Woodstock's Entrepreneurship Fest all-India invitational business pitch competition at the end of November, so I will definitely be around for that – and I'm sure I will be making other visits for trekking as well!
Images from Radhika's Balanced Body