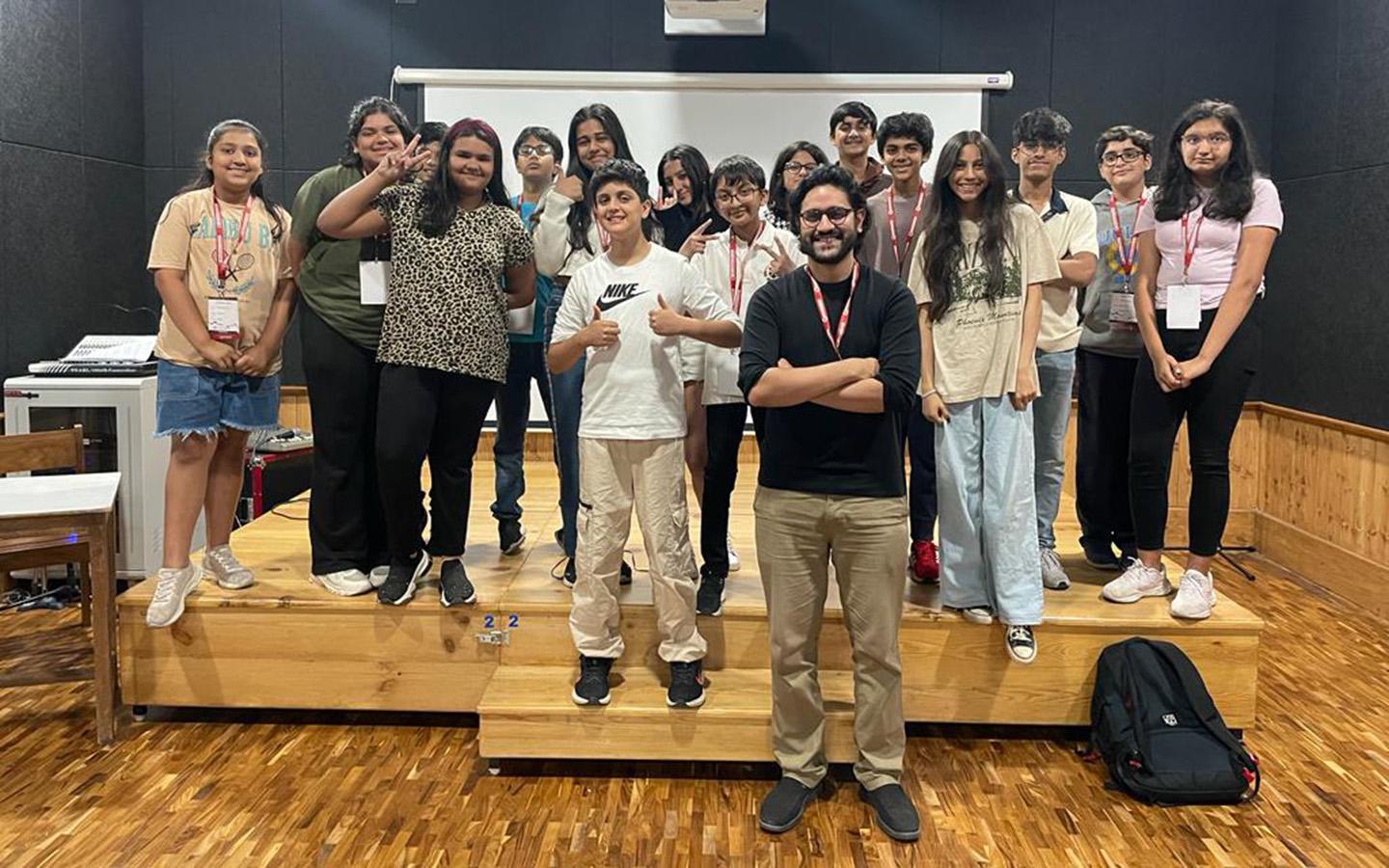 20 Jun

Alumni make Summer School at Woodstock 2023 Shine!
Summer School at Woodstock 2023 was the most successful, hustling, and bustling summer program on campus to date! The program provided a wonderful opportunity for community members to return to campus while also learning and/or earning. The Art for Change artists' residency at Woodstock took place simultaneously with Summer at Woodstock, making for even more interesting interactions.
It was a summer filled with the presence of alum children, recent grads, alumni, and visiting alumni, all actively involved at the school. Thanks to them, Summer at Woodstock is achieving its goal of offering young people not enrolled at school to enjoy a true taste of life and learning at Woodstock. For this and more, we appreciate our alumni family so very much.
Summer School courses for young people aged between 10 and 18 years included Outdoor Living Skills; Indian Classical Music; Songwriting and Production; Art in the Himalayas; Artificial Intelligence; Himalayan Nature and Ecology, Leadership, and Documentary Film Making.
We always hope more alumni and families will take part, so mark your calendars for mid-June 2024 and plan a trip!
Some of our recent graduates, Arjun Menezes, Casper Stevenson, and Mark Monteiro, all from the class of 2023, played key roles in supporting the Summer at Woodstock program as interns and assistant faculty. Arjun served as one of the head interns, overseeing a team of current Woodstock students who participated as interns, while Mark assisted as faculty in the Music Production program.
Arjun says "Coming back to Woodstock as alumni for the first time was surreal. It was a great experience to interact with students and represent the other side of the institution. Summer school WS is rapidly evolving and enhancing itself and being a part of such an energetic, dedicated team kept me engaged the entire time. I hope to return to the mountain for the program every year and continue learning and teaching in the same fashion".
We caught up with Zorawar, a summer school student and the son of Kachina Chawla '95, and asked him to share about his experience at the Summer School. He said, 'I often come to live on the hillside and wanted to learn more about camping, hiking, and the outdoors. So, I decided to join the Outdoor Living Skills Program at Summer at Woodstock. I found out about Summer at Woodstock through a friend who also attends the same school and whose parents are alumni. My summer experience was fantastic, and I particularly enjoyed the different events and having lots of fun in general."
Raag Sethi '09, a renowned and accomplished producer based in Ahmedabad, actively participated in the Music Production program as a guest faculty member, imparting valuable knowledge on recording and production techniques to the students. He says "Coming back to Woodstock after 13 years has been such a journey by itself! But having to come and conduct the music production workshop is even better. It was great to see some of the new facilities since I was last here, and being put to good use. It was such a great time working with the summer school students, Ady, and other alumni to showcase what Woodstock has to offer, and it is a truly unique experience that is difficult to replicate anywhere else in the world."
At the artist residency front, Isaac Gergan '06, the Executive Director at Art for Change and the program director for the residency, played a crucial role in managing the art residency and its residents. Tanya Garg '12, program coordinator and Samuel Hanisch '04, artist resident, also contributed significantly to overseeing the residency experience.
During the residency, artist resident Beth Guipe Hall had the pleasure of being joined by her mother, Susan Hostetler Guipe '62, who made a brief visit to the campus and had the opportunity to collaborate on some art with her daughter.
Former art teacher and alumnus, Stefan Eicher '90 who made a quick stop at the residency says "I'm on the hillside this summer break for a few days checking out the Centre for Imagination-Hanifl Centre-Art for Change 'International Artist Residency'!  So good to be back on campus and see the amazing collaborations taking place. 16 artists from India and around the world examining the diversity of Himalayan ecosystems to explore what to do with *difference* in an ever-fragmenting world."
Overall, the summer proved to be a bustling and enjoyable time for everyone, particularly for the numerous students at Woodstock who had the chance to engage with a multitude of our alumni.