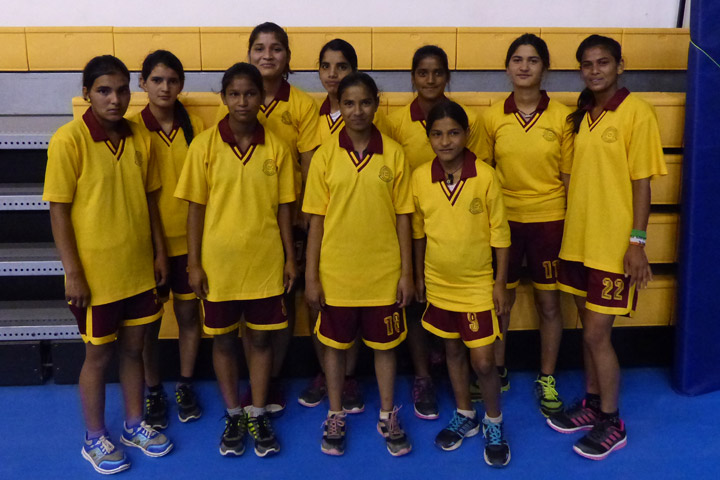 01 Sep

Community coaching
Sanathan Dharam is a local school that our Community Engagement programme has made a long-term commitment to support. Find out how one of this year's initiatives has seen students from the school playing in our Goal-a-thon football tournament.
During the first few weeks of the new school year, students interested in working to improve facilities at Sanathan Dharam School discussed with the Principal and identified three projects in which they could collaborate. These include setting up a library with the goal of motivating students to make reading a daily habit, installing a self-sustaining, water harvesting system – thereby ending a dependence on the erratic city supply for water – and coaching students at Sanathan Dharam interested in sports such as badminton, soccer, table-tennis and basketball.
Lastly, students at Woodstock have identified a special focus throughout the projects this year: building relationships between themselves and Sanathan Dharam students in order that they gain an understanding of one another's different backgrounds and learn from each other's diverse experiences.
[vc_masonry_media_grid gap="2″ grid_id="vc_gid:1504274697296-7bca5ca4-5534-5″ include="26756,26775,26755″]
In the weeks to come, Woodstock students, in partnership with Sanathan Dharam students, will begin working to make strides toward their project goals. One project at Sanathan Dharam, the sports coaching project, witnessed its first major development this weekend at Woodstock's annual Goal-a-thon fundraiser. Two teams from Sanathan Dharam are competing! For the girls playing in these teams, it is the first time that they have competed in a soccer tournament and we are delighted to provide this opportunity. Community Engagement is grateful to Mr Francisco, modern languages teacher and Woodstock's senior girls' soccer coach, for helping them train the two teams from Sanathan Dharam. This year, the money raised during the fundraiser will be used to support the water harvesting projects at the Sathan Dharam School itself, along with a similar initiative at a school in Kaplani village.
Olivia Haines, Community Engagement Intern