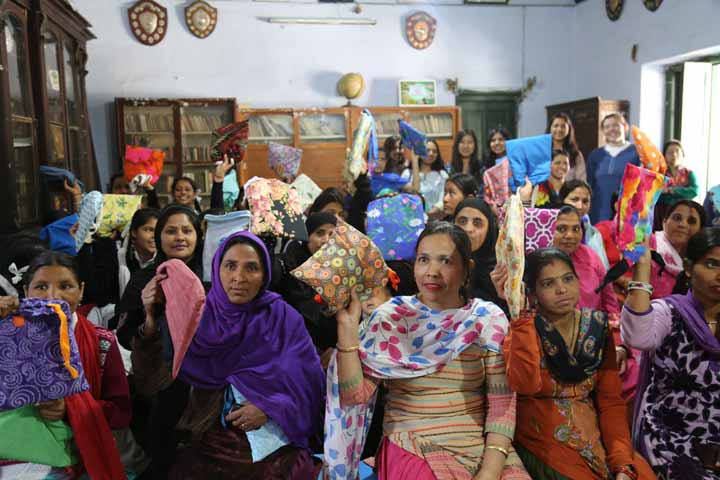 19 Apr

Days for Girls teams up with Community Development
Our Community Development programme is working with Days for Girls to provide sustainable feminine hygiene solutions and health education. Because when girls and women have health, education and opportunity, communities and our world are stronger.
Days for Girls is an NGO which aims to provide sustainable feminine hygiene solutions to all girls and women. When a group of Woodstock students became aware of the taboo and poor hygiene practices which prevailed among females in our area during their time of menstruation, they were shocked and determined to do what they could to change these mindsets and practices. The group started trying to educate communities in and around Mussoorie. A unit to manufacture simple reusable sanitary pads was also established in the school. Last year, representatives from Days for Girls offered to distribute reusable handmade pads which last for three years and are much more attractive and comfortable than the ones we make at Woodstock.
[vc_masonry_media_grid gap="2″ grid_id="vc_gid:1488966560197-dfab8346-764c-8″ include="24820,24818,24817,24816,24815,24814,24813,24812″]
The founder of Days for Girls in Italy, Mrs. Jillian Crocker visited us early this week and Woodstock students joined her to hold two educational meetings. The first was with a predominantly Muslim Community in Mussoorie where we distributed 50 packs. These are safe, hygienic, reusable solutions for females to use during their period. Then we visited a village that was devastated during 2013 floods called Kakru. Here we distributed 30 packs. We are extremely thankful to our partner Days for Girls who have made this huge impact for at least 80 women in our area and are very excited for what is to come with our future involvement. Jillian was very impressed by the confidence with which the Woodstock students interacted with the girls and women of the two communities. She also appreciated the commitment of the Woodstock students to bring about a positive change in the lifestyle of women who are not as privileged as them.
Maria Reaney, Community Engagement Intern