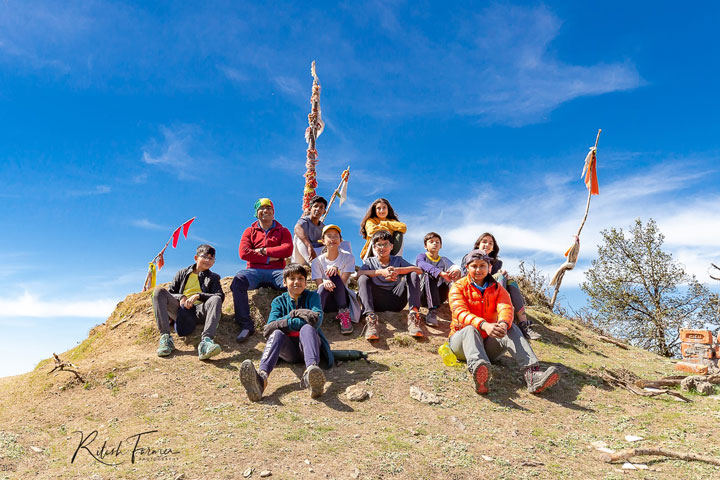 02 May

Peak Performance on Nag Tibba
In April, a group of our Middle Years students ventured to Nag Tibba for a weekend of walking, camping and learning – lead by our senior accountant Ritesh Farmer. At 3,022 metres, it's the highest peak in the Himalayan foothills surrounding Woodstock. As well as a chance to enjoy the area's natural beauty, the hike was a chance for students to learn practical skills, from pitching their tents to packing their bags, and even discover the answer to the age old question of how to answer the call of nature in the woods!
"You're going for the hike? Honestly! Why would you go for a hike, an optional hike? You don't have to, it's an optional hike, it's not a must. So far all the optional hikes we've gone for (one), have been a success, everyone enjoyed it. I'm not going to lie, some people struggled, but you don't get used to hikes without actually going for a hike." Rohan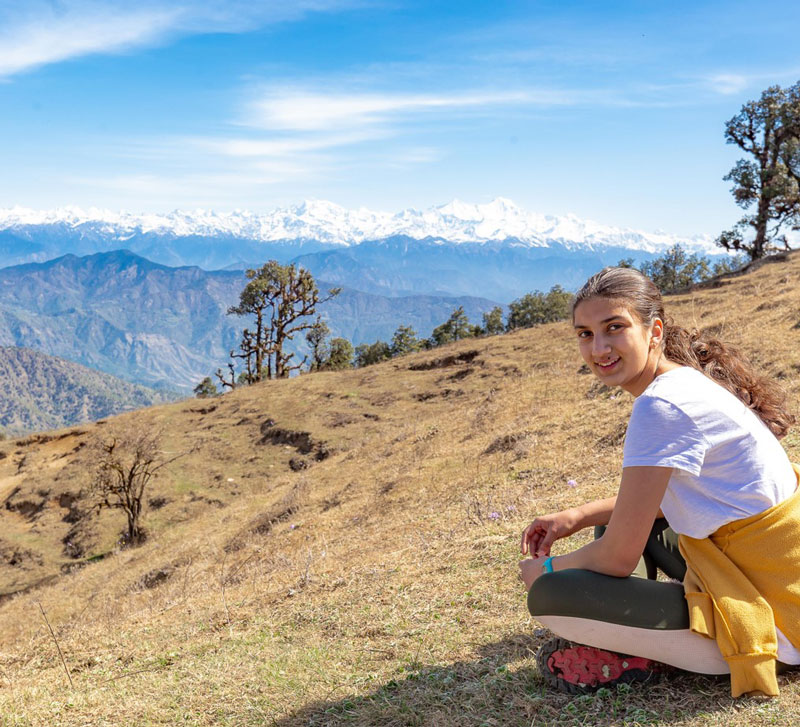 Tiara
What did I learn on this hike? Well, lots! Packing a bag for hiking or tying your shoe laces may seem easy but there's actually a way to do it. After learning and trying it out, it made carrying my bag much easier. Your bag needs to be balanced for it to be easy to carry. I could walk easily without having to tie my laces every two minutes. Learning to pitch a tent was easier than I thought it would be. Reaching up to the top left me breathless. Not because I was tired but because the view was stunning. I was in absolute awe. A feeling of accomplishment took over me and no words can describe it. It was bright and sunny yet cool and chilly. It was absolutely amazing. Honestly, the hike was not easy. Everyone was exhausted by the end of it. But that didn't really matter. It was a great experience and I don't regret signing up it at all.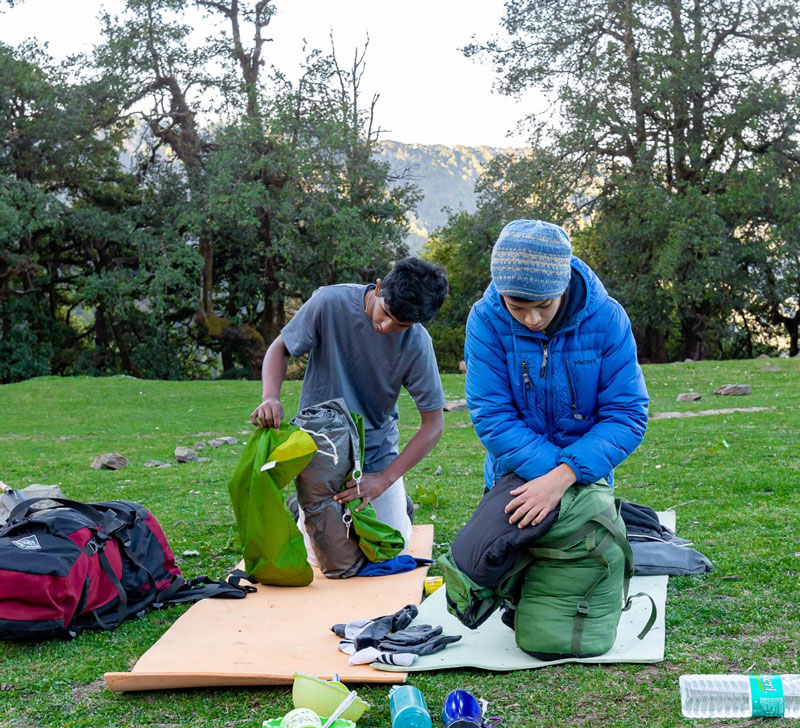 Arin
I learned many things from this hike. I learned how to pack my bag, how to sleep with a tent mate, how to dig a hole with a shovel and do number 2, how to pitch a tent, and how to play truth or dare. I also learned how to take shortcuts to make life easier, but Mr. Farmer did not allow me, but I still did it (and had a fall). This was a very fun experience. To go high up in the mountains and be with my friends and play many games. The hike was hard uphill, but we still made it in time.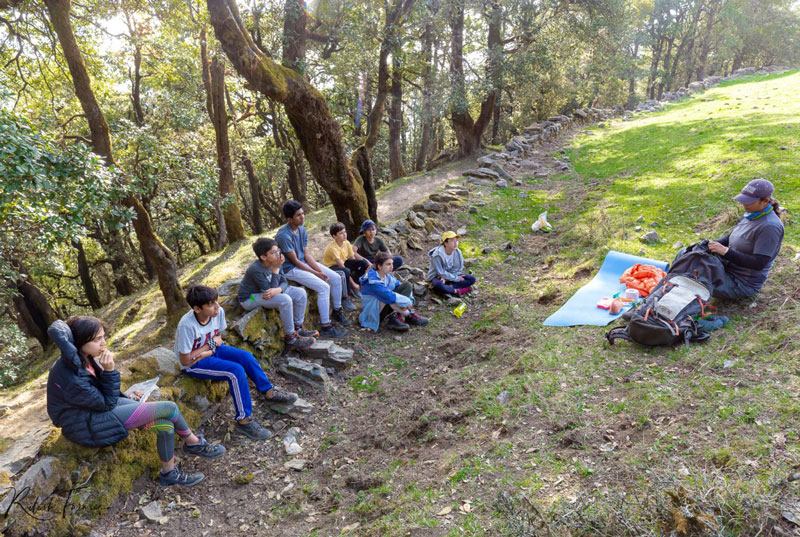 Aadil
Going to a hike ( an overnight hike) who wants to. Lots of hard work and also spoiling my weekend. That is what I thought, but I thought I would give it a try so I signed up for it. Lots of people told me it was going to be hard which made me want to go even more, and so I left. At first it was very tiring, partly because our bags were not packed properly. And while going up we stopped a lot enjoying the scenery, but when we reached the campsite, we had a lot of fun. You must be thinking that 'how can you have fun after the long hike' but trust me it was enjoyable. It was tough but when you reach the top , you don't feel tired at all!!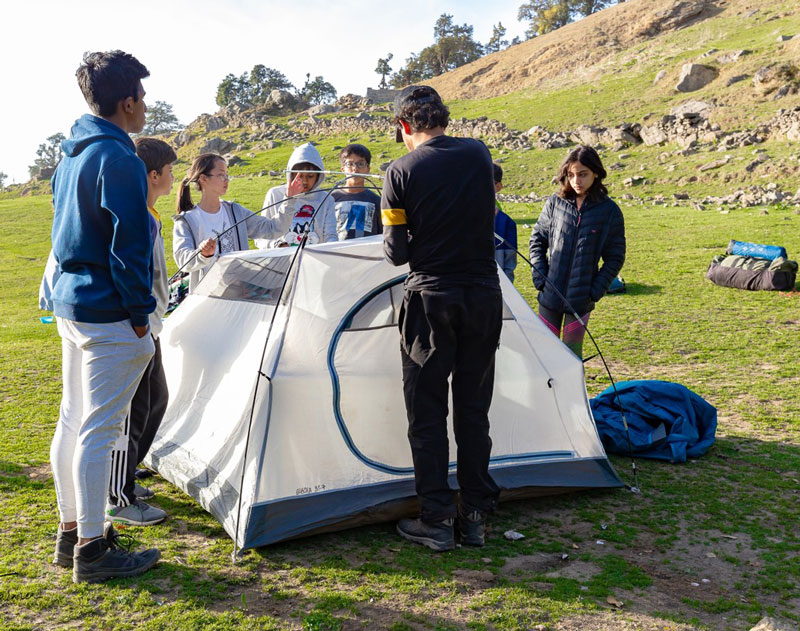 Rishit
I learnt how to poop in the wild using a TP, a trowel and a flashlight. How to sleep in a sleeping bag. I learnt how to tie proper hiking shoe laces( it's just a double knot). We also learnt that dry leaves can be really slippery, "AND ALWAYS CARRY A HIKING STICK SO THAT YOU DON'T FALL AND ROLL OVER ROCKS".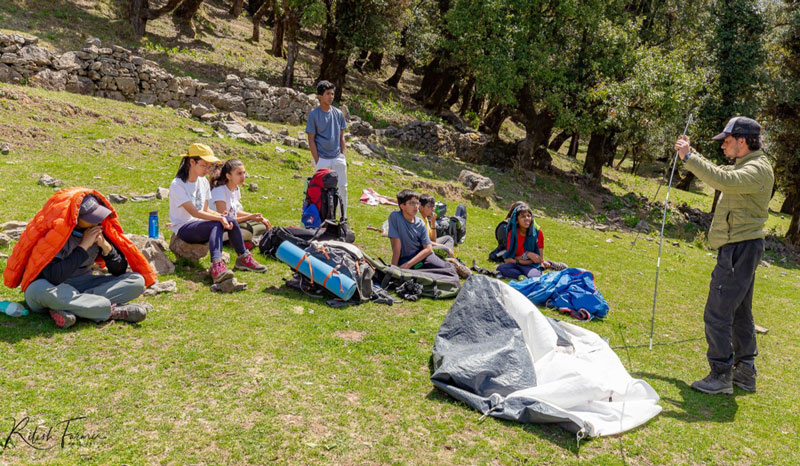 Kritin
I think signing up for the hike was a good choice because we had lot of fun and we learnt a lot of stuff. We learnt how to pitch and pack a tent, how to pack your hiking bags, how to tie your shoelaces in a different and better kind of knot. I also learnt that dry leaves can be really slippery. We learnt how to poop in the wild too. You always need to know the proper ways to do these things or else you will have a lot of trouble going on hikes like this. It was fun and enjoyable. We played a lot of games and if we got tired, we stopped and rested even though you shouldn't stop again and again or else you will get tired more quickly. Overall, the hike was easy, it was just very long.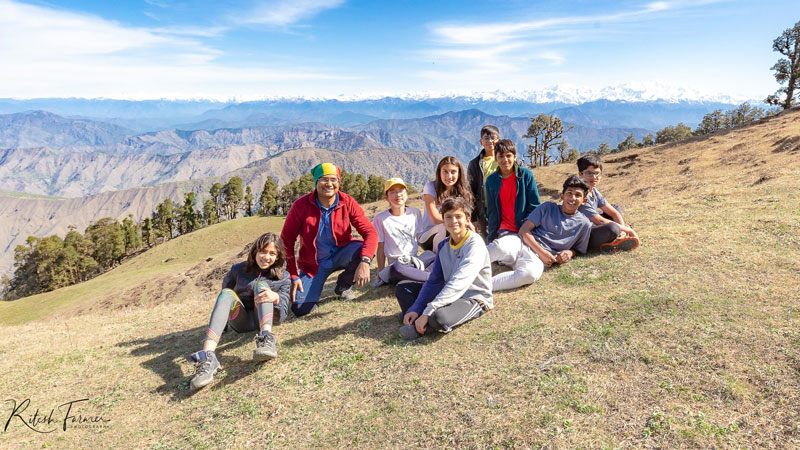 Kritvi
I'm very proud that I signed up for the hike as I learned SO MUCH. I learned how to  pack our bags, pitch our tents, put our bags in the way our shoulders don't hurt(mine were hurting all the time), dig holes and not get tired easily. I was really fun as we all were talking and playing games while going up and coming down. It was also really pretty- we were walking along with the stream most of the times and the red flowers were so beautiful.
I was one of the people who were last because we were getting tired but I felt really happy when I reached the top. I learned that it doesn't matter how many times you stop as long as you have accomplished your goal!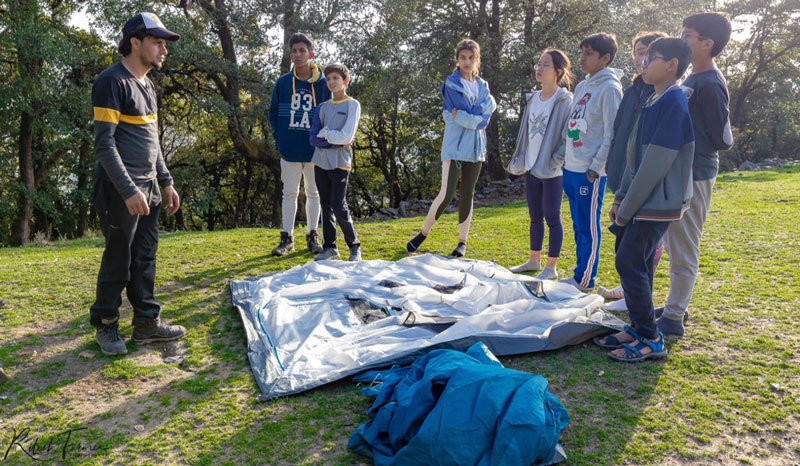 Sasi
I have signed up for the hike because I wanted to do something more challenging than staying in dorm whole day. On the hike I have learned that when you are hiking in a group you should wait for others and go together, not walking too fast and leave others behind.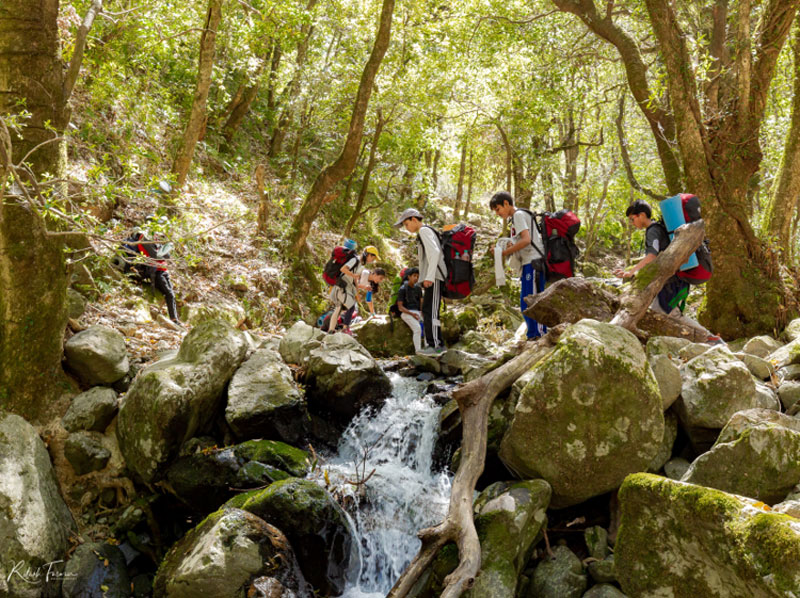 Rohan
"Weight. I learned that every extra gram that you carry matters. I brought everything that was on the packing list and my own tent also. I don't know why I brought an extra tent but I guess it was pretty cool. Very exhausting but cool, Now I can say that I've had the full experience of going hiking without help." I had to stop and take my back pack off many times during the hike as my bag was not packed properly. Packing is crucial. If you have any extra space or 'voids' in your bag, it will increase the weight of the bag drastically or at least feel like it."
Photos: Mr Ritesh Farmer