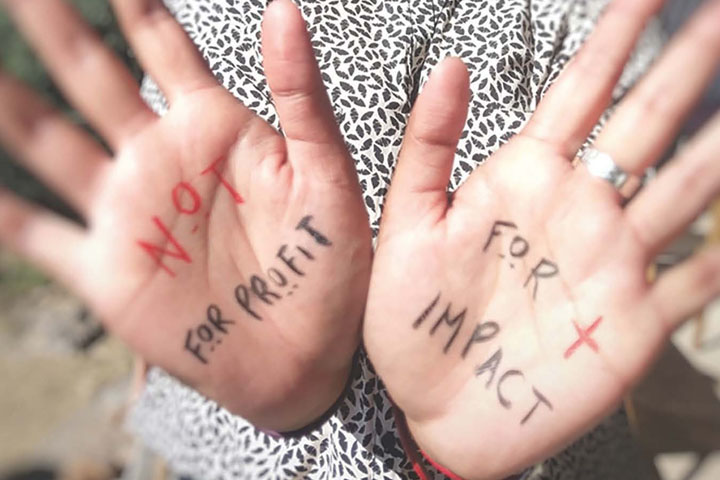 30 Jan

This is Aspire

Woodstock Student Shanti Mathias introduces Aspire, our new summer school programme for budding social entrepreneurs. 

Woodstock School has a long-term commitment to community service. This has led to some extraordinary achievements of student innovation in leadership roles. But what if there was a way to spread the advantages of the Community Engagement program, and the skills, and especially compassion, that it develops, to young people beyond Woodstock?

This summer, from 3-8 July 2017, Woodstock will launch a brand new program. It's called Aspire, and it's designed to teach young people from around the world how to make real, sustainable changes in their community. The idea was conceived by Rishi Thomas, class of 2016, and developed by the current Curriculum Advisory Group in association with the Centre for Imagination.
Be the change
Woodstock believes that one of the most important skills for a young person to have is the ability to make real changes in your community. This is tremendously difficult. Knowing what you want to change, and how to change that, and how to make changes that last–it isn't easy. With Aspire, we hope to equip teenagers to make changes in their community.
Of course, there are lots of other conferences like this. What makes Aspire different? For one thing, Aspire is focused on experiential learning. Participants are not just going to observe the CE program. Aspire is designed to give participants an in-depth, compassionate understanding of inequality, and how to fix it. Some of the goals of the program are to teach the values of empathy, resilience, sustainability, innovation, and critical thinking. These are skills that anyone could aspire to, not just teenagers involved in social entrepreneurship.
An invitation to participate
Aspire is not just open to Woodstock students – we hope that students from around India and beyond will join in this opportunity. In this way, the skills that Aspire teaches will spread, equipping more young people to participate in and make a difference to, their communities
Community is a word that is used a lot in Woodstock, and we hope that Aspire will also nurture community. While the adult leaders of this program are experienced, much of the learning at Aspire will be of teenagers learning from each other.
Aspire will take place from 3-8 July 2017, at and around the Woodstock Campus, and will feature innovative social entrepreneurs. Apply by Wednesday 1 March here to take advantage of early bird application discount. This is a thrilling opportunity, and you don't want to miss out!
Shanti Mathias, Woodstock Student
Find out more about Aspire here.