A CATALYST FOR CHANGE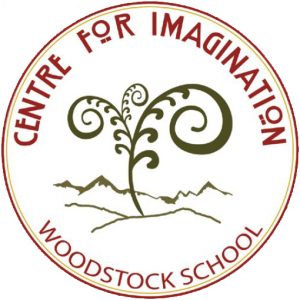 The Centre for Imagination transforms the way in which a Woodstock education is experienced in the 21st century – inspiring young people to discover that there is far more within them than they think, to discover their grand passion in life and to explore what it means to live from a strong sense of vocation. After all, when the imagination is set free, the horizons of possibility are infinite.
"Imagination is a way, I suppose, that dreams, longing, desires, even fears, link up with the reality that you're in." Albie Sachs, South African freedom fighter and constitutional judge
WHY IS THE CENTRE FOR IMAGINATION NEEDED?
Educators largely operate within an industrial paradigm, the very model that gave birth to the problems our children will have no choice but to navigate. They enter adulthood in an interdependent, highly connected world. Tides of seawater, human migration, and racial nationalism are on the rise, to name just a few issues. Our islands are both literally and figuratively disappearing. Our education needs to reflect and respond to the world we now inhabit.
Why
We need to empower young people to successfully navigate the global, systemic challenges ahead.
How
By showing young people the complexity of the world they inhabit, and encouraging them to take responsibility for shaping their future.
What
We imagine new ways of learning.
We inspire new paths of action.
We incubate new initiatives.
HOW ARE WE TRANSFORMING EDUCATION?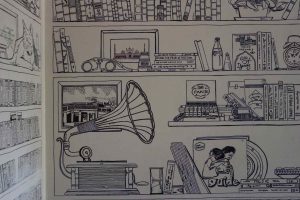 The Centre for Imagination hosts a range of events that bring students and staff together in a lively atmosphere of joint exploration. Events emerge from student initiative, pressing global issues, and in alignment with the wider school's weekly themes.
The commitments that shape the ethos of the Centre for Imagination include authenticity, independent thinking, and giving young people the support and freedom to make their own, good choices. Every effort is made to preserve an atmosphere of joint exploration and experimentation.
Examples include:
Green screen – Aligned with the school's theme for the week, the Centre screens a documentary each week, followed by a discussion of how students can take action.
Shaping the space – Drawing the future on the walls with students and staff helped us shape the space through our collective imagination.
Current affairs – Our weekly discussion outside the classroom about what is happening in the world and what actions students can take.
Career Talks – each week professionals from different backgrounds share their journeys, giving inspiration to young people for how they can find their paths in the world.
Woodstock student Shanti Mathias shares some of the changemakers who have fired her interest in social entrepreneurship. Soc...

06 March, 2017

Internships at the Centre for Imagination The Centre for Imagination is excited to announce our first team of student interns...

17 February, 2017

Woodstock student Tanashya Batra shares her motivation for getting involved in Aspire, our new social entrepreneurship summer...

03 February, 2017
WHAT COMES NEXT?
Student interns
A group of students have already formed a social entrepreneurs' society called The Start Up Hub. Taking on the task of improving communication throughout the Woodstock community, they are designing an app that will also work to eliminate waste around the school. Three students were so inspired by the idea of the Centre that they have taken on the task of creating a stop-motion animation video to capture and communicate the purpose of the Centre for Imagination and share it widely. Five student interns work with the Centre to gain real work experience in event planning, communications, project management, photography, and journalism.
Festival of Ideas
When: 8th to 12th of May, 2017
Attendance: Woodstock students from grades 9 to 12
Entering its fourth year, the Festival of Ideas allows students to explore a topic or question they are passionate about and do so through an interdisciplinary lens that utilises and integrates all the skills they have learned at Woodstock.
Aspire
Social Entrepreneur Conference
When: 3rd to 7th of July, 2017
Attendance: 50 young people from South and Southeast Asia
Are you ready to address the challenges of the 21st century and create solutions to face our global crises? A unique social entrepreneurship program, Aspire is for teenagers passionate about making a change in their communities. Aspire was created based on the Design Thinking approach, with experienced guest speakers from a range of fields. You will not only learn about social entrepreneurship, but experience it.
Visitors and scholars
In order to expand the learning experience for students, the Centre for Imagination will begin hosting visitors and scholars to share their knowledge and expertise, work with students on specific projects, and inspire young people to find their own path in the world. The Centre for Imagination is currently in conversation with all of the following individuals and organisations to plan an exciting year of learning for Woodstock's students.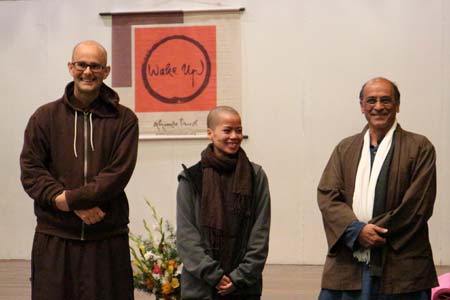 Visitors and organisations 2017
Student teachers, who want to volunteer with the Centre and share their expertise to empower young people.
Leapnow interns, on a gap year, looking for imaginative ways to better prepare young people for adulthood.
Richard Delacy, Harvard professor of Hindi and Urdu, interested in languages and the construction of national identities.
Varun Sheel, an engineer and physicist on the team planning India's 2020 mission to Mars. Dr. Sheel also shares Woodstock's interest in exploring renewable energy sources.
Albie Sachs, South African freedom fighter and judge, responsible for crafting South Africa's admired Constitution.
PARTNERSHIP OPPORTUNITIES
Woodstock's Centre for Imagination seeks individuals, organisations, and Woodstock alumni interested in growing a network full of learning, a network committed to helping young people find their place in the world of the future. The Centre is eager to partner with all of the following: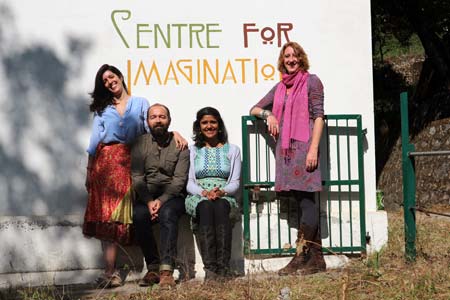 Imagineers who want to volunteer with the Centre and share their expertise to empower young people.
Peer schools looking for imaginative ways to better prepare young people for adulthood.
University initiatives related to leadership, global understanding, and shaping a sustainable future.
Non-governmental organisations dedicated to transformative learning.
Scholars looking for short sabbatical or research periods, who want to share their learning with young people.
Social entrepreneurs who want to transform the world through working with young people, helping young people become changemakers.
Professionals in any field who want to connect with, inspire, and mentor young people who share their passions and gifts.
Donor individuals or organisations who want to provide material support for young people to discover and cultivate a real vocation – a rooted sense of direction and identity to carry into their futures.
CONNECT WITH US